Just cutting your photographic teeth and need a DSLR to get started? Or maybe you're a pro looking for a full-frame powerhouse to rely on for all kinds of tasks? Whatever level you're at and whatever you need it for, here are the best DSLRs right now.
DSLRs have long been the choice for professional users, thanks to their excellent image quality, manual control and flexibility in terms of lens options. Over the years, manufacturers started to fill their lines with options for enthusiasts and beginners too, and soon there was a fitting choice for first-time photographers through to those working in the most testing environments, and everyone in between.
Today, mirrorless cameras are incredibly popular as they manage to offer the benefits described above but, usually, in an even more compact and lighter package. The reason? They lack the mirror common to DSLRs (hence the name), and most replace the optical viewfinder with high-resolution electronic alternatives too. They may use smaller and lighter lenses too, which further helps to reduce size and weight.
While mirrorless cameras are grabbing all the headlines at the moment, DSLRs remain relevant to many users. A DSLR is, after all, still the cheapest way to get a camera with interchangeable lenses and a viewfinder (you'll find most entry-level mirrorless cameras don't have viewfinders).
At the other end of the scale, almost all professional sports, press and wildlife photographers choose full-frame DSLRs over every other camera type. Mirrorless cameras are catching up here, but a combination of excellent autofocus systems, long battery life, wide-ranging native lens options and strong accessory support give them the edge.
That said, there are some cracking mirrorless cameras out there at the moment that are taking the place of DSLRs in pro photographers' kit bags, including the Fujifilm X-T3, Olympus OM-D E-M1 II, Panasonic Lumix S1 and Sony Alpha A7R III.
In between entry-level and full-frame DSLRs are a whole range of models aimed at different users, different levels of experience and different budgets. Here's our pick of the best DSLR cameras you can buy right now.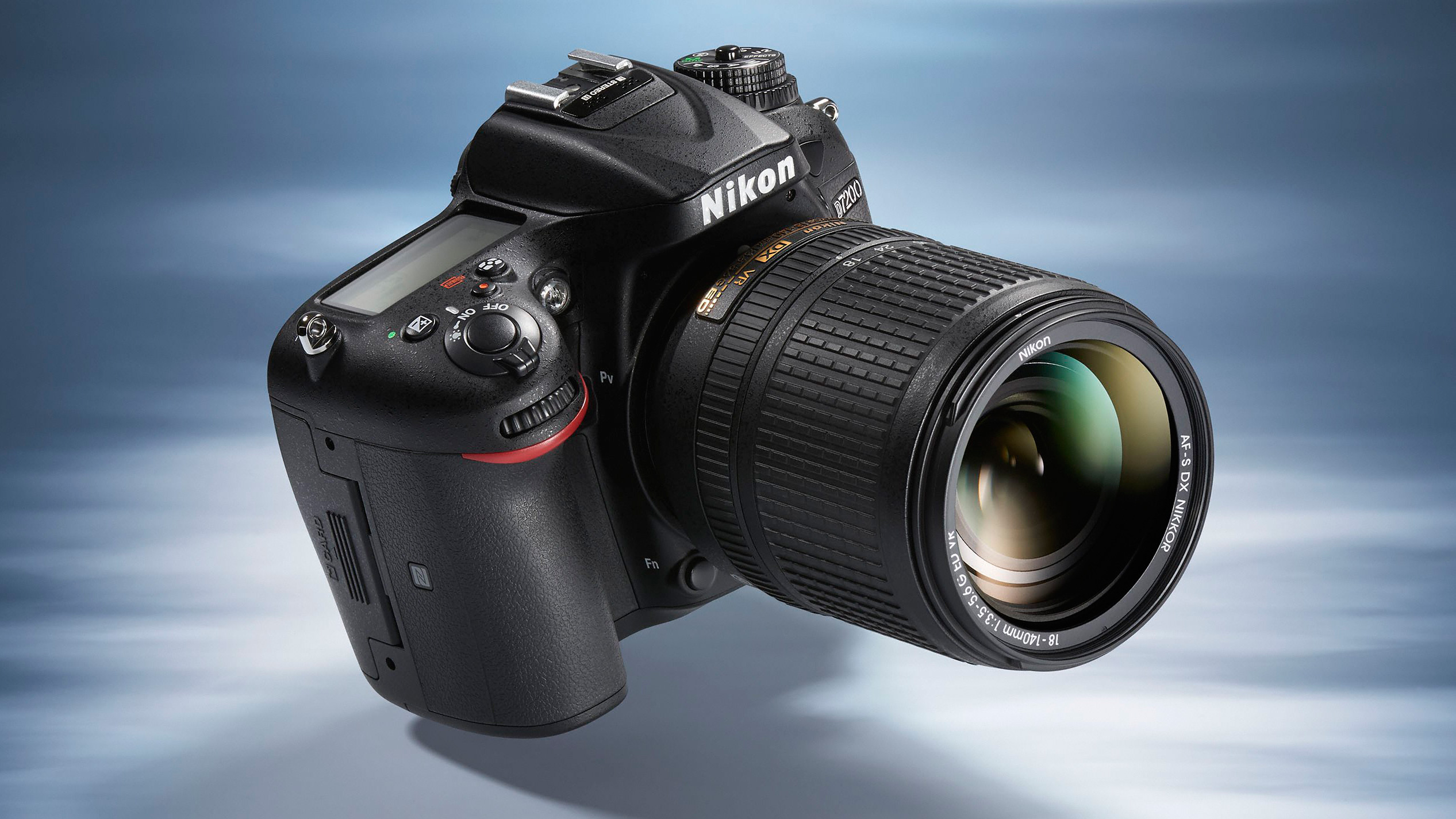 Before we get onto our top 10 picks of the best DSLRs you can buy right now, let's take a look at this great value option. The D7200 is a prime example of an older mid-range DSLR that packs enough under its skin to maintain its relevance in today's market. Ideal for those capturing outdoors, the 24.2MP APS-C sensor lacks a low-pass filter to help it retain plenty of detail, while the 51-point AF system is adept at tracking moving subjects.
You also get a tough, magnesium-alloy body that's protected against inclement weather, together with two card slots and a large LCD screen. Its age, and the launch of the D7500 that updated it (below) has allowed its price to drop to a tempting level too. Well worth a look if you don't need the very newest camera.

Best DSLR cameras in 2019
It's hard to think of another DSLR that wows like the D850 does. It's on the pricey side for sure, but this is justified by excellent image quality, bags of features and a rugged, weather-resistant magnesium alloy body. The 45MP sensor is one of the highest in terms of resolution in any DSLR, while the 7fps burst mode is unusually high for a camera with such a sensor.
Add to that a cracking AF system, wonderful handling and great 4K video, and it's versatility should be easy to appreciate. Like the sound of the D850, but want to go mirrorless? Well, while not strictly a mirrorless version of the D850, Nikon's newer Z7 mirrorless camera shares the same 45MP resolution as the D850, but features some clever tech of its own, including an all-new lens mount.

Canon's EOS 5D series of cameras has a rich heritage – the original EOS 5D bought full-frame photography to the masses, the Mark II unleashed Full HD video capture for the first time on a DSLR, and while the Mark III became a firm favourite amongst photographers for doing everything it did so well.
The EOS 5D Mark IV pretty much tweaks and improves on everything before it, with a newer 30.4MP sensor and advanced 61-point AF system along with 4K video recording. It's still a brilliant DSLR that was until recently our top pick, but the arrival of the D850 means it slips a place down to number two.

Nikon has taken its flagship D5 DSLR and most of its high-end features and distilled all of this into a smaller, but still very durable metal body. The full-frame sensor is replaced by an 20.9MP APS-C sized chip that allows the D500 to shoot at a rapid 10fps and deliver a great high ISO performance.
A brilliant all-rounder with a high-performance 153-point AF system means it excels at fast action like sports and wildlife photography, but still has the chops to shoot landscapes and portraits. If the cost is a bit steep, then take a look at the D7500 below.

Fancy the D500 but don't fancy the price tag? Well, if you're prepared to make a few compromises here and there, the D7500 is probably what you should be looking at. It's packed with the same 20.9MP sensor as its more senior stablemate, and also matches it in offering 4K video recording.
Nikon has also furnished it with the same 180k-pixel RGB metering sensor and the tilting screen on the back is just as large at 3.2 inches in size, although not quite as detailed, and it's all wrapped up inside a weather-sealed body. On an even tighter budget? There's also the slightly older 24.2MP D7200 (above), which may have been surpassed by the D7500, but it's still one of the best enthusiast DSLRs out there.

The EOS 80D might have quietly celebrated its third birthday earlier this year, but if you're on a budget and you don't mind not having the very latest wizardry, it's still worth looking at. A perfect option for those stepping up from entry-level DSLRs, its 45-point AF system is all cross-type, which means better sensitivity and finer performance all round.
Its 24.2MP sensor is also tried, tested and respected, and it's imbued with Dual Pixel CMOS AF technology to make focus swift during videos and live view, while Wi-Fi and NFC allow you to easily hook the camera up to a smart device for remote shooting and sharing online. Shooting video?
There's no 4K onboard, but you do get both headphone and microphone ports, as well as a selfie-and vlogger-friendly flip-out LCD. Also great to see is that top-plate LCD, not something we see on every camera at this level, but super useful for showing you what's what.

At the opposite end of the spectrum to some of the full-frame DSLRs here, the D3500 is super affordable, has one of the sharpest APS-C sensors out there, and a neat retracting kit lens. A word of warning: there are two versions of this lens, and it's worth spending the extra $20/£20 and getting it with VR, Nikon's image stabilization system.
It's proof that you don't have to pay a fortune to get a great camera, and we say its value for money makes it just as impressive as much more advanced (and much more expensive) alternatives. The controls are designed to be simple for novices, and in the right hands it's a match for cameras costing far more. If you're looking to get more creative with your photography, and looking for your first DSLR, the Nikon D3500 is hard to beat.

Costing a bit more than the Nikon D3500, but offering quite a bit more in the way of features, the Canon EOS Rebel T7i (known as the EOS 800D outside the US) is a great entry-level DSLR. The sensor impresses, as does the 45-point autofocus system backed up by excellent live view AF, while the graphical interface will certainly make this camera even more appealing to new users.
The absence of 4K video and the quality of the exterior materials disappoint, but this aside, if you're looking for a well-rounded and easy to use camera for your first DSLR the EOS Rebel T7i / EOS 800D is certainly a very good bet.

Like the look of Nikon's D850 further up the top, but don't want to shell out quite that much? Then look no further than the 24MP full-frame D750. It doesn't have that magnificent 45MP sensor, but its 24MP alternative still delivers top-quality results – especially at high ISO settings.
You also get a very respectable 6.5fps continuous shooting speed, together with a handy tilting screen and a pretty attractive asking price. Wi-Fi allows you to get your shots online without any hassle too, although as an older model there's no 4K video nor a touchscreen. Still, most photographers don't need these, and if you fall into that camp you may as well save yourself some money and put it towards a nice lens to go alongside.

Still one of the best options for sports and action photographers, the EOS 7D Mark II has performance and speed as its primary focus. To that end, it combines a 20.7MP APS-C sensor with Canon's excellent Dual Pixel CMOS AF system for smooth autofocus in live view and during video recording, together with a 10fps burst shooting mode and a 65-point AF system.
It also boasts excellent ergonomics and a rugged, weather-resistant body, which makes it a fine choice for anyone who tends to shoot outside in variable conditions, whether it's for sports, wildlife, nature or landscapes. It's an older model, but it still packs plenty of a punch, particularly if moving subjects are your priority.

It may not be the smallest or most affordable way into Canon's vast EOS DSLR ecosystem, and has recently been updated by the Rebel SL3, but we'd sooner choose the Rebel SL2 – also known as the EOS 200D – over the company's more junior and older offerings. Its strong feature set includes Canon's excellent Dual Pixel CMOS AF system, which delivers swift autofocus during videos and in live view, while the LCD screen flips out and responds to touch – and it's 2019, after all, so why settle for anything less?
Despite its small size, handling is great too, making it a solid choice for those with small or larger hands alike. What's not to love? Other than the understandably plasticky body and lack of 4K video, not much at all.

Also consider…
It's been on the market for some time but we still have a soft spot for the D5300 – and the fact that it can still be bought brand new is a testament to just how relevant it continues to be. It provides first-time DSLR users with a stronger set of specs than the average entry-level DSLR, with a 3.2in LCD that flips all the way out to face the front, together with a 39-point AF system, Full HD video recording to 60p and 5fps burst shooting.
Of course, none of that would matter if the image quality wasn't up to scratch, but fortunately, it is; the 24.1MP APS-C sensor has been designed without the optical low-pass filter to help as much detail to get into images as possible and results at high ISO settings remain strong.