Best PC Games to Play during Ramadan 2022
Ramadan is a great time to catch up on entertainment. For some folks it's about the latest TV shows but for others, it's all about gaming. There have been some great games released on the PC in the past few months and Ramadan is the perfect month to catch up on them with late night gaming sessions.From exploring open, immersive worlds to engaging in brutally difficult combat, or to simply unpacking boxes (or delivering them!) and having a relaxing time, there is a game for every kind of experience you are looking for.

When it comes to PC gaming, the most important component is the graphics card. Not only do you need a modern GPU that can offer good frame rates but one that also supports features that game developers are using to power their games.

Our choice of GPU is the NVIDIA RTX 3080Ti that features 10,240 CUDA cores and 12GB of DDR6 which makes it a very, very fast card. Equally important in this decision is NVIDIA's ability to support technologies like Ray Tracing, Reflex and NVIDIA DLSS that the latest games are taking advantage of to offer the best gaming experience. Before we dive into our list of games, lets take a brief look at the advantages each of these technologies offer
NVIDIA DLSS
NVIDIA DLSS is a ground-breaking AI technology that increases graphics performance using dedicated AI processors on RTX 30-Series GPUs. In simple words, DLSS boosts your fps yet allows you to enjoy beautiful and sharp images in your favorite games, letting you crank up the settings and resolution for an even better visual experience. DLSS is currently available in over 150 games so far, such as Shadow Warrior 3, Sifu, SCP: Pandemic, God of War, Dying Light 2 Stay Human, Battlefield 2022 and Red Dead Redemption 2.
DLSS will let gamers get the most out of their games on GeForce RTX hardware, with a boost of up to 2x at 4K resolution. In addition to the performance boost, DLSS adds better-than-native reconstruction on thin objects with fine lines. DLSS also helps reconstruct fine details of distant objects, restoring image quality to areas that otherwise lose some detail.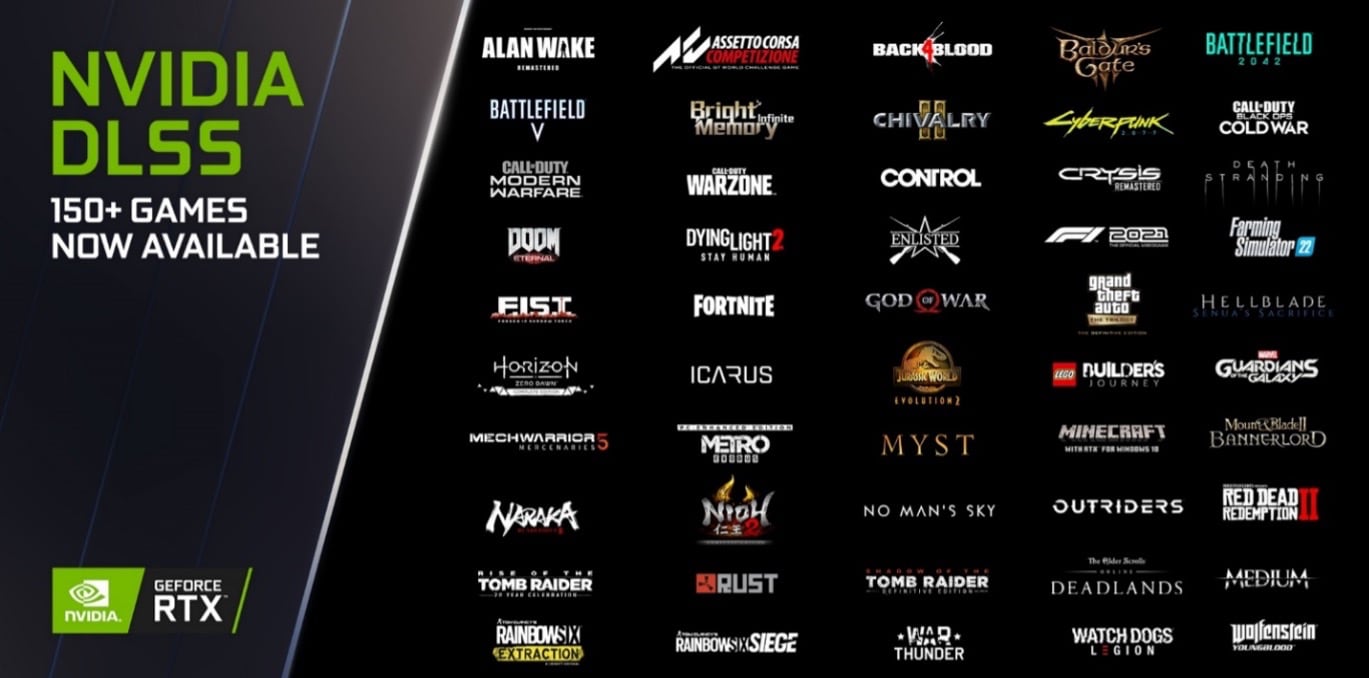 NVIDIA Ray Tracing
One of the games we have selected on our list below is Dying Light 2 Stay Human's offers all sorts of ray tracing features such as fully ray-traced lighting, ray-traced global illumination, ray-traced reflections, and ray-traced shadows.
All of this leads to a much more impressive and immersive environment revealing significantly better diffused lighting and improved shadows, as well as more accurate and crisp reflections.
Enabling ray-traced reflections enhances almost all of Dying Light 2 Stay Human's metallic and glass surfaces with improved reflectivity that dynamically affects their appearance based on the time of day and actions occurring in the world around them. Ray-traced reflectivity makes decayed metal surfaces far more realistic, with visuals that match their surroundings, further refining graphics for a more immersive experience.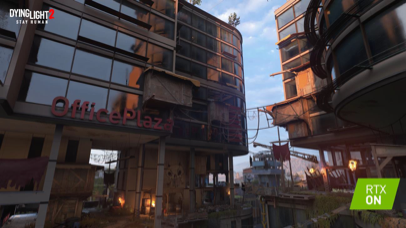 NVIDIA Reflex
For competitive gamers, victory is measured in milliseconds. You would be glad to know that RTX 30-Series laptops offer the lowest latency and best responsiveness thanks to NVIDIA Reflex, giving you a competitive advantage over your opponents. With NVIDIA Reflex you will have better response times, making it much easier to quickly line up a headshot that could make the difference between victory and defeat. NVIDIA Reflex is available in games such as God of War, Ready or Not, Rainbow Six Extraction, iRacing, GRIT, Overwatch and Apex Legends
This enables players to respond and react more quickly, acquiring targets and making movements with greater precision. NVIDIA Reflex is a great option for action games, as
a well-timed jump or critically timed hit or dodge often determines life or death while  traversing the game.
Many of the games we have selected below make use of these technologies by NVIDIA and thus, to get the best experience, we recommend you pick up an RTX3060 or a higher end graphics card.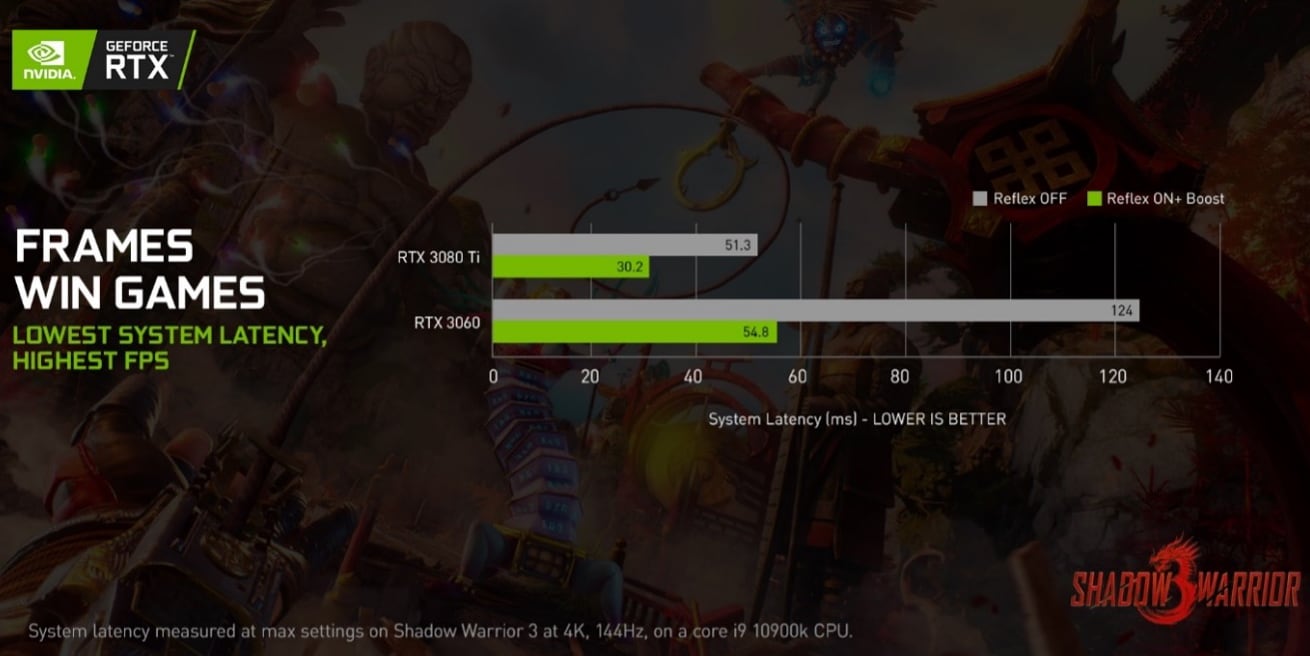 Shadow Warrior 3
No one does a better marriage of sword and gunplay than Flying Wild Hog. The developers behind the critically acclaimed Shadow Warrior series is back with a third installment, and they have upped the ante on the action by several notches. Now with a grappling hook in tow, and greater emphasis on speed and movement, Shadow Warrior 3 takes the series' penchant for rhythmic action and infuses it with a flow and dance that is immensely satisfying.
You will have access to an arsenal of weapons – ranging from dual-wielded SMGs, to an upgradeable shotgun that can shoot without the need to reload, and a portable laser beam that pierces through enemies  – as you are thrown into the arena with hordes of increasingly grotesque and difficult enemies. Pair your gunfire with a flurry of swings from your sword, and match the chaos on the screen with the equally frenetic movement of your grapple hook, and you have the perfect loop of slaying monsters into satisfying little bloody chunks.
Admittedly, the story isn't all that great – and to some extent borderline nonsensical – but Shadow Warrior 3 serves well if you are looking for something action-packed, something short, and something that's insanely fun.
Price: AED 150 / SAR 150
Type: Action-Adventure, FPS, Single-Player
Supports NVIDIA DLSS, Raytracing, NVIDIA Reflex
Ghostwire Tokyo
Very few games take place in Tokyo, which is a crime because the city's mix of modern architecture and Japanese folklore is a recipe ripe for some weird, striking, and fantastical stories to tell. Ghostwire Tokyo, the latest from The Evil Within's Tango Gameworks, attempts to do just that, and by and large, achieves it with an open-world that is deeply rooted in the weird and disturbing that only really Tango is capable of making.
The game starts off with an interesting premise – a cataclysmic event sees all of the residents of Tokyo being Tahnos-snapped from the city. You play as Akito, a recently deceased man who is brought to life by a spirit called KK who in return for access to his body, gives him supernatural powers to help fight the many strange underworld beings now lurking the rain-drenched city.
The game can be best described as an action-adventure with an open-world sandbox where you must cleanse Tori gates to uncover the map and move forward. It's not as grand as a Ubisoft game but presents lots of points of interest, side quests and side activities to partake in. You have access to three supernatural elemental powers – fire, water and energy, all of which can be upgraded to increase their potency, and also some core abilities that will allow you to jump farther, defeat enemies quicker, and move faster.
However, Ghostwire Tokyo is much more than just a spooky, supernatural shooter. The game's world is deeply steeped in Japanese culture and folklore, giving its world, the characters, and the story a unique twist. Every area on the map, the friendly spirits you meet, the enemies you encounter, and even the food items you pick up, everything is specifically authored and connected to the region and the culture.
Ghostwire Tokyo may not deliver on the grand story of love and life that it sets out to tell, but its world is so engaging, and so beautifully rendered (especially if you enable the ray-tracing effects), that it gets a steady recommendation from us as a must play title.
Price: AED 240 / SAR 240
Type: Open-World, Immersive Sim, FPS
Supports NVIDIA DLSS, Raytracing
Dying Light 2
Here's another open-world recommendation from us, this time with zombies! And parkour! The Dying Light series made a name for itself by providing players the freedom to jump, slide and climb any surface that they couldn't find, giving a sense of heart-pounding thrill as you map out your escape while a horde of zombies are in constant pursuit.
Dying Light 2 ups the ante with a larger open-world to explore, tons of side quests (upto 500 hours of total playtime!), more brutal ways to dispose of zombies, and a story-line that is shaped by your actions, and come with their own set of consequences. If lurking in The City of Dying Light 2 is too much for you, the game supports upto 4-player co-op so you aren't left alone in the dark.
Price: AED 229 / SAR 229
Type: Open-World, Parkour-Based, Zombies, Co-op
Supports NVIDIA DLSS, Raytracing
Elden Ring
If you really want to test your sabr this Ramadan, Elden Ring is it. Coming from the minds of From Software, and a story etched by Game of Thrones' GRR Martin, Elden Ring is another Souls-like game that will truly test your patience, and more so, your skill in overcoming the many difficult enemies littered around its gigantic open-world map.
Elden Ring is challenging, and if you are familiar with any Souls-like game, you will know exactly what I mean. You'll die. A lot. Repeatedly. You will complain how unfair the game is. You will think you've figured it out. You will give it another shot. And you will die again. A lot. Repeatedly.
But therein lies the beauty of Elden Ring. The immense satisfaction that comes from overpowering an enemy that knocked you down a hundred times before is truly unmatched. And what's more, you can play the game however you want, go wherever you want, and do things in completely random order if that's what pleases you. There is very little hand-holding from the game unlike most modern open-world action-adventures, and figuring out how certain things work and what exactly is the flow and rhythm of the game will take you hours upon hours of trial and error, and sometimes, trial by combat. There is a rich community where you can fall back on to answer your questions (and partake in some memes), and you can also call upon random strangers on the internet to help you in a fight in a pseudo-cooperative-like experience.
Elden Ring isn't for everyone. But for those that it is for, there is nothing quite like it.
Price: AED 249 / SAR 249
Type: Open-World, Brutally Difficult, Action-Adventure
LEGO Star Wars: The Skywalker Saga
Lego Star Wars: The Skywalker Saga is a complete package for the Star Wars nerd in you. It spans all nine Star Wars movies, and offers the fun-filled adventures and whimsical humor that is now associated with LEGO games.
As it traverses across all galaxies far and near, the game offers hundreds of unlockable characters, which you can swap out at any time as you go on your adventure. Want to play as The Mandalorian in Star Wars: A New Hope? Yes, you can. Want to swap out to Obi-Wan Kenobi in the Empire Strikes Back even though it makes no sense? Sure, go ahead! In addition to the characters, the game also offers a slew of land and space vehicles like the Millennium Falcon, T-47 Airspeeder, TIE fighters, and more.
Due to its lighthearted tone, it's a perfect fit to play with friends and family this Ramadan thanks to the shared or split-screen coop.
Price: AED 189 / SAR 189
Type: Action-Adventure, Star Wars, Co-op
Unpacking
Unpacking offers a smooth, relaxed gaming experience devoid of any scores or meters or any pressure to 'do well' in it. The premise of the game is simple – as the name suggests, you unpack possessions out of boxes and arrange them into a new home, while slowly learning about the life of its resident. Some of the stories you will come across can be quite touching, and they are all aptly scored by BAFTA award-winning composer Jeff van Dyck.
Unpacking is part block-fitting puzzle, part home decoration, and its slow and meditative-style of gameplay can be the perfect way to while some time away this Ramadan. Its family-friendly nature means that you can play with a member of your family and share the experience together, although it doesn't have a dedicated co-op mode.
Price: AED 53 / SAR 53
Type: Puzzle, Home decoration, Meditative, Non-competitive
Death Stranding
If Unpacking is a game about unpacking boxes, Death Stranding is about delivering them. But of course, that's a very boiled down simplification of what the game is all about. After all, Hideo Kojima doesn't make simple games. Quite far from it actually.
We are not a hundred percent sure what Death Stranding is about, but its central theme of humanity's desperate measures to piece together a broken world after facing near extinction gives the game a solid ground to bounce off of. Hideo Kojima further explores themes of isolation and mortality, and introduces his own unique quirks in the story, and with the characters, that can be baffling and confusing, but also somehow impressive. The game also has a star-studded cast, including Norman Reedus, Mads Mikkelsen, Guillermo Del Toro, Tommie Earl Jenkins, and Troy Baker.
The basic gameplay loop of Death Stranding involves you, as Sam, to deliver boxes from one part of the map to another. Since vehicles are in short supply, Sam must strategically carry these boxes on his back, legs and arms and walk to the point of delivery while avoiding accidental fall damage, and various dangers littered around the map. The game also mixes various elements of action, stealth and survival and cobbles them up into a unique gameplay experience that is as divisive in its effectiveness as it is appreciated as groundbreaking.
Death Stranding is now available in a special Director's Cut which brings support for ultra-wide monitors, high frame rate, photo mode, and also features complete support for NVIDIA DLSS. The Director's Cut also includes cross-over content from the Half-Life series and Cyberpunk 2077.
Price: AED 145 / SAR 145
Type: Open-world, Slow burner, action-stealth
Supports NVIDIA DLSS
Sifu
Sifu wears its influences on its sleeves. It's directly inspired by popular Kung Fu movies like OldBoy, John Wick, The Raid, etc, and presents a cinematic beat 'em up that uses death in a unique way.
And yes, you will die a lot in the game. The combat is brutally difficult – some would say it's a Souls-like fighting game – where positioning and clever use of the environment will be key to your survival. You can unlock more skills as you progress, making yourself stronger and smarter in the process.
However, the game also employs a unique rogue-like element where every time you die, your character ages by a certain number. The older you get, the slower you become but you can deal much more damage than before. As you hit certain age milestones, starting from 20, then 30, 40, 50, 60, etc, you will lose the ability to unlock certain skills, putting you into a further disadvantage. When you reach the age of 70, it's game over and you start all the way from the beginning.
Price: AED 105 / SAR 105
Type: Beat 'em up, Brutally difficult, Kung Fu,
Supports NVIDIA DLSS
Tiny Tina's Wonderlands
Tiny Tina's Wonderlands is a standalone spin-off from the Gearbox's Borderlands series, this time bringing Dungeons and Dragons-style RPG to the looter shooter.
Wonderlands supports upto 4-player co-op, and offers a large map to explore, a gazillion guns to loot, magic powers to unlock, and a lot of bad guys to put some bullet holes into.
The best thing about Tiny Tina's Wonderlands – and the Borderlands series as a whole – is that it doesn't take itself too seriously. Which means that more often than not, you will be subjected to a whole lot of craziness that doesn't necessarily make sense, but provides for a lot of laugh-out-loud moments.
Wonderlands sees Tiny Tina and her bunch of friends playing their own custom version of Dungeons and Dragons, and invites you, the player, to roll with them on an adventure full of mystery, fantasy, Dark Lords, and horses made out of diamonds named Butt Stallion. It's a truly fun-filled adventure, and has enough accessibility features for a fully customizable experience for even the most novice players.
Price: AED 220 / SAR 220
Type: FPS, Looter-Shooter, Co-op, Open-World, Humor