There are many reasons why computer video files get 'lost' But don't worry we will provide you a solution to Recover video from Corrupted files and Crashed Computers.The user may have deleted these files accidentally and then emptied the Recycle Bin. Their internal hard drive or external storage media may have been corrupted by improper formatting, partition errors, a loss of power, or a virus attack. Or perhaps the computer itself crashed – aka the fatal 'Blue Screen of Death' – corrupting the file and apparently dooming it to cyber oblivion.In the past, such unfortunate users would have to hire expert file recovery experts to find these files and pay dearly for the service. But today, thanks to Wondershare's Recoverit software, they can search for and recover these files themselves, at a price that is well within anyone's budget.
What is Recoverit?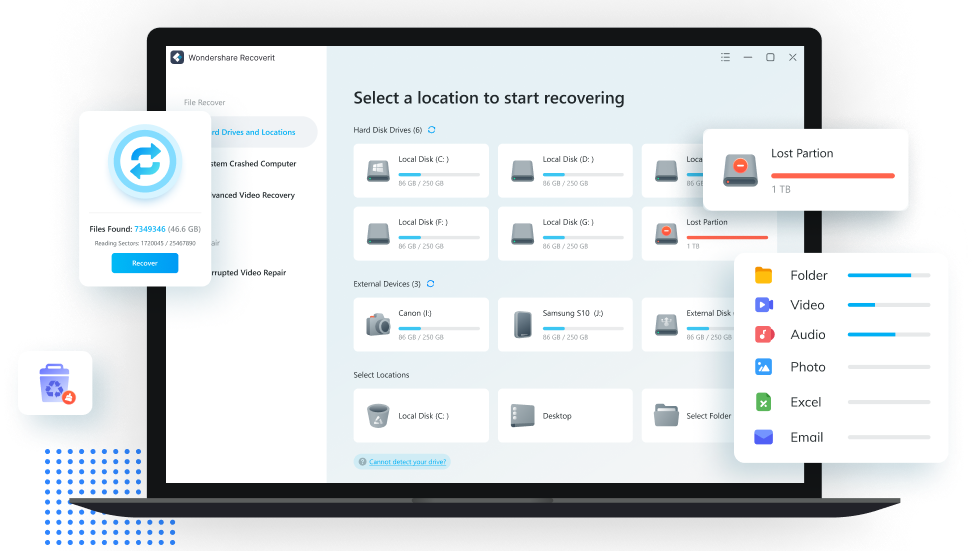 Available in both Mac and Windows versions, Wondershare's Recoverit v10.0 is a software program that helps users in finding lost files of all kinds on their computers and external media, including USB keys and removable Solid State Drives (SSDs).
The 'try before you buy' download will recover up to 100 MB of lost data for free. Wondershare also offers monthly payment plans with a range of capabilities, with the $79.95/month Advanced Plan supporting advanced video recovery and the repair of corrupted video files.
This includes video files at the highest resolution and largest file sizes, such as HD, Ultra HD, 4K, and 8K. The recovered and restored files are then stored on whatever computer and storage media that the user has specified.
However, the best part of Recoverit is not waiting for a third-party expert to fix a lost video problem, nor the hefty consulting fees that usually accompany this service.
Using Recoverit, an average computer user can find and fix their missing video files right on their own premises, or indeed anywhere they happen to be in the world. And they can do so at low, predictable prices.
How Recoverit works for Recover Video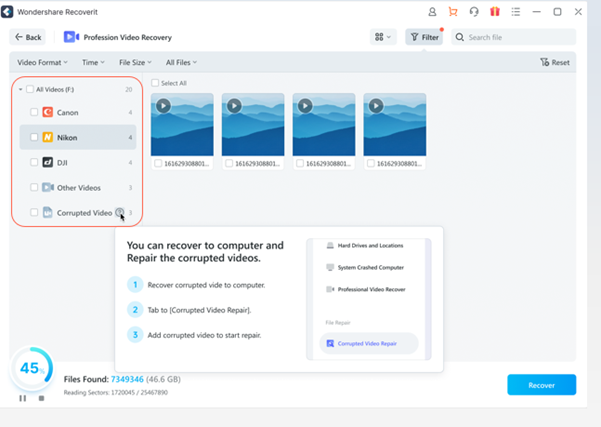 The Recoverit process begins by downloading this free software from the web. Once downloaded, the user simply installs Recoverit and begins the video file recovery process, by selecting from the easy-to-follow options provided on the Recoverit home screen.
They include the locations to be searched for the missing files, plus three Advanced Recovery options: Recover from Crashed Computer (including creating a bootable disk to bring the computer back to life to enable file recovery), Video Repair, and Advanced Video Recovery.
For video professionals, Advanced Video Recovery is a must-have tool. Whenever a video file gets damaged and irretrievable for any reason, Advanced Video Recovery scans the relevant drives to find and copy the fragments of corrupted videos.
It then uses this data to reconstruct the files as much as is technologically possible, often up to 100% restoration.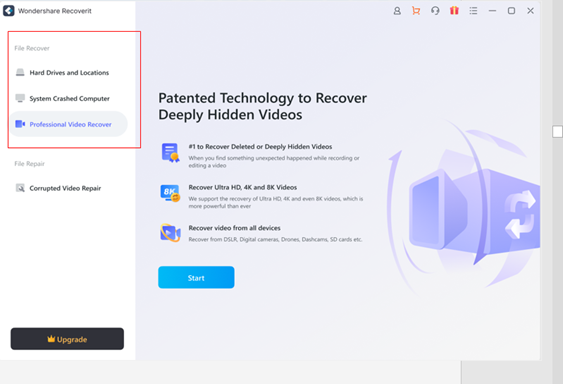 That's not all: Advanced Video Recovery can find both deeply hidden and deleted videos since no file is ever truly lost on a hard drive until its sectors have been overwritten with new data. By the way, this is why a user should immediately cease performing new operations on a computer that has lost video files until the files have been found and recovered.
Of course, the opportunity for video files to go awry has increased with the number of shooting platforms in use today. In addition to standalone video cameras, people are shooting video using smartphones, digital and DLSR cameras, camera-equipped drones, GoPros, dashcams, and the list goes on and on. Fortunately, Recoverit can locate and restore video files on all of them.
The bottom line
Anyone who works video files – from casual users to professional videographers, editors/content creators, and distributors – needs to have Recoverit loaded onto their computers at all times.
Doing so ensures that they can begin the recovery process whenever something goes wrong. Because as anyone who has worked with video well knows, things do go wrong from time to time.
The best part? To reiterate an earlier point, Recoverit is free to download and try. For a quick video explanation of what Recoverit can do in all kinds of data situations, go here. You can also find Wondershare Recoverit on Facebook.