We've looked at various types of themes to power your WordPress site. We've checked which would be best for an e-commerce site, which would be best for displaying a portfolio, or for blogging, that kind of thing. So now it's time to focus our attention on the most subjective subject of all: which are the best themes, period.

It's impossible for such a list not to be colored by personal preference, but we have tried to do our best, and although you will find some themes that we have already discussed in previous articles, we thought we'd keep things interesting by also including a couple that hasn't been brought up before. So strap yourselves in for what are, in our opinion, the best WordPress themes – at least for early 2021…
Best WordPress themes – at a glance
Astra
Authority Pro
Divi
Inspiro
Ocean WP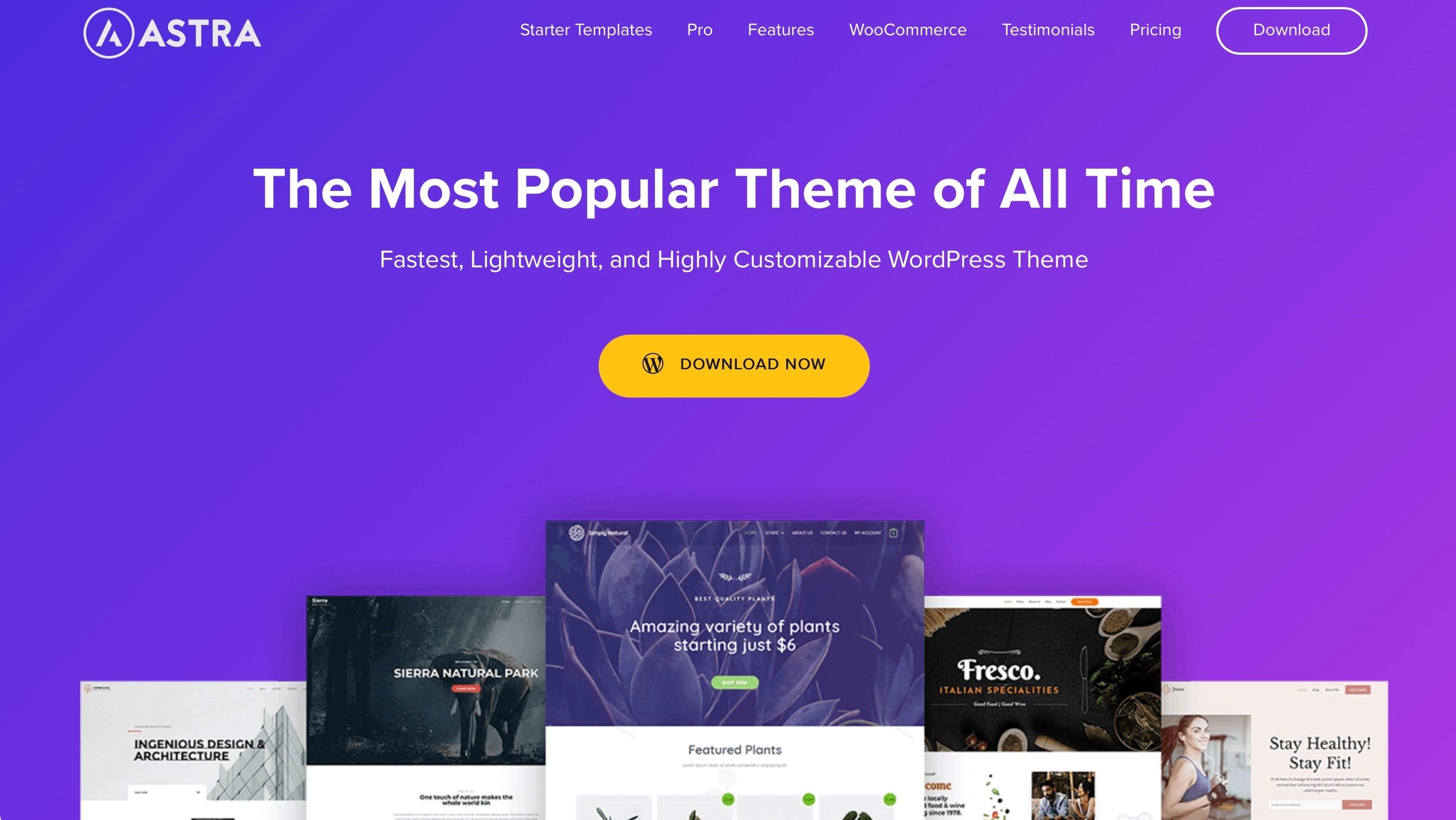 Astra is a very popular WordPress theme. They recently celebrated their one-millionth active install, which is no small feat. It's designed to work with various page builders such as Elementor, Beaver Builder, Brizy and Gutenberg, and comes as a free and paid-for version, but if you're looking for e-commerce features, you have to go pro.
Some of the sales-friendly features unique to the pro version include Infinite Scroll so your products load dynamically as the visitor scrolls down the page, Off-Canvas Sidebar, an ideal place to incorporate filters and widgets to make finding what your customer is looking for quicker and easier, and multiple Checkout Options, to customize the layout to suit you and your users' needs, such as two-step checkout, or distraction-free checkout for instance.
The customization options are quite impressive, all without having to delve into code; you can alter the layout, the typography, even turn off the title page and sidebar if you want to. And best of all, Astra is advertised as a fast responsive theme, meaning it'll load fast to keep your visitors on your site.
Astra offers three different plans, starting with Astra Pro, currently for $47 per year (or $249 for a one-time fee), right up to $249 a year for Growth Bundle (or $699 for a one-time fee).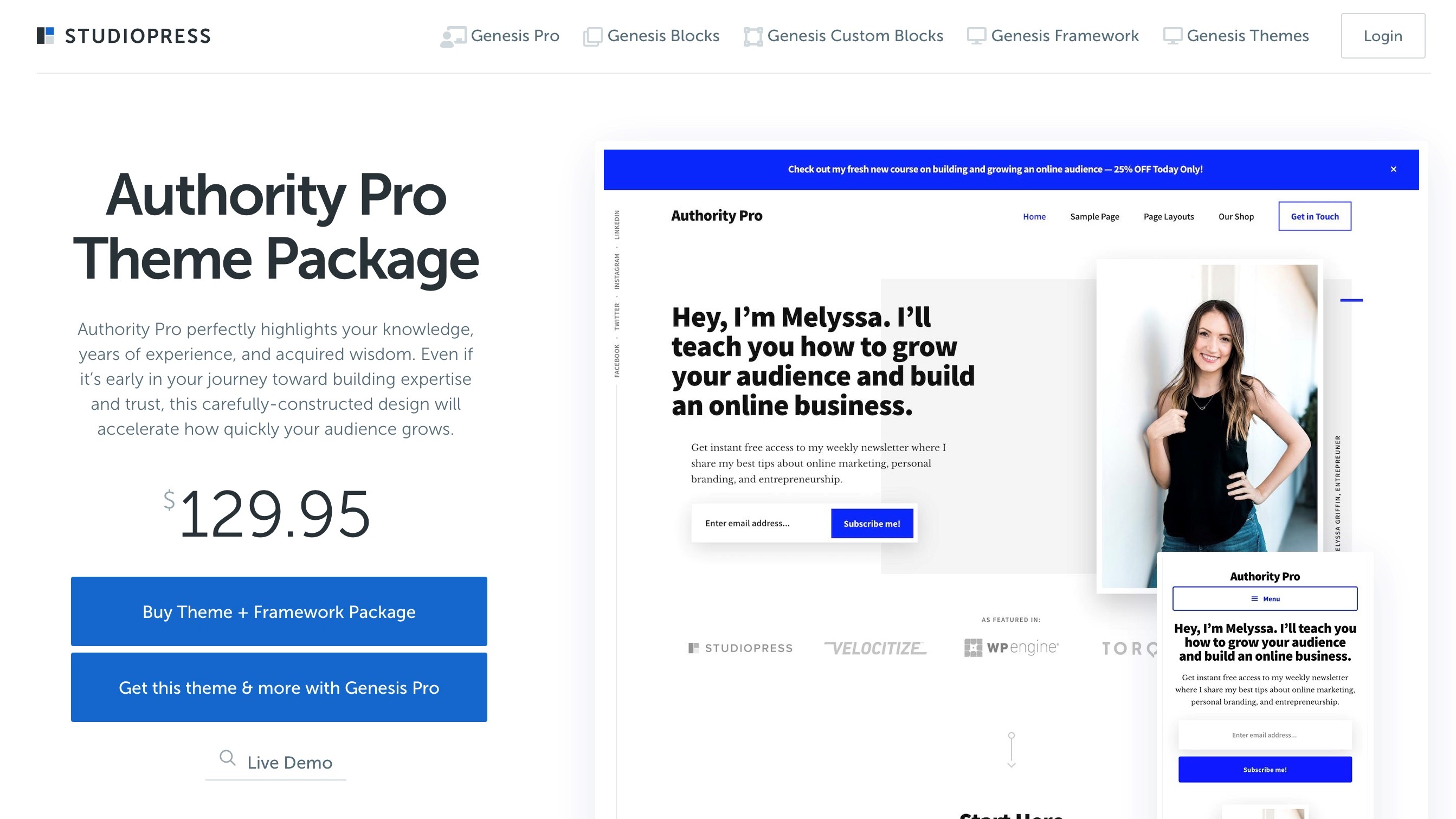 Authority Pro is a theme designed for businesses and anyone who wants to expand their branding online. It's built around StudioPress Genesis Framework which is the designers' tool for creating and customizing their themes and works with WordPress' Gutenberg Editor.
Authority Pro is fully responsive from the get-go and can hook up to e-commerce plugins – in fact, it's pre-configured for WooCommerce. One feature we appreciated which we don't see being advertised enough is its compatibility with Accessibility options.
The Genesis Framework and all other StudioPress themes are included in the price of this theme, which you can get for $360 per year This includes support for one year.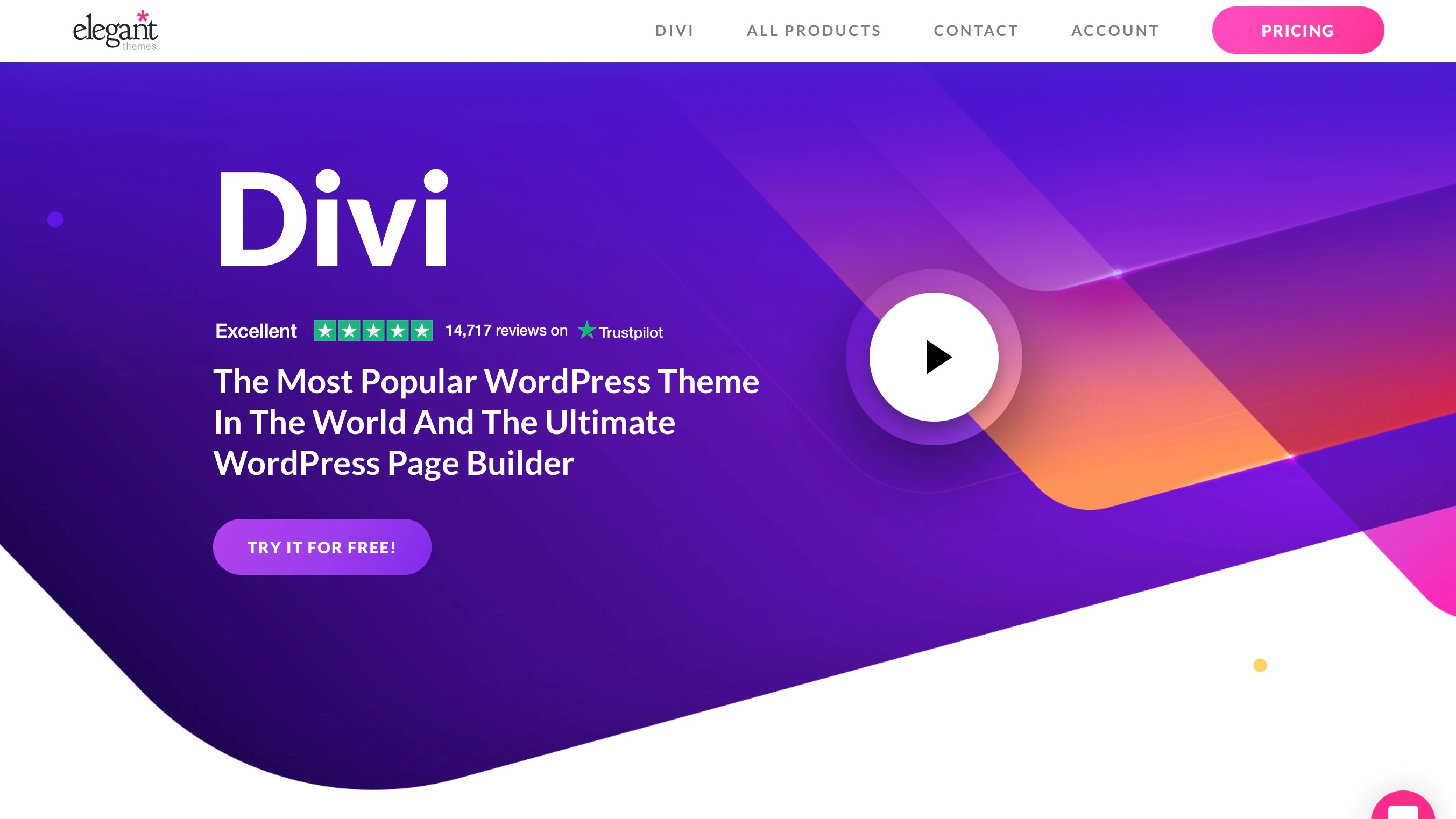 Elegant Themes includes Divi in its all-in-one package for $70 per year (or $199 for a one-time purchase). Part of the package is Divi Builder, which is a WYSIWYG tool, which allows you to see your site as it ends up looking, while you're customizing it. You can choose from template pages, select your favorite layout, drag and drop elements, alter colors, fonts, etc. It all feels pretty effortless.
Altering elements is done with the help of handy sliders, and it's all very straightforward. You can apply effects like sepia to an image, alter its color balance, opacity, blend more, even control the blur, all from the theme, all on the fly. There are a lot of features in Divi, like Shape Dividers, 3D transform tools, the ability to customize the Hover States, and more. All this makes Divi feel more like an art program than a website creation tool. The advantage here is you can make a website look modern while being a lot of fun to use.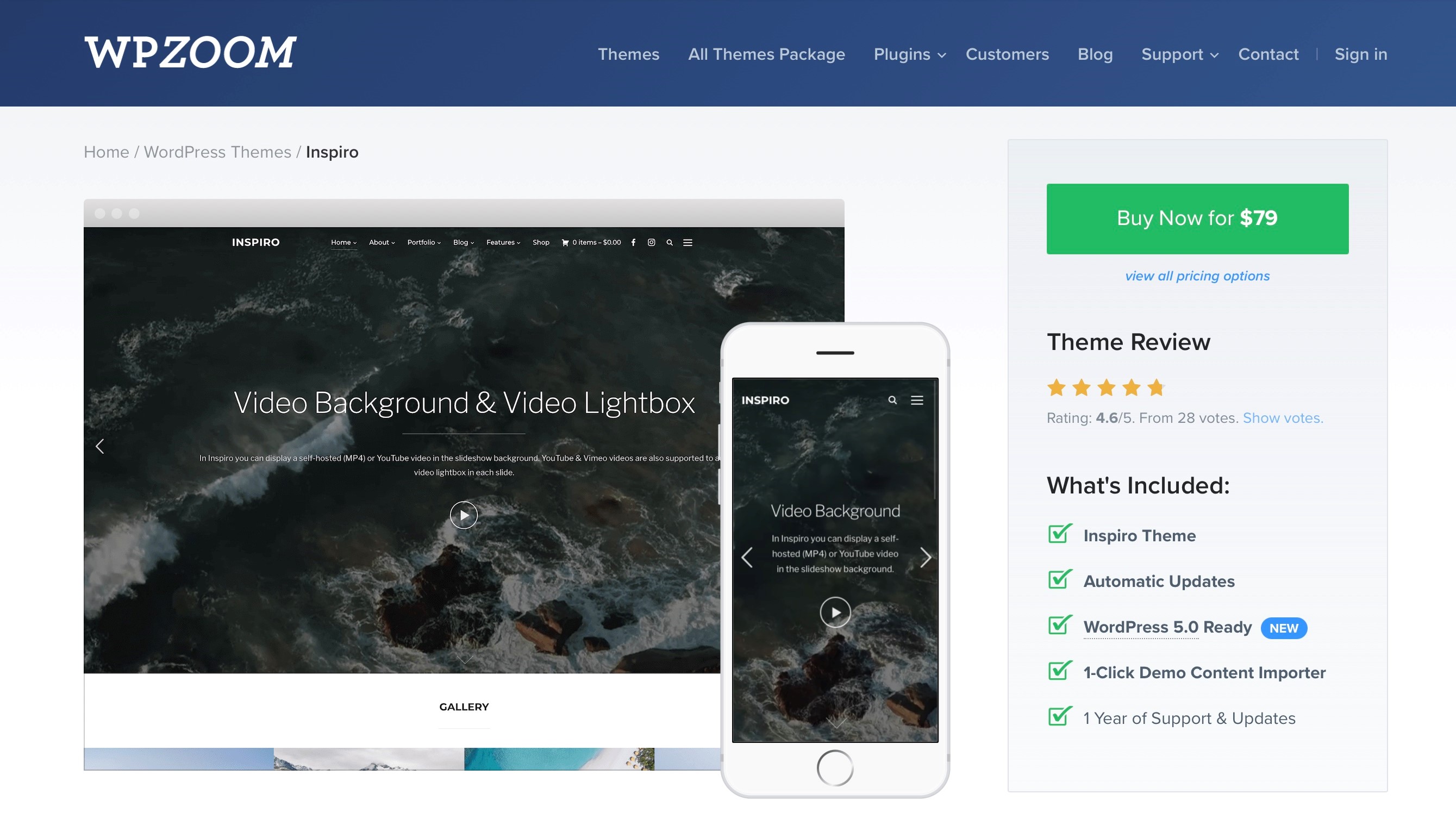 Inspiro is focused on video and photography. It supports full-screen slideshows that can include videos that are either self-hosted or uploaded to YouTube or Vimeo, for instance. This theme also includes a Gallery Module to help you create portfolios of your videos and photographs, and is fully responsive so your site will look great whichever device it's viewed on.
As you'd expect, you can fully customize every aspect of Inspiro to transform your site into something truly unique to you. This is done through the Theme Options Panel, and the built-in Page Builder. And if you want to make a living out of your photography, Inspiro is fully compatible with WooCommerce, one of the best e-commerce WordPress plugins on the market.
You can get Inspiro for $79 per year, which includes one year of updates and support. If you'd rather avoid paying a subscription, you can own it forever for $179 – which also includes unlimited updates and support.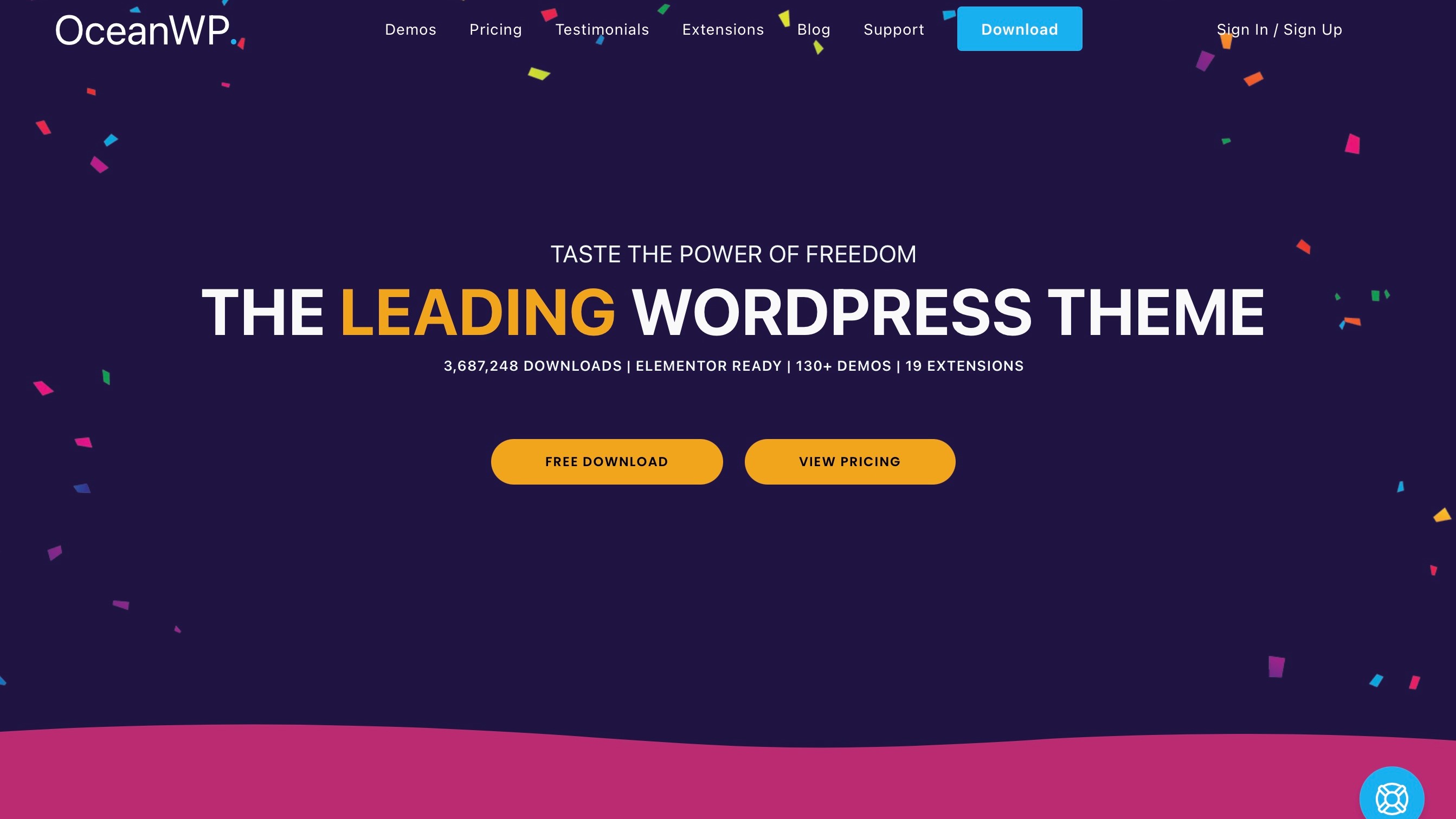 OceanWP is a blogging theme that advertises itself as being free, and in a way it is. The core functionality is. It's a very popular WordPress theme, having been downloaded over 3.6 million times. It's fully responsive, retina-ready, and caters to not just blogs – it's currently pushing its e-commerce capabilities for instance.
One of the great things about OceanWP is the number of Demos it has available – select the one you want to apply to your site in just a few clicks… except there's a catch: the vast majority of them aren't free. You will find the odd free demo, and all the ones we've seen are very nicely done, but if you're itching for a "pro" one, you'll have to hand out the cash.
Prices start at $39 per year for a single site and come with 12 premium extensions and 109 pro demos. If you work on more than one site, you can choose Business for 3 ($79 per year) or Agency for 25 ($129 per year). There's also a one-off lifetime price if you hate subscriptions of $159, $319, and $519 respectively.
What is a WordPress Theme and How Does it Impact Ads?
Choosing the right WordPress theme for your website is much more than just opting for a minimalist, eye-catching design. To succeed online, you need to have a bit more acumen. Stephen Marsi, the co-founder of Mediavine, shares some thoughts about what it takes to win online.
Advertising is always a delicate balance. What generates the maximum revenue and what provides the optimal user experience? Can those competing factions coexist?

Many things factor into this question, including WordPress theme frameworks. Hundreds of thousands of sites use them to customize functionality and appearance for just about every need, and they can significantly impact ad performance, as well.

To set up a theme framework, publishers need to purchase or download one for free. There are numerous options and pricing plans for additional features and options.

Not all WordPress sites require a framework – basic sites with a single landing page likely won't need the customization options they offer – but many depend on the flexibility and optionality that they provide. So what does this have to do with monetization?

For digital content creators, running the highest-performing ads on WordPress websites, while still ranking in search engines that send valuable organic traffic, requires the right technology, tools, and techniques – a combination not every theme framework delivers.

It's crucial that WordPress frameworks reflect Google's current best practices, including Core Web Vitals, Progressive Web Application (PWA) standards, Lighthouse guidelines, and more.

Put another way – it's extremely important for any website to load quickly and seamlessly. Pagespeed isn't the most important thing, it's the only thing. It is crucial to be cognizant of the importance of fast-loading pages and the disadvantages inherent in some frameworks.

(ed: That also means that choosing the right WordPress hosting service is important as well)

Solutions like the open source WordPress theme framework, Trellis, are built with modern web technologies and designed for site speed and revenue optimization. Goals of perfect 100 scores on both desktop and mobile on PageSpeed Insights and Lighthouse – the tool powering those insights – is built into the core development process.

Back to our original point; Google and most players view user experience as the linchpin of holistic website growth and sustainability. If something is bogging down your site – plugins, jittery, shifting content, ads, all of the above – that isn't a high-quality UX. Which, in turn, hurts your SEO, your traffic, and your ability to monetize that traffic. It's all interconnected.

Choosing the best WordPress theme framework is essential for content, SEO, and ads to coexist in a productive way. That means a framework that plays nicely with WordPress (the most popular CMS) and focuses on Google's best practices.