More than six years after Borderlands 2 burst into our lives, Borderlands 3 has finally been announced and given a firm release date that we can count down to.
After so long waiting, it hardly feels real that the release date of Borderlands 3 is so close; we've even spent some hands-on time with the game now!
With larger-than-life characters, a lively and colorful alien planet to explore, tons of absurd weapons, and a wisecracking sense of humor, Borderlands has managed to blow some fresh air into an FPS genre that often sticks to 'gritty' visuals and dull urban environments.
Here's everything we know so far about the game, and when it's finally going to be landing on PC and consoles.
[Update: Just can't wait to get your eyes on Borderlands 3? Gearbox has released a full 14 minutes of footage from the start of the game. Find out more and watch it for yourself below.]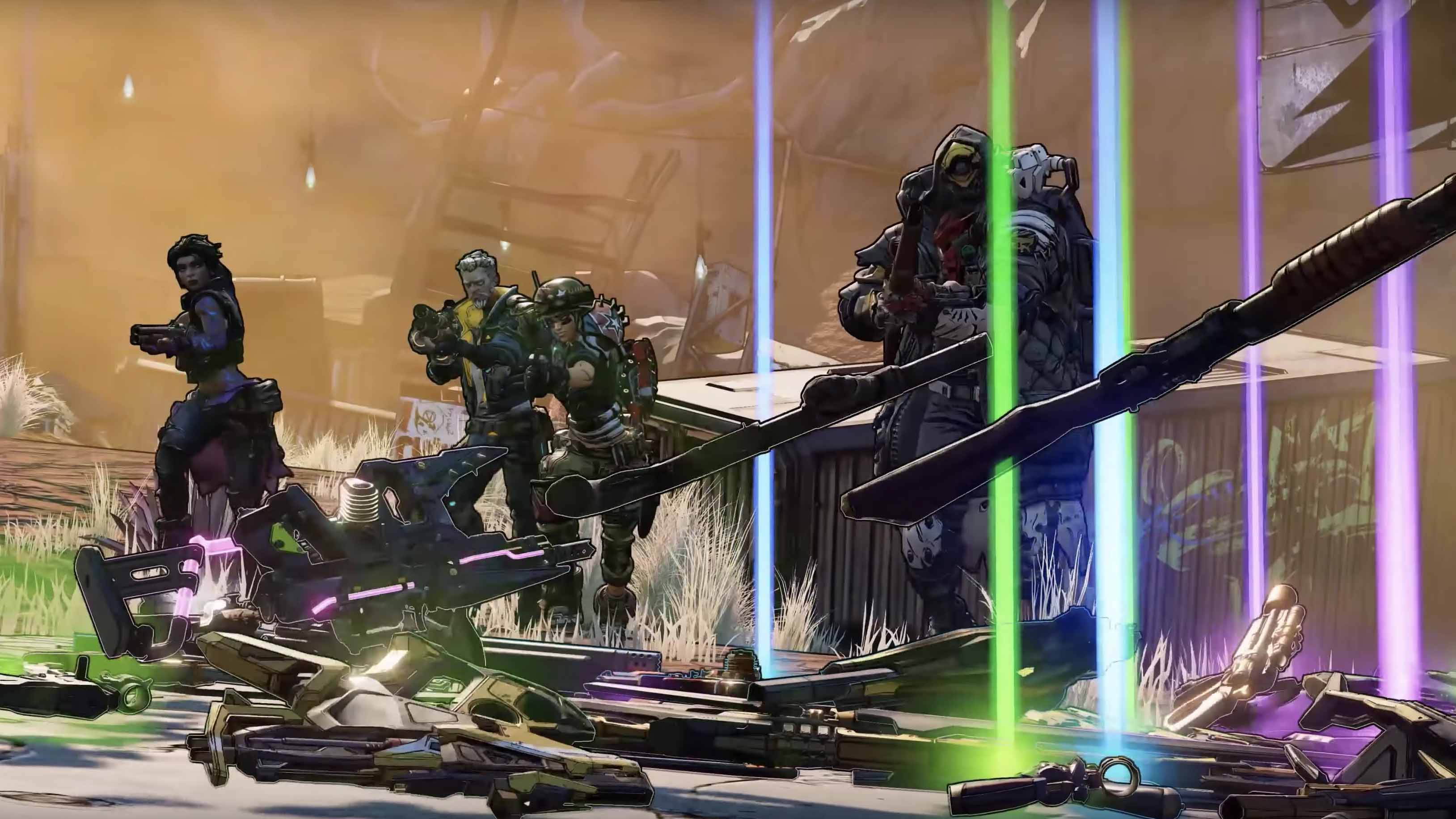 Cut to the chase
What is it? The third numbered game in the first-person shoot and loot franchise
When can I play it? September 13, 2019
What can I play it on? PS4, Xbox One, PC and Google Stadia
Borderlands 3 release date
Gearbox has now confirmed a release date of September 13, 2019.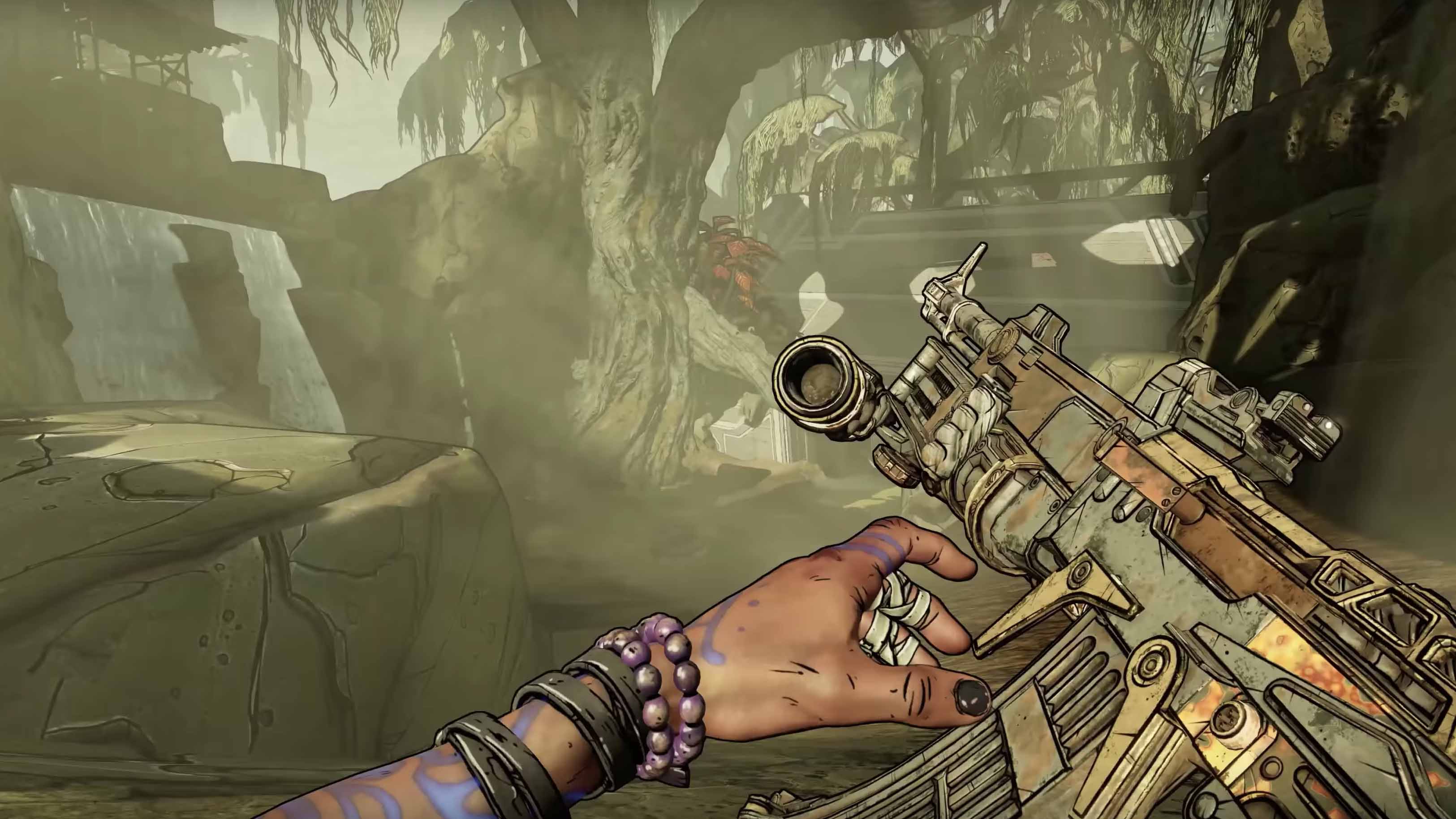 Borderlands 3 trailers and preview
While we wait for the game to land, we do have a number of new trailers to pore over. The latest isn't trying to tell you anything specific but it's a real mood setter and you can tap your feet to The Turtles so it's well worth a watch.
E3 brought us an exciting amount of new footage including a new cinematic trailer and ten whole minutes of gameplay footage. You can watch both below:
Gearbox took to the stage at PAX East (March 28-30) to show off  the formal announcement trailer below. You get a good look at the new villains of the series (a brother and sister?), new shiny cities and creaking scrapyards, and series-favorite robot Claptrap doing some breakdancing.
It looks… pretty much the same as any Borderlands game before it, which is both reassuring for fans and a bit disappointing for those looking for a new spin on the series. It's too early to judge before we've seen more, though.
What we know for sure is that there'll be a lot of guns (over one billion, and even one with little machine legs) and a whole lot of looting in expansive sandbox environments. Oh, and a saxophone solo – because why not?
There's also a separate announcement trailer for the release date, which also names the four vault hunters and the name of the villains: the Calypso Twins…
The official announcement came only days after a 'Mask of Mayhem' teaser you can see below. It's packed with little clues and hints of the game to come, including everything from a morse code to braille, and what seems to be a broken-up redeem code (C35TB – WS6ST – TXBRK – JJH6H – TTTJT) that we imagine will be usable for some sort of DLC reward or exclusive skin for eagle-eyed viewers.
What's more, we've been able to spend some time with the game thanks to a hands-on gameplay reveal event that TechRadar attended. The gameplay loop, at least, is familiar, with your job to take down enemies, look their corpses, and level up. It looks like Gearbox is putting plenty of detail and imagination into the weaponry this time around.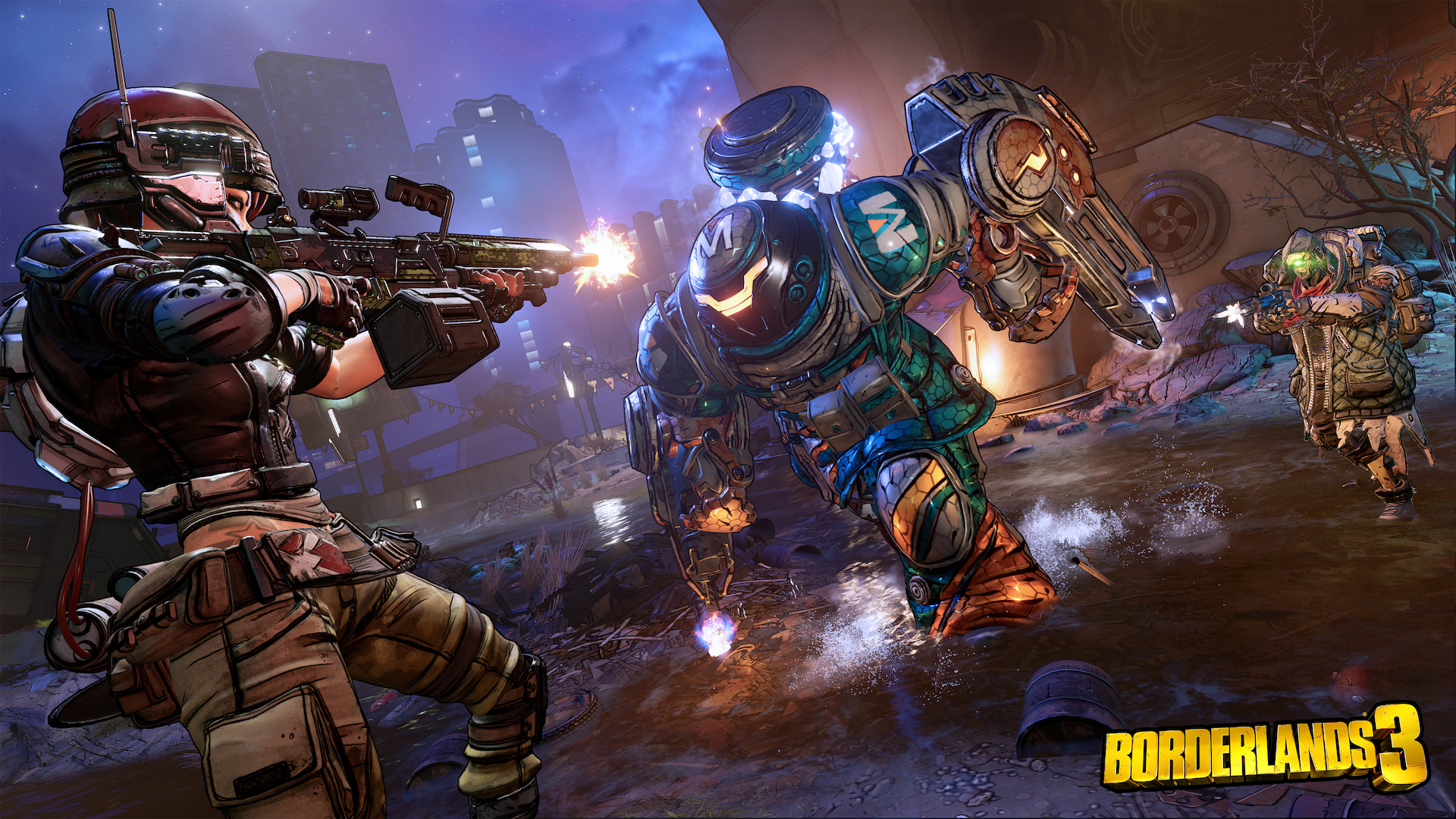 What's new is a focus on movement that's more fluid, and improvements to multiplayer, including the option for allies to revive each other. There's also "loot instancing", designed to level the playing field a little for groups of friends who've spend different amounts of time in the game. Borderlands 3 also gives you your very own spaceship, the Sanctuary 3.
For a full rundown of everything we saw in our time with the game, check out our hands-on preview in full.
Borderlands 3 news and rumors
Visual capabilities
In a behind the scenes interview posted to the Official PlayStation blog, Online and Social Product Owner for Borderlands 3, Scott Velasquez, has confirmed some of the visual options that players will have in the game. First of all, Borderlands 3 will support HDR and 4K but these don't come hand in hand; players will actually be able to configure them separately to get exactly what they want.
Further to this, players will be able to choose between "favor resolution" and "favor performance" on 4K consoles. With the former, framerate will be capped at 30 but the resolution will look its absolute best. With the latter, as you'd expect, the resolution is held back slightly at 1080p while the framerate goes up to 60 frames per second.
If you're using a 4K console but your TV only supports 1080p "the game will supersample from the higher resolution using the console's hardware" so you'll get the best 1080p image you can at the very least.
14 minutes of footage
It's not long to wait until that September release date but Gearbox is excitement for Borderlands 3 at a peak with 14 minutes of footage from the start of the game. Dropped as part of IGN First, this new footage gives a better indication of the game's story and a nice look at the controls, combat and customisation that will be available to you at launch.
No cross-play at launch
Although it's something Gearbox is interested in making happen, there will be no cross-play in Borderlands 3 when it launches. Randy Pitchford confirmed this news via Twitter where he also said that the team is committed to making the dream a reality in the future so keep your fingers crossed, folks.
Vault Insider Programme
Want to earn in-game loot before Borderlands 3 is even released? Then you'll want to take a look at the Vault Insider Programme. Not only will signing up to this bring you news about the game as it's announced, it'll dish out points that can be spent in Borderlands 3 or Borderlands 2.
The Vault Insider Programme is basically part of the marketing push ahead of Borderlands 3 so it probably won't surprise you to know that points are earned after you set up a Gearbox Shift account and link it up to your various social media channels. You'll get your points from watching the latest videos, visiting the Borderlands social media channels, essentially doing a lot of the things you might do anyway if you're interested in the game.
You can either spend your points on a randomised piece of loot or weaponry or save up for something specific.
Accessibility improvements
In addition to the new ping system, Borderlands 3 includes a bunch of other features that aim to increase the game's overall accessibility including compatibility with the Xbox Adaptive Controller, re-mappable controls, a variety of subtitles and closed captioning options, and level-syncing (which will allow you to play with friends, even if you're different levels).
There have also been improvements made to online match-making. Players will be able to search for a match in the background while continuing to play the game, and match preferences can be more specific than previously. This means you can find players at the same point in the story as you or set the mode you want to play in.
Ping system
At a panel at Guardian Con last week (via PC Gamer), Gearbox revealed it has added a range of new features to Borderlands 3 to make multiplayer more accessible than its predecessors. The biggest addition? An Apex Legends-style ping system that allows players to communicate with each other without ever having to say a word.
Much like in Apex Legends, Borderlands 3's multiplayer will allow players to simply cover over an enemy or chest and then press a button to 'ping' it to your fellow teammates. In other words, it lets you highlight important things like hostiles, good loot and objectives.
This feature will allow players to communicate easily and without having to deal with the stress of a stranger screaming down your headset. Of course, that option remains available.
Check out a video of the new ping system in action below:
E3
As promised, Borderlands 3 made an appearance at E3 2019 with a brand new cinematic trailer, 10 minutes of gameplay to pore over and confirmation that there's a brand new planet called Eden 6 that's inspired by the Louisiana swamps.
Oh, and those rumors about a Borderlands 2 DLC bridging the gap to the third game? Those were true. Borderlands 2: Commander Lilith and the Fight for Sanctuary offers a 10-hour story which starts right at the end of Borderlands 2.
Even better, it can be downloaded for free from now until July 9 on Xbox One, PS4 and Steam. After that it'll cost you £11.99 so if you have any interest in Borderlands 3 it's worth picking up right now.
Reports of Borderlands 2 DLC – confirmed
The rumors about a Borderlands 2 DLC bridging the gap between the second and upcoming third game were true. Commander Lilith and the Fight for Sanctuary DLC is free and available now.
Details, details, details
We managed to have a chat with Amanda Christensen, a concept artist at Gearbox and a key character designer on Borderlands 3. She told us that "the most obvious jump is in terms of our level of detail" in the upcoming game, and that there are a "bunch of cool little details" spread throughout. It's a revealing chat and you can read everything Christensen had to say about Borderlands 3 here.
DLCs: quality over quantity
The DLC future of Borderlands 3 looks bright enough, after Gearbox CEO Randy Pitchford intimated on Twitter that future DLCs would focus on quality over quantity: it seems as though Borderlands 3 might focus on fleshing out the capabilities of the game's starting classes instead of asking players to start building new ones from scratch, and that's fine with us.
Epic Games Store exclusive – to start
While Borderlands 3 will launch on PS4, Xbox One and PC, the PC version will start as an Epic Games Store exclusive, before joining the Steam Store six months on.
Gearbox CEO Randy Pitchford hinted at this back in December, when he voiced his support for the new marketplace. Epic has been courting various exclusives for its store, including Metro Exodus and The Division 2, so we're not overly surprised.
Cross-platform co-op could be included
A listing page for Borderlands 3 on the Microsoft store gave a hint to a very-cool potential new feature landing with the game – cross-platform multiplayer. Though the page in question has since been pulled, it showed the game's feature set to include play across consoles not limited to Microsoft's own. With the game initially an Epic Games Store exclusive, and that platform's biggest title, Fortnite, being cross-platform in many console scenarios, there's certainly the genesis of the infrastructure to support the feature if true.
A representative for the game's publisher, 2K Games, told IGN that "Cross play is something we're looking at closely, but don't have anything to confirm or announce at this time."
Vault Hunter names
The release date trailer also gave us the names of the four vault hunters, which offer their own spins on the traditional four classes. We have a Gunner weapons expert (Moze), a Siren with floating fists at the ready (Amara), an android Beastmaster (Fl4x), and a suave, stealthy Operative (Zane). We also got the names of the entry's villains: the very evil-looking Calypso Twins (not identical).
Borderlands 3 confirmed – as well as a board-game
Gearbox gave us the announcement we wanted on March 28, at PAX East in Boston. The showcase was hit with technical difficulties – like a lot – and for some reason included a really long magic trick. But we got our first look at the anticipated title, as well as a tie-in board-game called Borderlands: Tiny Tina's Robot Tea Party.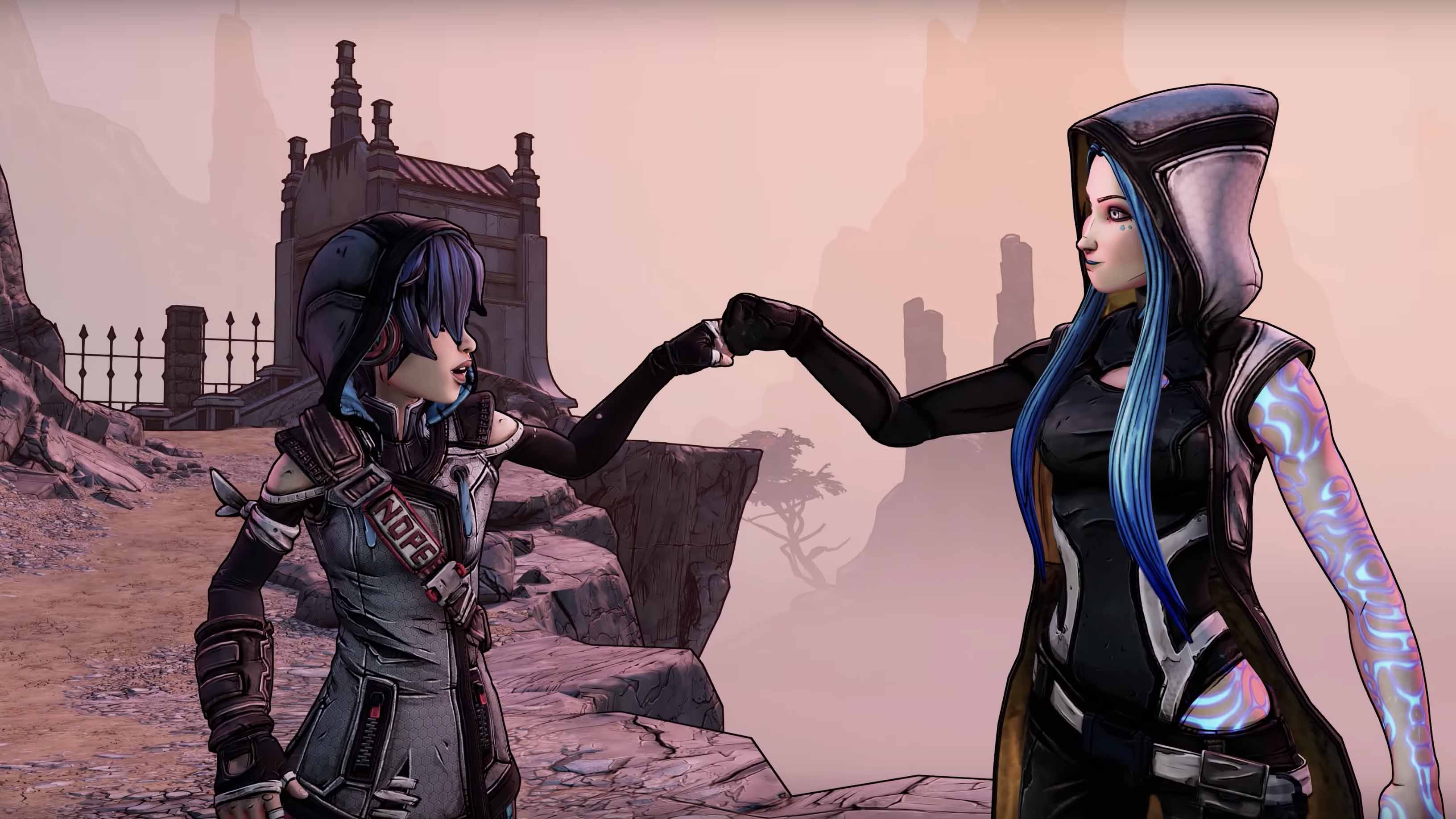 4K remasters (for free!)
Good news for anyone with a copy of Borderlands 1, 2, or the Pre-Sequel: Gearbox is releasing enhanced 4K remasters of the previous games, and anyone who already owns them will get to download the remastered version for free. You'll need a 4K ready console or PC to make the most of it, but it's wonderful fan service for those who do.
Hints, lots of hints
At PAX West 2017, Pitchford announced during a panel that 90% of the Gearbox team is "working on the thing I think most of you guys want us to be working on."
Pitchford also took part in an IGN Unfiltered interview around the same time, when he said that if another Borderlands game were to be made, it would be more of a true sequel as opposed to another Pre-Sequel spin-off.
Caught in the act
And in April 2017, Pitchford took to Twitter to post a picture of himself wearing a motion capture suit with the caption "Doing a shoot… I may or may not be a psycho bandit in a video game we may or may not be working on. Also, happy Bulletstorm launch day!"
Given that Psychos are a Borderlands enemy we'd say this tweet can be read with a fairly large nudge and wink.
The GDC presentation
Before all of this Pitchford took to the stage during Epic Games' Unreal presentation at GDC in March 2017, where he showed off new rendering tech that "may be used in a future Gearbox game." He explicitly said the footage shown was not from a video game but what was shown was highly reminiscent of Borderlands.
He also revealed that this new tech is capable of simulating different physics depending on a planet's properties. Specifically he said "there might be different physics and the sun and the moons might be in different positions than what we're used to on Pandora."
That seems to have been pretty prophetic – as we know Borderlands 3 will be making use of some new environments beyond what we saw on Pandora in the previous games.
Some changes
Borderlands regular Mikey Neumann won't be writing on the new game, as he was unfortunately forced to resign from the project due to health complications. The lead writer on Borderlands 2, Anthony Burch, has also since left the company. There's been no hint with regards to who'll be taking up the pen after their departures.
Another change is that the voice behind Claptrap, David Eddings, has left Gearbox for Rooster Teeth so it's unlikely he'll be taking up the role again.