Microsoft's exclusive Gears of War series is one of the most popular to hit Xbox, with the Lancer and its chainsaw bayonet as recognizable as Halo's iconic Warthog. And at the Microsoft E3 2019 keynote, the company announced Gears 5 is coming out September 10, 2019.
Called Gears 5 rather than Gears 'of War' 5 the latest game in the series will have a female protagonist, Kait. Marcus Phoenix will still appear, but Kait will take the starring role as she leads her team on a personal mission continuing from the emotional ending of Gears of War 4.
Microsoft shared more details about Gears 5 during it's E3 2019 conference: a new 3-player online and local co-op mode 'Escape,' a special character pack featuring Terminator skins in a crossover with the upcoming 'Terminator: Dark Fate' film, and a new teaser.
Another fun addition: Gears 5 will get a Map Editor, a first for the series, per an Xbox official tweet. And if you sign up for the new Xbox Game Pass Ultimate, you can play the game four days early on September 6.
[Update: Gears 5 has gone gold, according to a blog post on the Xbox Wire. The game has been finalized and is ready to arrive in time for its early September launch.]
Cut to the chase
What is it? The fifth game in the main Gears of War series, potentially acting as the middle chapter in a second trilogy
When's it out? September 10, 2019
What can I play it on? Xbox One, and PC (maybe. See below for more details)
Gears 5 trailers
Ahead of some Versus Tech Tests in July, The Coalition released a trailer showing off the game's brand new Arcade mode.
At E3 2019, Microsoft gave more details about Gears 5, including the new 3-player co-op mode Escape. Here's the trailer, showing off the three new characters who will fight to get out of a Locust-infested area.
Microsoft and The Coalition studio head Rod Ferguson confirmed Gears of War 5 during the Xbox Keynote at E3 2018. To go alongside the announcement we got a new trailer starring Kait Diaz, Marcus Fenix and the rest of the Gears crew. Locusts will again play a major role in the series when the game comes out later this year.
You can check out the Gears 5 announcement trailer below:
Gears 5 release date
Gears 5 is coming on September 10, 2019, as Microsoft announced during its E3 2019 keynote. But you can get it four days early on September 6 if you subscribe to the Xbox Game Pass Ultimate.
Gears 5 news and features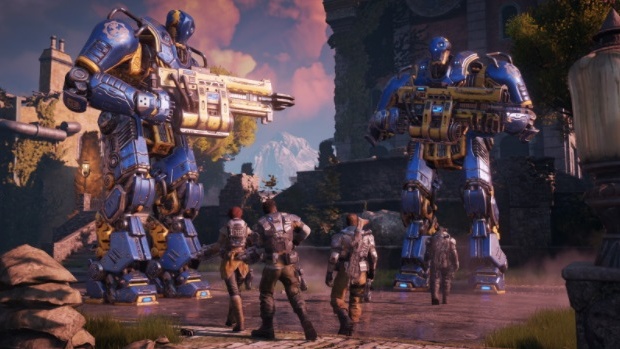 No battle royale…at launch
In a conversation with GameSpot, multiplayer director Ryan Cleven has said that Gears 5 won't have a battle royale mode when it launches. That's not to say it'll never happen, though. According to Cleven, The Coalition are "big fans" of the genre and that following the release fan feedback will be an influential factor in deciding what modes to add.
"Gears 5 does not include a battle royale mode," Cleven explained. "We're big fans of the battle royale genre, but we would want to ensure we bring a battle royale mode to Gears in a meaningful way. We're actively listening to our Gears community and will look to further evolve our game modes based on player feedback post-launch."
This is in line with previous statements the developer has made with regards to a battle royale mode where it was said efforts would have to be made to do it right rather than to shoehorn it in.
The "largest Gears to date"
In an interview with Game Informer, The Coalition's multiplayer design director Ryan Cleven revealed the next installation in the Gears of War franchise is going to be the biggest we've seen yet, primarily due to its wide and diverse range of modes.
"Gears 5 is the largest Gears of War to date," Cleven said. "It's the largest campaign ever made, the largest PvE ever made, the largest versus ever made."
This isn't particularly surprising considering the vast number of single and multiplayer modes Gears 5 is bringing with it: Campaign, Escape, Horde, Arcade, Tour of Duty, Bootcamp, Escalation, King of the Hill, Arms Race, Dodgeball, Execution, Guardian, Team Deathmatch and Warzone. And, those are just some of the ones we know about at launch.
In addition, Gears 5 will feature new map-building and sharing tools which will keep players busy for hours on end.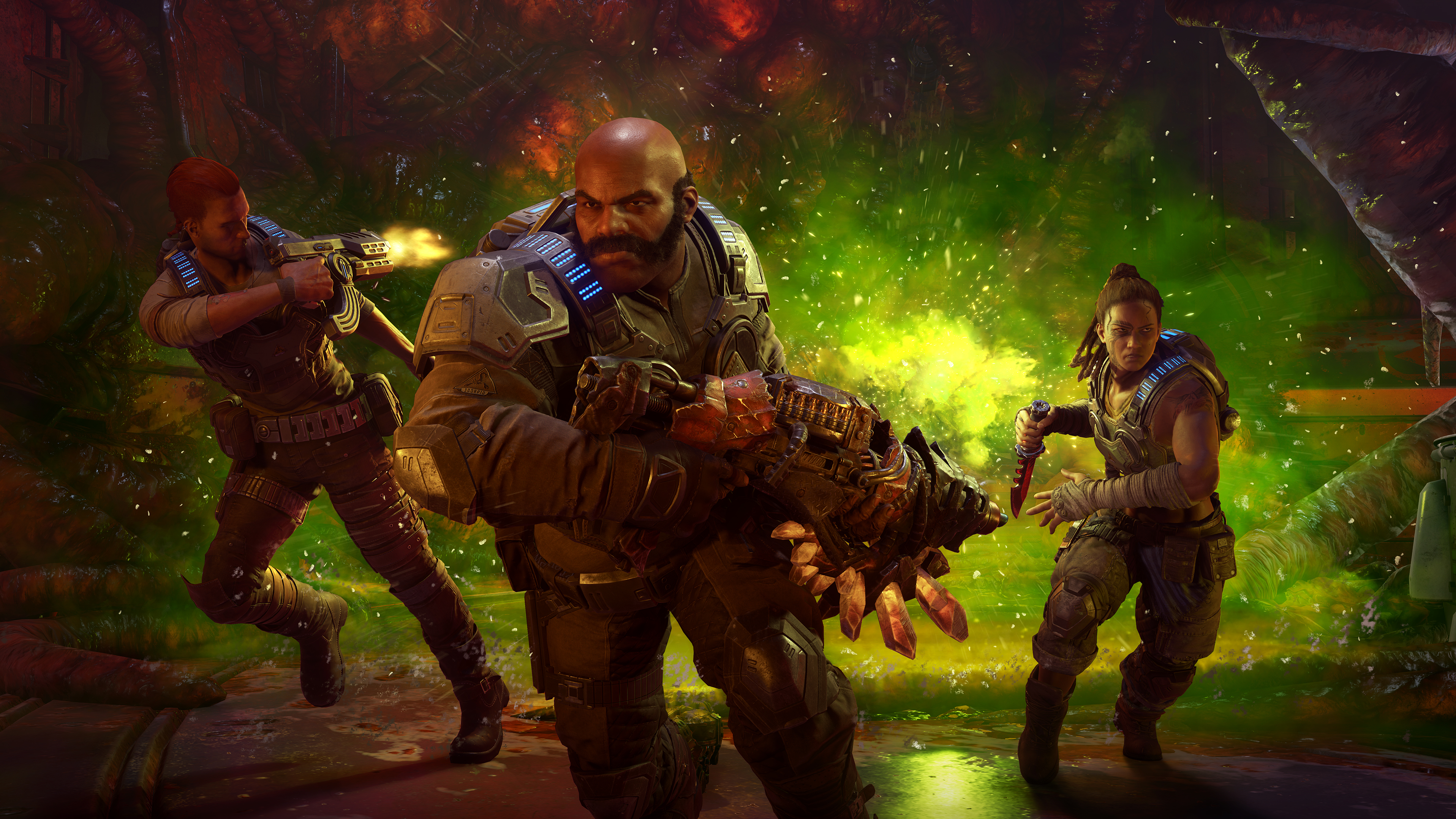 Multiplayer Tech Tests coming in July
The Coalition has confirmed that it will be kicking off multiplayer tech tests for Gears 5 in July. The testing will take place across two sessions: July 19 to July 22 and July 26 to July 29. Pre-load will be available from July 17.
According to the studio, those taking part in the tests, whether they're on Xbox One or PC, will be playing three distinct Versus modes across two of the game's new multiplayer maps. These modes will be Arcade, Escalation and King of the Hill. There will also be a chance to try out the new features Bootcamp and Tour of Duty.
Access to the tests is included with Xbox Game Pass memberships but non-members can also get involved by pre-ordering Gears 5 from the Windows and Xbox stores or through participating third-party retailers who will be distributing the access codes.
System requirements
If you want to purchase the game or take part in testing sessions on PC you'll need to make sure your machine is up to scratch. The Coalition has confirmed the minimum, recommended and ideal system specs required for Gears 5.
Recommended specs
Min OS: Windows 10 May 2019 Update
CPU: AMD Ryzen 3 or Intel i5 Skylake
GPU: AMD Radeon RX 570 or RX 5700/ Nvidia GTX 970 or GTX 1660 Ti
VRAM: 4GB
RAM: 8GB
HDD: 15GB
No loot boxes or season passes
As we count down the days until Gear 5's September release, The Coalition has announced some more details around how players will be earning new content and items as they play.
In Gears 5, all DLC maps will be free in both matchmaking and private play scenarios and there won't be any loot boxes in sight.
New content will be earned through the Tour of Duty system. This will involve daily challenges and medals that you can complete to rank up and earn cosmetic rewards and you'll also get some of the in-game currency, Iron. It will, according to Coalition, be clear what's required of you to earn each item and there will be no premium, pay-only content in Tour of Duty.
As well as getting a small amount of Iron through Tour of Duty, you'll also be able to buy it using real-world currency. All store purchases will also be direct so there won't be any RNG causing issues.
Another way to unlock new content will simply be by playing – supply drops will happen at random as you rack up the hours and these can't be purchased with real-world currency. If you get a duplicate item, it'll automatically be scrapped and you'll be able to use the remnants to craft new items or upgrade skills.
E3 2019
We got hands on with Gears 5 during E3 2019. Our first impressions of Escape Mode are that it's a fun co-op experience but that it runs the risk of growing repetitive.
XO18 show
During the XO18 show in November, 2018,  The Coalition studio head Rod Ferguson promised "a bunch of innovations, a bunch of changes, a bunch of things that are really exciting and different but still feel like Gears of War" (via GamesRadar).
Cult of personality
During the XO18 show in November, 2018, The Coalition studio head Rod Ferguson
explained the studio wants to prove it can still provide "an authentic Gears of War experience" and that Gears 5 will be about "bringing The Coalition's personality to the game" (via GamesRadar).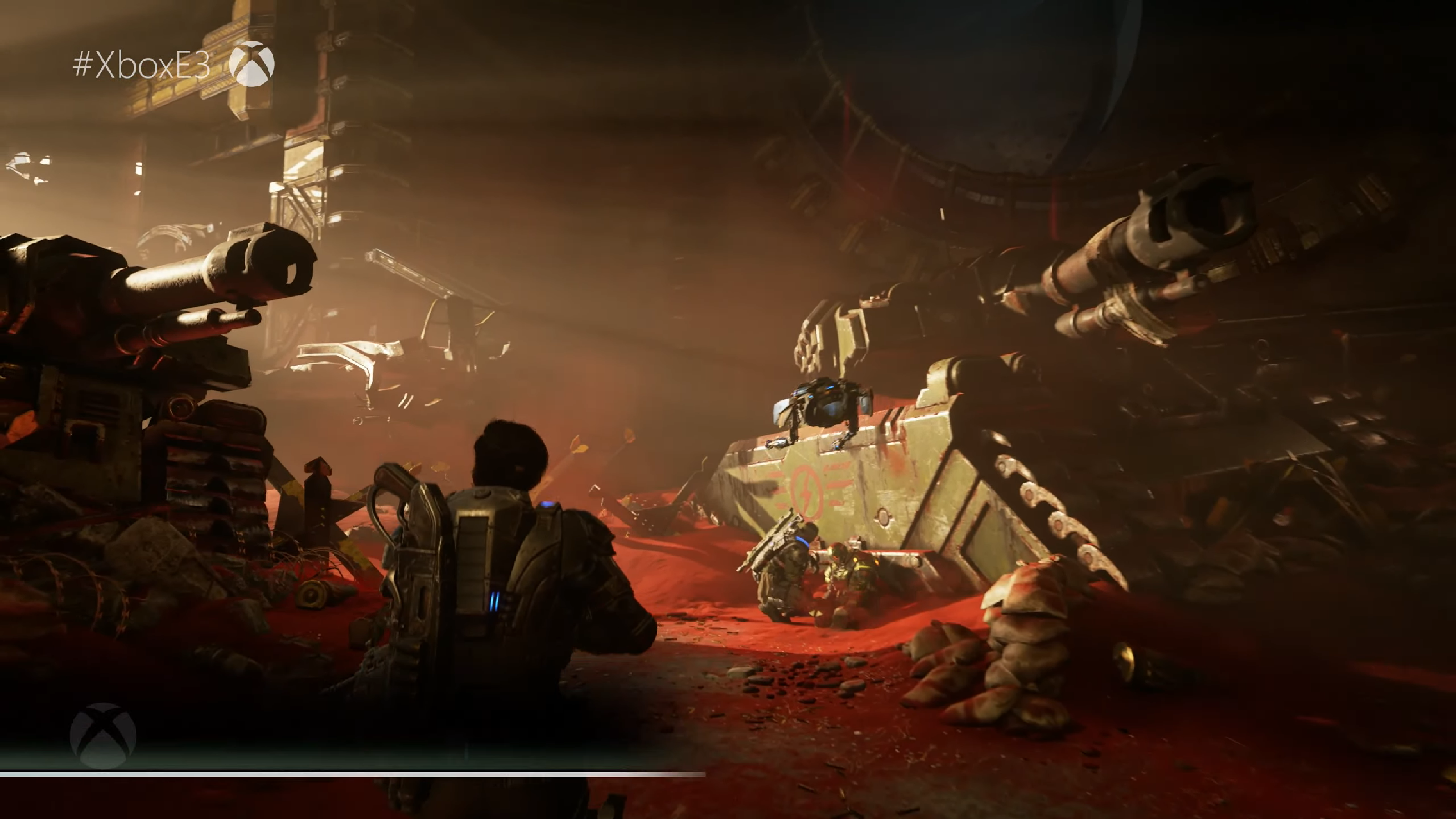 E3 2018
Gears of War 5 was confirmed during E3 2018, and will be called Gears 5 to be released in 2019. Following on from the ending of Gears of War 4, this game will follow Kait as the star of a new trilogy. Breaking her chain of command, the game will follow Kait as she breaks the chain of command and takes her squad on a decidedly personal mission.
PC Gaming
Microsoft has been pushing its PC Play Anywhere program, that sees you able to take your Xbox games and play them on Windows PCs. Gears of War 4 made use of it way back in 2016, so there's no reason why Microsoft would drop the service for a sequel. (Which is a nice change, considering Gears of War 2 and 3 never saw releases on PC.)
What we want to see from Gears 5
Unanswered questions
Gears of War 4 ended with JD and Kait fighting their way through the Swarm to try and save Reyna, Kait's mother, only to find it was too late. Reyna wasn't dead but the Swarm were trying to integrate her into their hive and removing her would kill her. But, at Reyna's request, JD and Kait tear her away from the Swarm.
Before she does, Reyna teases a great mystery: she gives Kait a necklace that she says she was given by her own mother, Kait's grandmother. The symbol is one Gears fans will recognize looks remarkably similar to one worn by Queen Myrrah of the Locust, your nemesis in original trilogy. A Gears sequel would have to explore this further – are Reyna and Kait descendants of the Locust?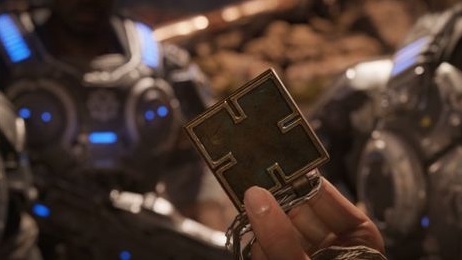 There are hints that Adam Fenix, Marcus' father, JD's grandfather was close to Myrrah before the wars, so there's a chance that Locusts and humans coupled but it would be new territory for a Gears of War game to explore.
Wish List
Besides continuing the campaign story, we'd like to see more of the changed world we were introduced to in Gears of War 4. Taking place 25 years after the original trilogy, the sequel is set in a world where humans were forced to abandon fossil fuels and collect together in small martial law-governed encampments and violent windstorms sweep the land, tearing up anything left unprotected.
Gears of War 5 should explore that further, showing us how desperate humans are trying to fight off the Swarm on a planet that is trying to kill them.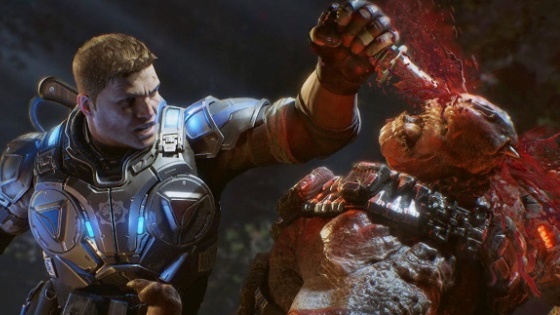 The Coalition worked to make Gears of War 4's battlefields more dynamic places, giving you the ability to pull enemies out of cover and leap forward with short range charges. A sequel should continue this, giving players greater freedom of movement and ways to break stalemates between human and Swarm forces.
The original Gears of War cemented the cover shooter as a subgenre, now its sequels have to rattle its foundations by taking away the safety of sitting behind a low wall.
(Image credits: The Coalition/Microsoft)