Protect your iPhone SE 2022 with a top-quality case from Spigen in 2022
Apple's new iPhone SE is a top option if you want a phone you can keep for many years. It's a quality piece of hardware, Apple's long-term support is second to none. And if you buy an iPhone SE, you've probably already decided you are not going to be swayed by bigger screens begging to fill your pocket.
It's a long-term partner, and that makes protecting your iPhone SE all the more important.
Spigen's range of cases made just for the iPhone SE should be your first stop, and you can already get some of the brand's most-loved lines sized-up for the SE.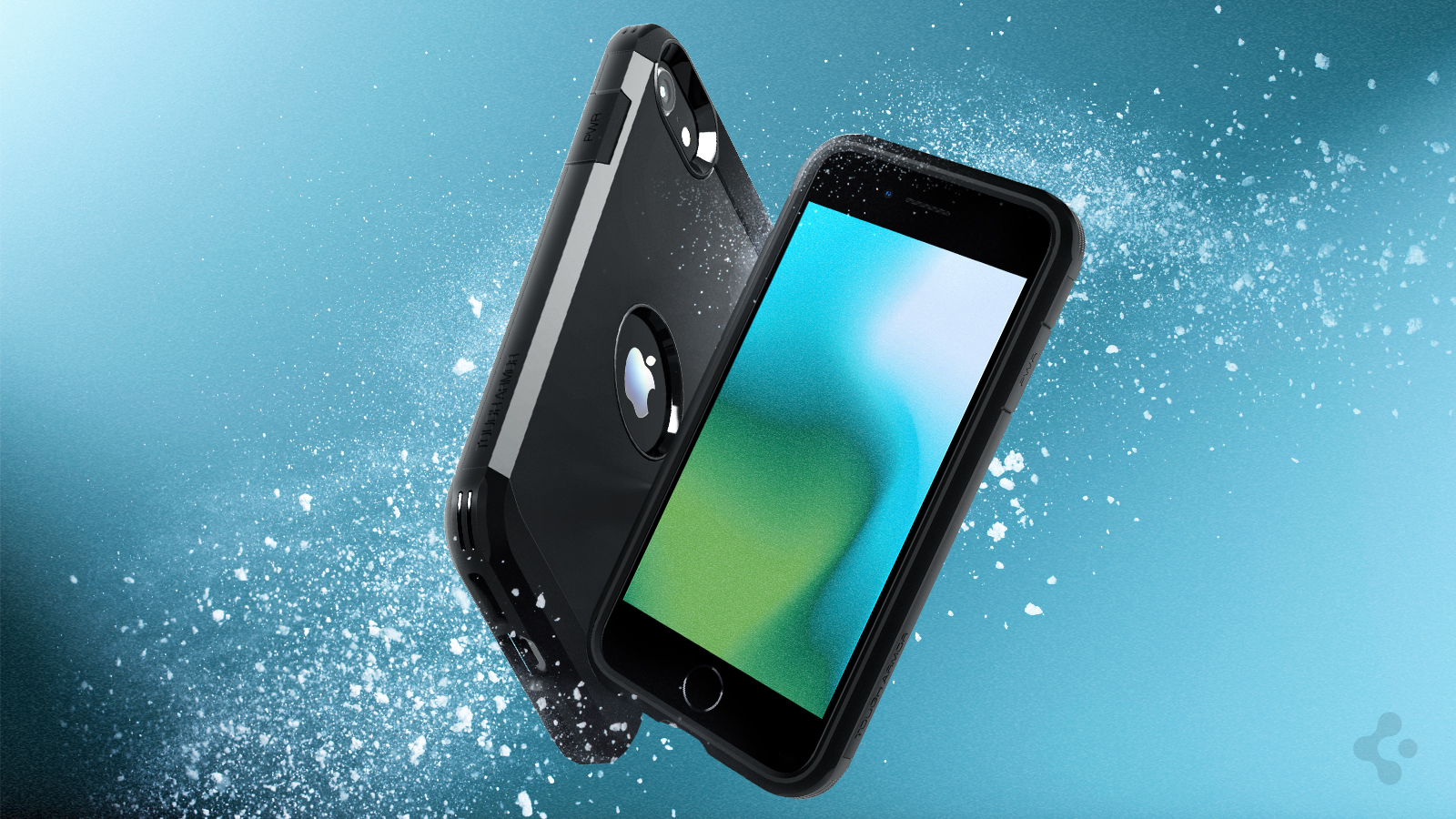 The Tough Armor is the true fan favorite in Spigen's line-up. It provides serious military-grade protection without adding major bulk to the iPhone SE 2022. Given you buy one of these phones so it slips happily into any pocket, this is pretty important.
The three-layer construction makes this possible. Spigen's Tough Armor uses a hard polycarbonate backplate, flexible TPU sides, and large but slim layers of shock absorbing material on the inside of the backplate.
You get excellent drop and scratch protection, while the raised camera shield keeps the lens glass safe. A great little extra on the Spigen Tough Armor is the flip-out stand on the back. It's perfect for letting you read a recipe while cooking, without having to pick up with the phone with food-caked hands.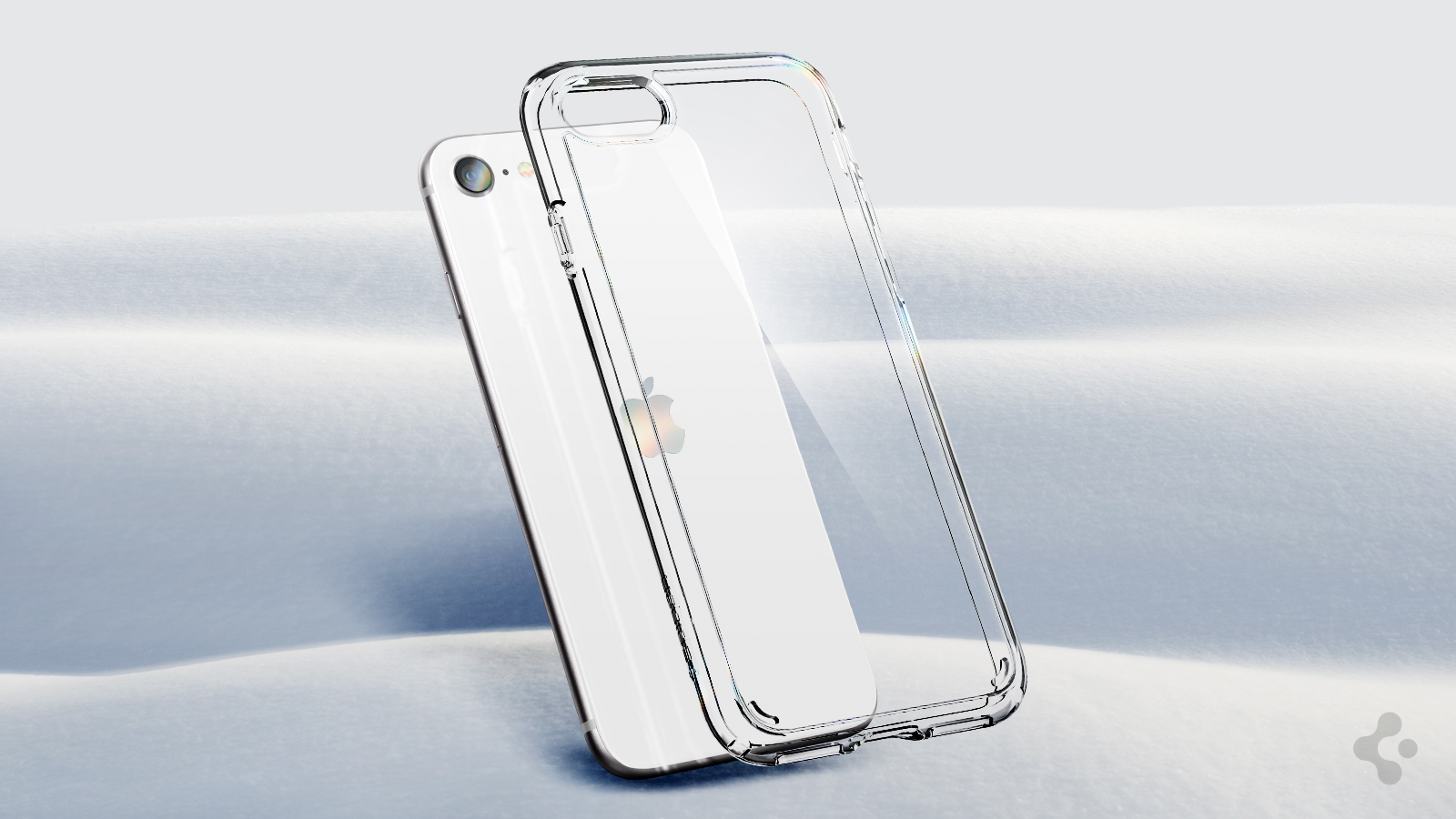 The Spigen Tough Armor isn't for everyone, though. Check out the Spigen Ultra Hybrid if you'd rather have a case that lets an iPhone SE 2022 retain its signature look.
Its backplate is transparent. And the bumpers can be clear, black or red: you choose. Pick the fully transparent model and the case seems "barely there", but the level of protection it provides is still present and correct.
Much like the Tough Armor, the Ultra Hybrid's backplate is hard polycarbonate, while the sides are flexible TPU for top shock resistance and an easier fit. There's more going on in the corners too. Spigen carves out Air Cushion pockets, which soak up impact force for even better drop protection.
Cool style: Spigen Ultra Hybrid Frost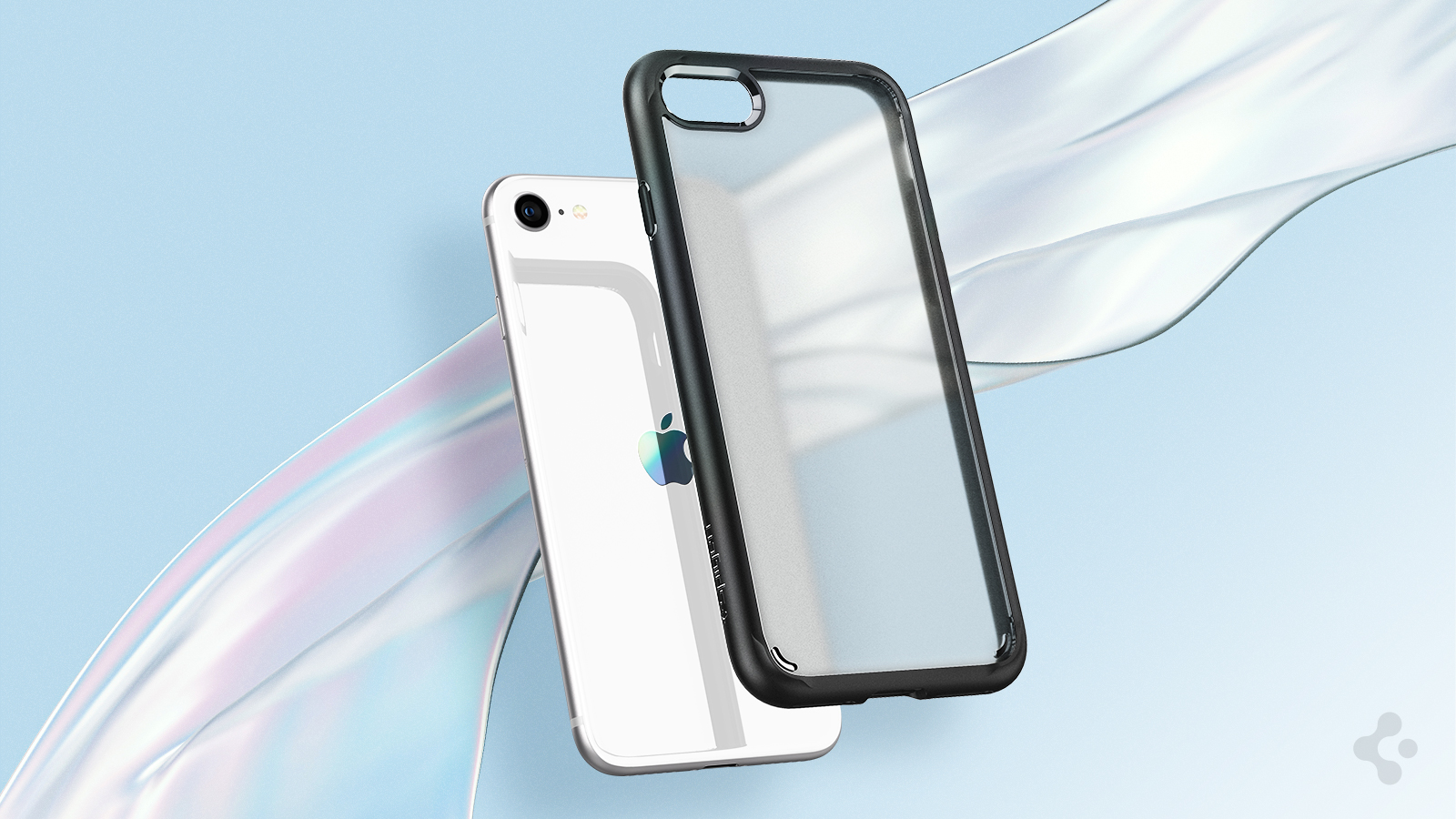 The Spigen Ultra Hybrid Frost is something a little newer and more exciting.
It takes the core design principles of the standard Ultra Hybrid, including its tough polycarbonate rear, flexi TPU sides and Air Cushion tech, but puts a stylish spin on them. Spigen switches a transparent back for a matt, frosted one.
This has a couple of neat effects. The matt finish scatters reflected light, letting you see your iPhone SE's Apple logo and color finish, but through a translucent lens.
Its appearance is softened, and so is the polycarbonate back. The matt finish feels softer, which is worth a few tactility bonus points.
A new spin on an old favorite, this might be a popular pick for the iPhone SE and will be available in the next couple of days.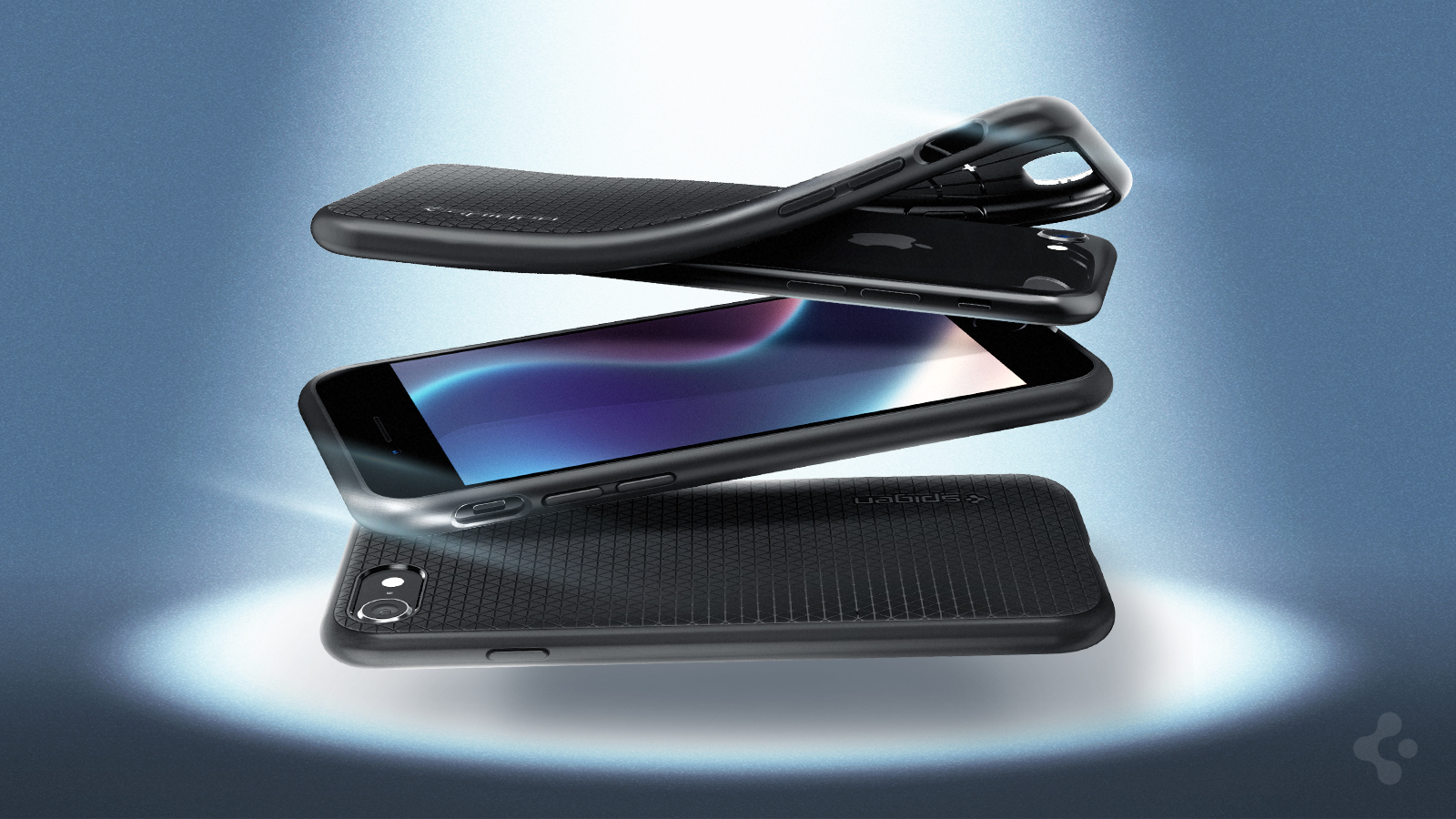 What do all the cases discussed here so far have in common? They all use a hard back and softer sides. The Spigen Liquid Air bucks the trend.
This is a pure thermoplastic polyurethane (TPU) case, making the entire thing flexible. TPU also allows for the Truss pattern etched into the back, which gives the Liquid Air a distinctive appearance and extra grip.
Why pick the Liquid Air? It's an exceptionally slim case, which should appeal if the iPhone SE 2022's petite dimensions were the number one draw in the first place.
And while its one-piece design may sound simple, this is a carefully designed case. Air Cushions in the corners supply great drop resistance, not typically seen in a "barely there" flexible case.
Added power and protection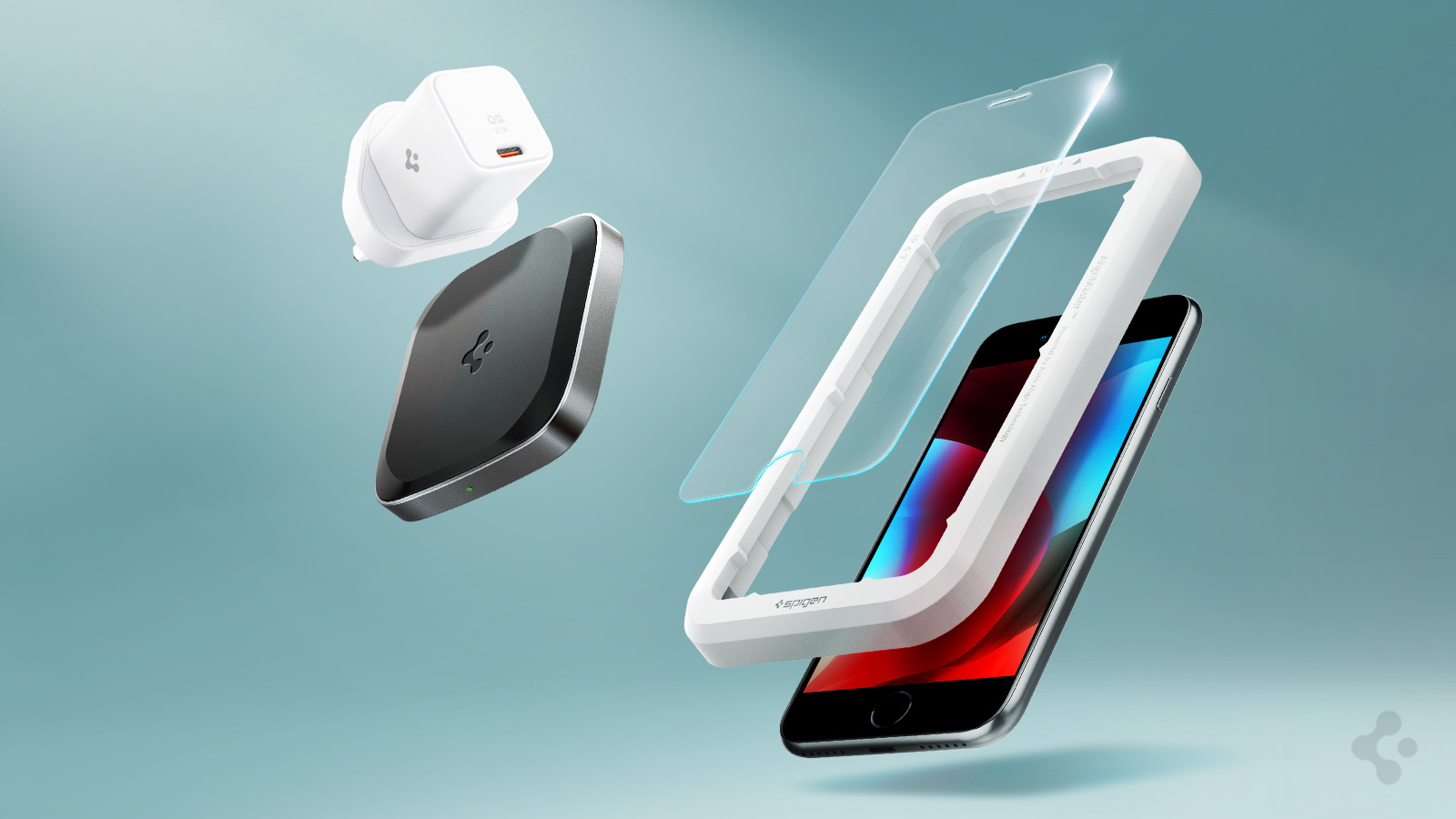 Cases make up just one part of the Spigen line-up. For complete iPhone SE 2022 protection we also recommend a screen protector.
Fitting one of these can be a fiddly job but Spigen's AlignMaster makes it easy. An alignment frame is included in the box, so even first-timers will get it right without any fuss. The screen protector itself is ultra-hard scratch-resistant 9H tempered glass and has a fingerprint-busting oleophobic coating.
Then there's the Spigen's ArcStation charger. It's a punchy 27W adapter that recharges your iPhone SE at full speed, and will do the same job for any other gadgets that use the USB PD standard.
Its Intelligent Safety smarts provide overcharging protection, to keep your battery healthy for longer. And, the best bit, the ArcStation Pro is trim — a full 48% smaller than Apple's own 20W charger.
Prefer to go wireless? The 15W Spigen ArcField pad will charge your iPhone at 7.5W, and supports AirPods with wireless charging too. Its non-slip rubbery surface helps avoid accidents, and it will work with all the Spigen cases mentioned earlier.
Get fully tooled-up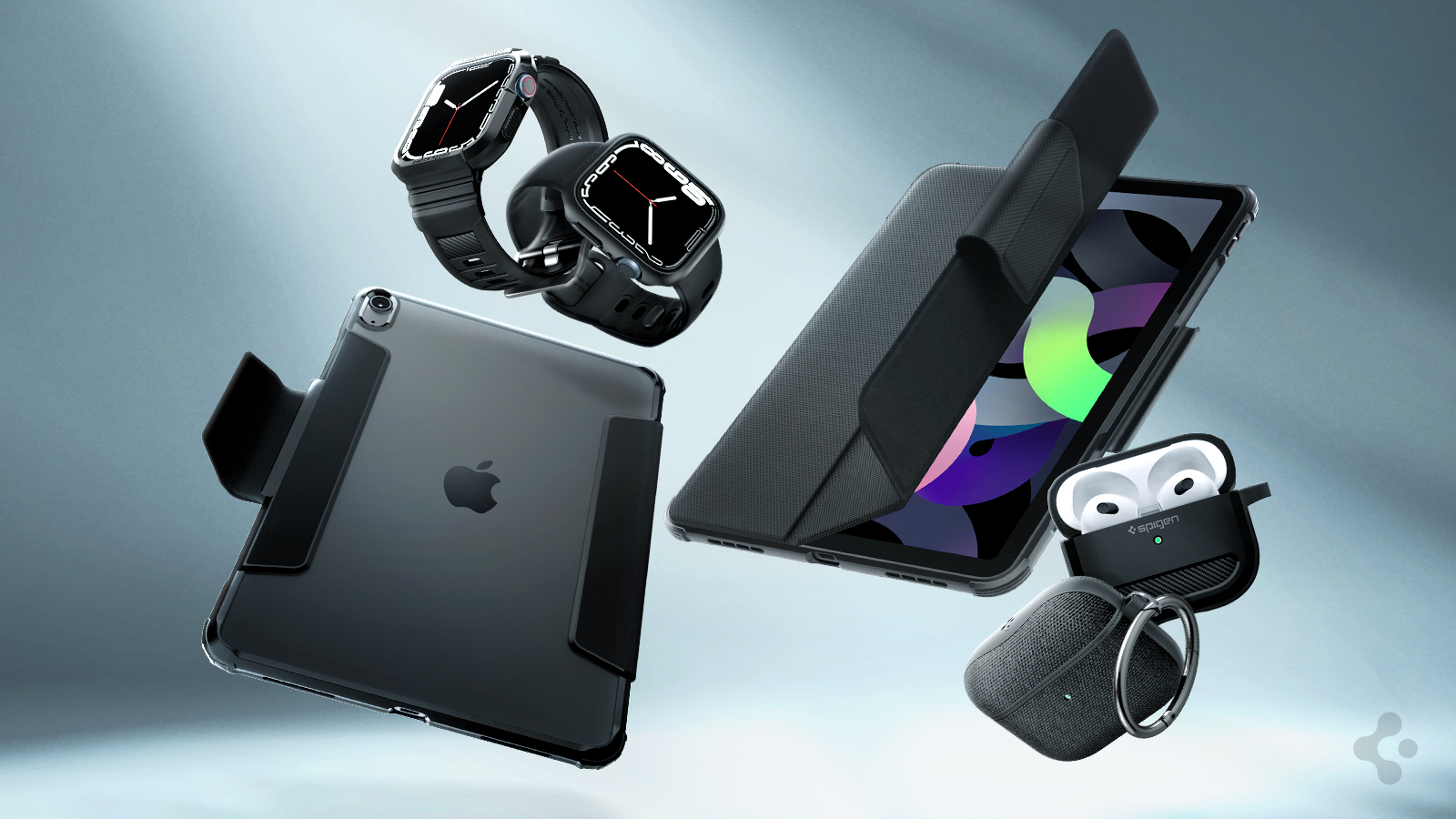 Why stop at the iPhone SE? Spigen also makes neat accessories for Apple tablets, watches and earphones.
A Spigen Thin Fit for Apple Watch protects your smartwatch's outer casing while adding virtual no extra weight or bulk.
The Spigen Tough Armor case for the AirPods 3 does the same job for your earphones, and if you are game for a visual punch the Metallic Gold version looks like something Iron Man would keep in his back pocket.
Own an iPad? Several of Spigen's top case lines are available for Apple tablets too. The Touch Armor Pro's kickstand comes into its own when matched with a tablet, and you even get a slot to store your Apple Pencil.
These are just a few picks from the expansive wider Spigen range. Explore the full line-up at the official Spigen UK Store.