Call of Duty Modern Warfare is going back to the series' roots. Forget the zombies. Forget the WWII battles. Forget the jetpacks, exo launchers and all the other future weaponry – Call of Duty is going back to one of the most beloved series within the franchise with Call of Duty: Modern Warfare, a reboot of the highly-lauded 2007 first person shooter that's set in today's battlefields.
It's all about the gritty realities of war this time out, with the 'modern' of the 'Modern Warfare' title referring to the high-tech gear of today, the cutting-edge killing machines employed in combat right now in places like the Middle East and Russia, rather than the far-flung fantasies of science fiction.
With the battle royale genre taking up many shooter fans' spare gaming time, Call of Duty's crown as the king of competitive shooters has slipped in the past few years. Can a return to its most-popular roots bring it back to glory?
Read on for what we know so far.
[Update: Infinity Ward has released 24 minutes of additional Modern Warfare multiplayer footage. Watch that for yourself below and find out more about PC optimization and the latest battle royale rumors.]
Cut to the chase
What is it? The sixteenth Call of Duty game
What can I play it on? PlayStation 4, Xbox One and PC
When can I play it? October 25, 2019
Call of Duty: Modern Warfare release date
Announced right before E3 2019, Call of Duty: Modern Warfare leaked ahead of the event but a trailer gave us our first glimpse and a variety of details for the game.
It included the release date, which is set for October 25, 2019. You're already able to pre-order the game on the official site too.
Call of Duty Modern Warfare screenshots
Call of Duty: Modern Warfare trailers
Not had enough footage of Modern Warfare multiplayer? Check out the 24 minutes of multiplayer footage released by Infinity Ward in August 2019 below.
The latest multiplayer trailer has been revealed for what's being claimed to be Call of Duty's most immersive multiplayer to date.
Infinity Ward has confirmed a brand new multiplayer mode for Modern Warfare called Gunfight and released five whole minutes of crisp 4K gameplay to give players a better idea of what to expect from this fast-paced, 2v2 mode. Watch it for yourself below.
The first trailer for Modern Warfare was the release trailer that debuted on May 30.
In it, we can see series protagonist (and all-around badass) Captain Price light up, and some intense – and dare we say great-looking – nightvision sequences.
You can watch it below:
Call of Duty: Modern Warfare beta
As expected, there will be a Call of Duty: Modern Warfare beta held prior to the game's release. At the moment, details are sparse but there are some important dates to note down if you're interested in taking part.
The beta will take place across two weekends, first on PS4 and then on PS4, Xbox One and PC.
On the first PS4-only weekend, early access to the beta will run from September 12 to 14 while open access will run from September 14 to 16.
The second weekend which will be for both PS4 and Xbox One will run in early access across September 19 and 20. The open access for this weekend will run from September 21 to 23. Specific start times will be announced closer to the time.
Wondering how you can get in on those early access days? You'll have to pre order the game. If you don't want to pre-order, you can still get access on the open access days.
As far as what's included in the beta, not much is known at the moment. What we do know, however, is that it'll feature PC and console crossplay while any progress or items unlocked will carry over to the full game.
Call of Duty: Modern Warfare news
Battle royale possibilities
There have been rumors that Modern Warfare could very well be getting a battle royale mode, but that it will be launched as a free standalone option in 2020 rather than alongside the main game as a multiplayer mode.
The rumors are unconfirmed but they do come from YouTuber LongSensation, a source with a fairly good track record. However, until Infinity Ward confirms or denies we can't be sure.
PC optimzation
Call of Duty: Modern Warfare will be fully optimized for PC players, according to recent reports, complete with some PC-specific features as well as cross-play with consoles.
As reported by DualShockers, the PC version of the game will have an uncapped frame rate as well as a slider for Field of View so that you can decide how much of your surroundings you want to see in your peripheral vision.
Ultra-wide monitors will be supported with the ability to configure monitors to suit your needs. For any console players concerned about mouse and keyboard advantages in cross-play scenarios, matchmaking will be done according to peripherals so it's down to you whether or not you play with those using a mouse and keyboard. Infinity Ward is already ahead of those ultra-sneaky players who might think about changing their peripheral mid-match; you can't, it's locked in.
Multiplayer reveal
As promised, Call of Duty: Modern Warfare's multiplayer reveal took place in August. Fans have already seen the brand new 2v2 mode, Gunfight, but now there's a bigger picture that suggests a truly reinvigorated Call of Duty multiplayer experience to look forward to.
First up, there's cross-platform multiplayer between consoles and PC as well as a free season pass, showing Infinity Ward is taking a cue from popular multiplayer titles like Fortnite and is making efforts not to split up its playerbase.
Further to 2v2 fights in Gunfight, there are 6v6, 10v10 and 20v20 matches though the real surprise is a new mode called Ground War which will support up to 100 players, though there's no footage of that just yet. With this expansive multiplayer offering, it seems that Infinity Ward is looking to appeal to all kinds of shooter fans. Watch the multiplayer trailer for yourself below.
Killstreaks are back
Ahead of the full multiplayer reveal scheduled for August 1, Activision has confirmed that Killstreaks will make a return in Modern Warfare, making it the first game in quite a while to include the feature.
As players rack up kills, they'll be able to unlock weapons and armor. Some of the killstreaks have been revealed on Twitter already including the intimidating Juggernaut suit from Modern Warfare 3, the light infantry assault vehicle and, most unpleasantly, the controversial White Phosphorus.
More information on the game will be revealed on August 1.
Female multiplayer options
Infinity Ward has been drip-feeding multiplayer news ahead of the full reveal on August 1st. The latest announcement has come from a Reddit post in which communications manager, Ashton Williams, has confirmed that there will be playable female models in Modern Warfare's multiplayer.
Multiplayer intro
In addition to that confirmation of playable female characters, Infinity Ward has also revealed some footage of what the short cinematic preceding a multiplayer match will look like to Twitter ahead of the full multiplayer reveal. Like in Call of Duty: WW2's War Mode, the cinematic will show players in a scene heading towards their drop point.
Full Multiplayer Reveal
While fans have had a first look at Gunfight, Modern Warfare's new 2v2 multiplayer mode, a more full reveal has been announced for August 1. On a Twitch livestream, Infinity Ward is expected to show how the game's story will continue into its online play and how progression across modes will play out.
Gunfight
Infinity Ward gave fans their first peek at multiplayer gameplay via Twitch followed by a five minute long 4K trailer. Four players streamed Modern Warfare live on the streaming platform, debuting Gunfight, the brand new 2v2 multiplayer mode that will be in the game.
Gunfight is a mode for four players where two teams will play in "multi-round cage matches" across three small custom maps. Every two rounds, teams will swap to opposite sides of the map. All four players will have the same loadout which will typically be comprised of a primary and secondary weapon as well as a tactical Grenade and a piece of Lethal Equipment. The first team to win six rounds are the winners.
This is going to be a mode for players that like fast rounds, with each round counting down on a 40 second timer. If one team hasn't wiped out the other by the time the 40 seconds is up, a flag will appear on the map. The first team to control the area around the flag for more than three seconds is them the winner of the round. Each round, overall, will last for around a minute so speed is key.
Aim Down Sight reload
Infinity Ward has confirmed in a blog post that Modern Warfare will have Aim Down Sight reload, the first time the feature has appeared in a Call of Duty game by default.
Aim Down Sight reload will mean that, while aiming down the sight of your weapon, your view won't be pulled away to watch an animation when you reload. Instead, you'll stay on target.
Animation director Mark Grigsby offered some details on the feature in the post:
"One other thing we added this year is the ADS [Aiming Down Sight] reload. In the past, if you're ADS, and you're shooting and you reload, the weapon would go off to the side, and you'd have to retrain to get to your target. This time if you reload, it stays on the target, so you can stay in the battle."
"Ripped straight from the headlines"
We watched a behind-the-doors demo of the new Call of Duty during E3 2019 – and it wasn't for the feint-hearted. The demo (which was cut short from other press demos earlier in the week) firstly showed a cutscene of a terrorist incident at London's Piccadilly Circus before launching into gameplay from a mission called 'Hour of the Wolf'.
This mission sees you tracking down the instigator of the terrorist attack (AKA The Wold) to a townhouse in North London. As a member of the SAS, the player creeps up a ladder and into the back of the dimly lit home where they methodically assassinate the plain-clothes terrorists occupying the residency. There's even an unsettling situation involving a woman using her baby as a shield.
It's pretty rough but Infinity Ward claims the new Modern Warfare sees missions "ripped straight from the headlines" and investigated the "civilian collateral damage" that comes hand-in-hand with war.
What was peculiar was that our presentation was shorter than those who had attended earlier in the week. We were only shown the London townhouse mission, whereas other journalists were shown an extra – more controversial – segment which seen players taking on the role of a child soldier in an unspecified war-torn country.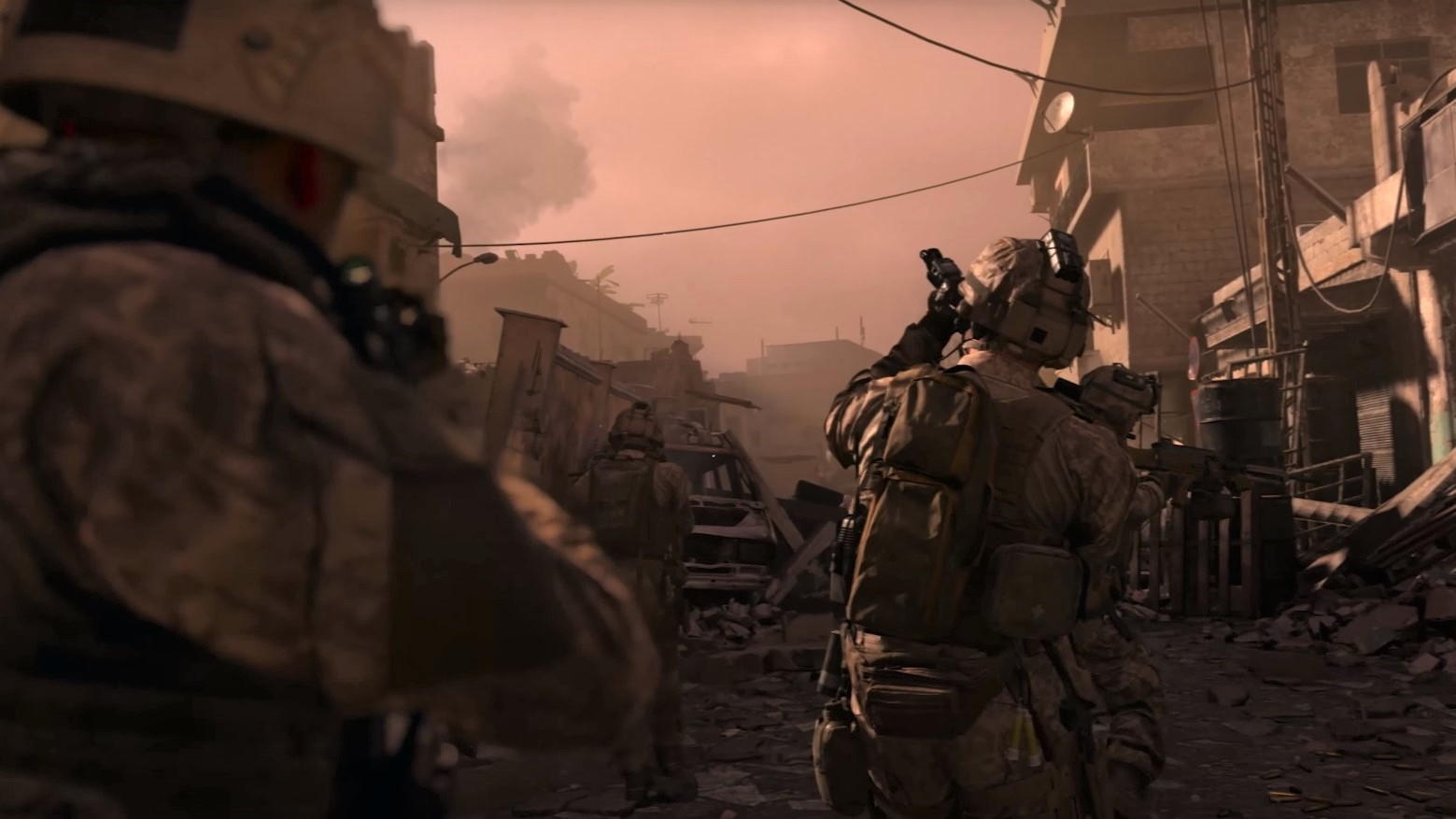 Is this a reboot of the classic Modern Warfare?
Not exactly. If you want to relive that Call of Duty 4 experience you'll want to dust off your PS3 or Xbox 360, or play the recent remaster of that game.
Instead, Infinity Ward is using the Modern Warfare name here to evoke a similar feeling, and some of the same characters will return but this is an entirely new storyline set in a different timeline.
It's totally separate to what we've seen in the previous games as here those events haven't occurred. We'll still follow Captain Price in this different timeline, and it may mean we see over returning characters throughout too.
Price features heavily in the trailer above, and he ends it by saying there's a team of his "old comrades" so it may well be that we see the return of other fan favorite characters such as Soap or Gaz.
This new timeline is also why the game isn't called Modern Warfare 4. It should mean it's a good place for new entrants to the series to pick up the game, but there's sure to be a few nods to the original series for die-hard fans.
Narrative director at Infinity Ward, Taylor Kurosaki, also noted that the game's storyline is still being tweaked but it's anywhere between five and nine hours long.
That means it's not set to be very long, but at least this time there is a storyline. Call of Duty: Blacks Ops 4 opted to drop the storyline in favor of focusing on online play, which is something we've heard very little about so far for this game.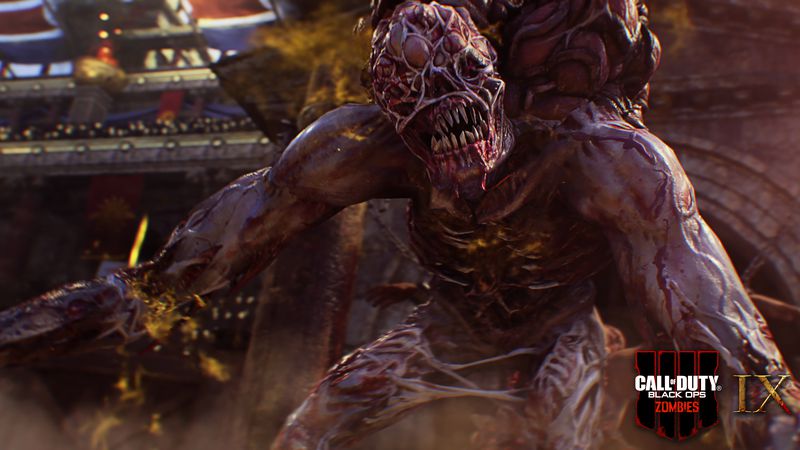 No Zombie mode for Modern Warfare
Zombie mode might be a staple of the over-the-top Black Ops entries into the Call of Duty series, but the undead horde will not be being reanimated this time around in Modern Warfare according to Campaign Gameplay Director Jacob Minkoff.
In an interview with PlayStation Lifestyle, Minkoff said that the team's goal is to create something on par with today's battlefields – which, unfortunately, don't include any undead wandering around.
"We don't have the flexibility to do something like put zombies in the game. That would compromise the feeling of playing in a world that feels realistic and authentic and relative to today's conflicts and things we face," Minkoff said.
If you want Zombies, you'll just have to wait for the next Black Ops game.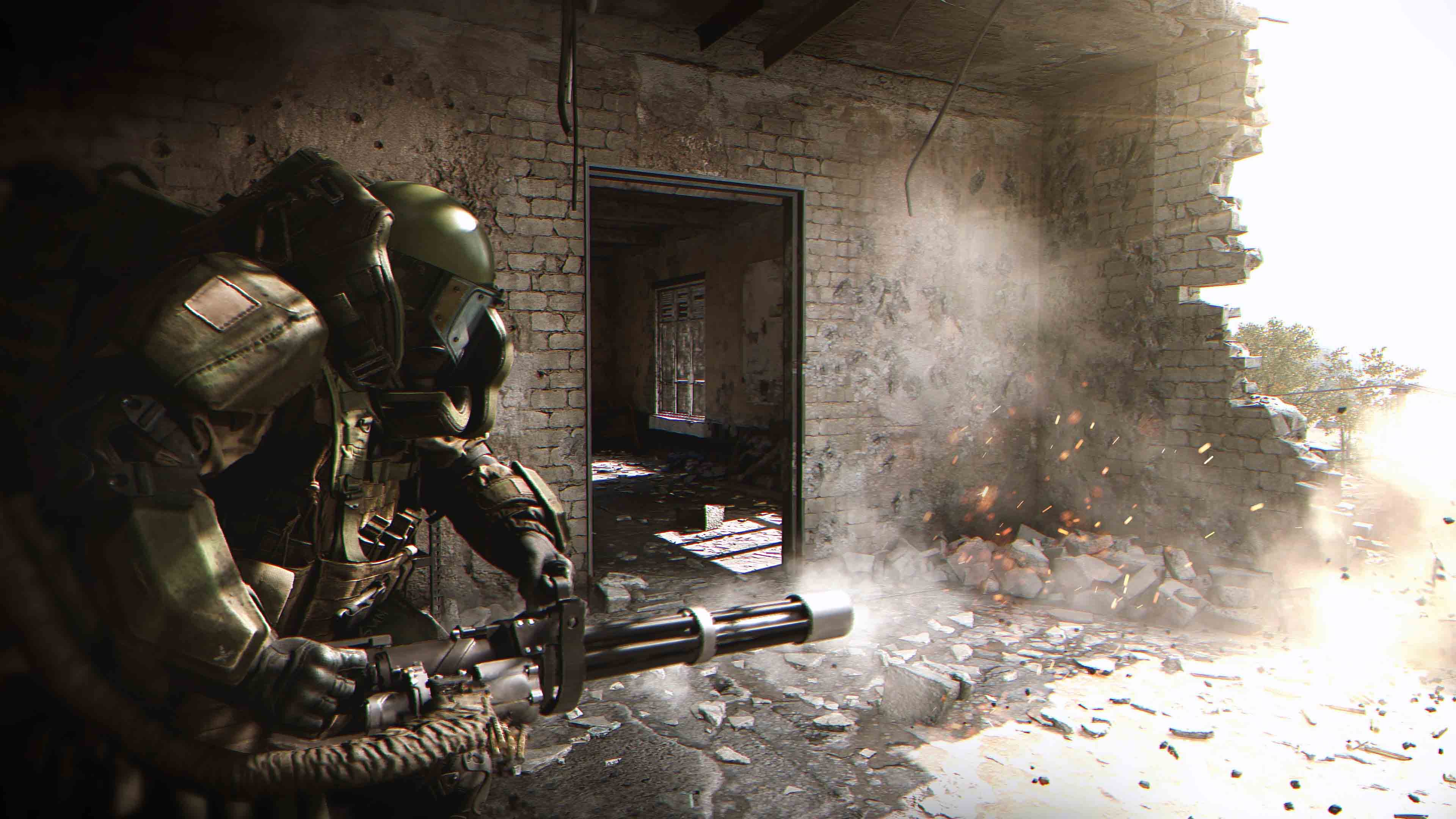 Return of the Juggernaut
While Call of Duty Modern Warfare didn't have a huge presence at E3 2019, it did pop up at an E3 Coliseum event where Activision had the first two multiplayer screenshots. One shot shows a sniper in a ghillie suit, while the other shows a juggernaut suit – one of the most powerful pieces of gear from the original game.
A whole new engine
This title will be the first to use a whole new engine for the series, and that should allow for some drastic graphical improvements over previous titles including Black Ops 4. It's the first time the games will use a new engine in 14 years.
We've yet to learn the name of the engine, but we know that the franchise has been working on it for five years.
We expect to learn more about it in the coming months, but we can expect some more detailed environments, improved volumetric lighting and ray tracing technology too.
Expect controversy
According to ComicBook.com, the game be "heavy on troubling, realistic emotions, very much inspired by the controversial 'No Russian level"
That mission is in Call of Duty Modern Warfare 2. It was highly controversial at the time for depicting an undercover CIA agent who takes part in a mass shooting of civilians.
The trailer suggests other terrorist attacks may feature in the story, and children also feature so it may be these elements are used to stir up controversy.