Fable 4 trailer, Xbox Game Pass news, and everything we know so far
Fable 4 – known officially as just Fable at the moment – is undoubtedly one of the most highly-anticipated Xbox exclusives there is.

The game was announced in 2020 after several years of rumors that it was in the works. But while there's plenty of excitement around what's to come, we don't actually know a whole lot about what that'll be just yet. What we do know is that Fable 4 is being developed for Xbox Series X, Series S, and PC by Playground Games, the Microsoft-owned studio behind the Forza Horizon games. And, as an Xbox exclusive, it'll also be a Game Pass release on day one.

We haven't seen a new Fable game since 2010's Fable 3, so it's understandable that fans are eager to see where the series will go next. That said, at the moment, all we really have to go on is a reveal trailer. We're hoping that with the latest generation now well underway, we'll soon learn more about the game and what kind of adventure we can expect.

Here's what we know about Fable 4 so far, then, with a look at its first trailer and what previous reports have suggested about this new entry in the series.

[Update: Fable 4 might have been in development longer than we thought. Read on to find out more.]
Cut to the chase
What is it? The fourth installment in the mainline Fable franchise
When can I play it? There's no release date yet but don't expect it soon
What can I play it on? This is an Xbox exclusive so expect to play it on Xbox Series X/S and PC
Fable 4 trailer
The first Fable trailer is above, and it doesn't reveal much, save for the fact that the game is likely set well before the later entries in the series as we don't get as much of a sense of a Victorian-style industrial revolution as we did in Fable 3's setting.
Fable 4 release date
No release date or release window has been set for Fable on Xbox Series X yet. As the game skipped Microsoft's E3 2021 showcase, the earliest we'd expect to see it is the end of 2022 to the end of 2023. At the very least, Phil Spencer has hinted during an IGN podcast that we'll get it before The Elder Scrolls 6, though that game doesn't have a release date yet either so there's not too much to work with there.
Fable 4 news and rumors
In development for at least 4 years
Fable 4 has been in development for longer than you might have expected. In a recent tweet, a developer at Playground Games who is working on the game celebrated "four years of working on Fable".
4 years of working on Fable at @WeArePlayground. So excited for this game. pic.twitter.com/KO099HnYSdNovember 5, 2021
That means the game's been in development for at least four years and that development possibly started just a year after the series creator, Lionhead Studios was closed. Though we don't know a huge amount about Fable at the moment, the idea that it's been in the works for multiple years gives us some hope that we could learn more in the near future.
Fable 4's combat could feel like The Witcher
A developer from CD Projekt RED (The Witcher series, Cyberpunk 2077) will be working on the game's combat system. As reported by PCGamesN, gameplay designer Paweł Kapała is heading up the combat at Fable developer Playground Games, with his LinkedIn page confirming the role entails "designing and implementing combat in Fable."
In our opinion, the kind of sword-and-spells combat of The Witcher 3, one of the bestselling video games of all time, would be a perfect template for a Fable game, especially given how similar some of the in-game spells are.
You'll probably see it before Elder Scrolls 6
Fable 4 might be a while away but it seems possible that you'll get to play it before the Elder Scrolls 6, according to Phil Spencer.
Speaking during a recent IGN podcast, Spencer touched on the tone of Fable in comparison to Elder Scrolls and upcoming Xbox exclusive Avowed, saying, "Fable's always been a little more light-hearted and a little more British, I think I could say, and I think Playground will keep it there," adding, "Elder Scrolls 6 is further out, and when that comes out I think it's going to be incredible."
Take confidence in Playground Games, says Phil Spencer
Fable 4 is being created by Playground Games, the studio perhaps best known for its work on the Forza Horizon series but Phil Spencer wants fans to have confidence in the studio. Speaking on the Dropped Frames podcast (via VGC), Spencer said:
"The only thing I can really say about Fable is, seeing the pedigree of the team and Playground, and where they set the bar for themselves in building a game—I think that showed with the Forza Horizon 5 preview that they had—I think people should just take confidence in that [studio director] Gavin [Raeburn] and the team there have that same level of focus on doing something amazing with an IP that we know is really important to a lot of Xbox fans, so we can't wait to get to show more, but the team is just amazing."
Forza Horizon 5's weather system bodes well for Fable 4
Forza Horizon 5 is going to have the series' most dynamic and impressive weather system yet and, given the developer is also working on Fable 4, we're pretty excited about how this technology could translate to an open world Albion. We think that by implementing those dynamic weather systems into the new Fable, Playground Games has the opportunity to give the new Fable its own stamp which neither previous developer Lionhead, or many other RPG developers, have been able to before. The idea of an Albion where each region has its own seasonal weather is an exciting one—it could reflect the passing of time more effectively and genuinely improve immersion and uniqueness to each part of the game's map.
And this does seem possible as a previous job listing for a Software Engineer at Turn10 Studios suggested that Fable will be built using the ForzaTech engine, which powers the Forza Motorsport and Forza Horizon games. The listing stated that the team is looking for a candidate who can enrich "the toolset to support an open-world action RPG – Fable" and also add new features like "ray tracing to support the next console generation".
E3 2021 no-show
E3 2021 went ahead and Microsoft/Xbox was one of the show's headline names.
We had high hopes that Fable 4 could make an appearance in some form but that might have been optimistic given the game is believed to be in the relatively early stages of its development. Despite confirmation that work on Fable 4 was progressing well, we weren't given any new footage or details on the game.
It could be years away
As far as we can tell, Fable 4 is still in the early stages of development and it could be a while before we get the chance to play it. In fact, speaking on a recent VGC Off the Record podcast, industry reporter and head of GamesIndustry.biz Chris Dring said that the game's release, along with other announced Xbox exclusives, could be many years down the line.
Based on conversations he's had with employees at Xbox Game Studios, Dring said,  "Those games that they announced – Everwild, Perfect Dark, Fable – are so far away. As in, there might even be a new Xbox (a mid-tier upgrade) by the time those games come out.
They are so far away, and no wonder Xbox is looking at investing and signing certain products at the minute because they don't have a lineup of big exclusives at all."
Fable is set to use the ForzaTech engine
According to a recent job listing, which is for a Software Engineer at Turn10 Studios, Fable will be built using the ForzaTech engine, which powers the Forza Motorsport and Forza Horizon games. The listing states that the team is looking for a candidate who can enrich "the toolset to support an open-world action RPG – Fable" and also add new features like "ray tracing to support the next console generation".
A new team member
There's a new member on the development team for Fable: Steve Thornton.  Thornton is coming aboard as Associate Chief Designer for the game and brings his experience working on titles like Halo Infinite, Assassin's Creed Odyssey, and some LEGO titles to the table.
New year, new job! I tweeted last year to say I was returning from Russia to the UK for a new thing; very happy and excited to say that new thing is with the lovely Playground Games (@WeArePlayground) working on the next Fable as Associate Chief Designer 🍀 pic.twitter.com/gGIggDec3TJanuary 19, 2021
A new writer
Anna Megill, the senior writer and narrative lead at Remedy Entertainment during the development of Control, is joining Playground Games as the lead writer for Fable.
Megill announced on Twitter that she's leaving her current role at Ubisoft's Massive Entertainment to join Playground Games in 2021.
I'm thrilled to say that I start work at @WeArePlayground next year. I'll be Lead Writer on Fable ✨ pic.twitter.com/Wf57QuPYNQDecember 17, 2020
The team behind the game
Shortly after Fable itself was revealed, we got some insight into the impressive team that's working on the game thanks to VGC. We now know that there are a host of veteran game designers working on the Fable reboot, including the lead quest designer for the Borderlands series, a level designer for GTA V and GTA Online, and a whole load of writers who worked on Batman: Arkham Knight.
There have been rumors that Fable will go down the route of being an MMO but the experience of those working on the project certainly suggests it's going to take a more open-world RPG approach, perhaps with an online multiplayer component. That said, we can't really be sure until Playground Games and Microsoft reveal some more official details.
Fable 4 is coming to Xbox Game Pass
Fable will be available day one for Xbox Game Pass members. Yep, that's as cool as you think it is.Watch the trailer: https://t.co/eGVVoGSXCz https://t.co/vcNsbfdlkVJuly 23, 2020
Like all first-party Microsoft games, you'll be able to play Fable 4 as part of an Xbox Game Pass subscription on Xbox Series X or PC, which was officially confirmed on Twitter. So, whenever it gets here, you won't need to drop $60/£50 to play it.
Fable 4 is likely an open-world game
In January 2018, Eurogamer said that according to sources close to the project, a brand new high-budget Fable game was in the works. Now, we know that to be true.
This news came less than two years after the closure of Lionhead Studios, and the report correctly stated that Playground Games, best known for its work on the Forza Horizon series, will be the new developers for the series.
Eurogamer's sources said that a team of more than 200 will be working on Fable from the team's new offices in Leamington Spa, though development was still in the very early stages.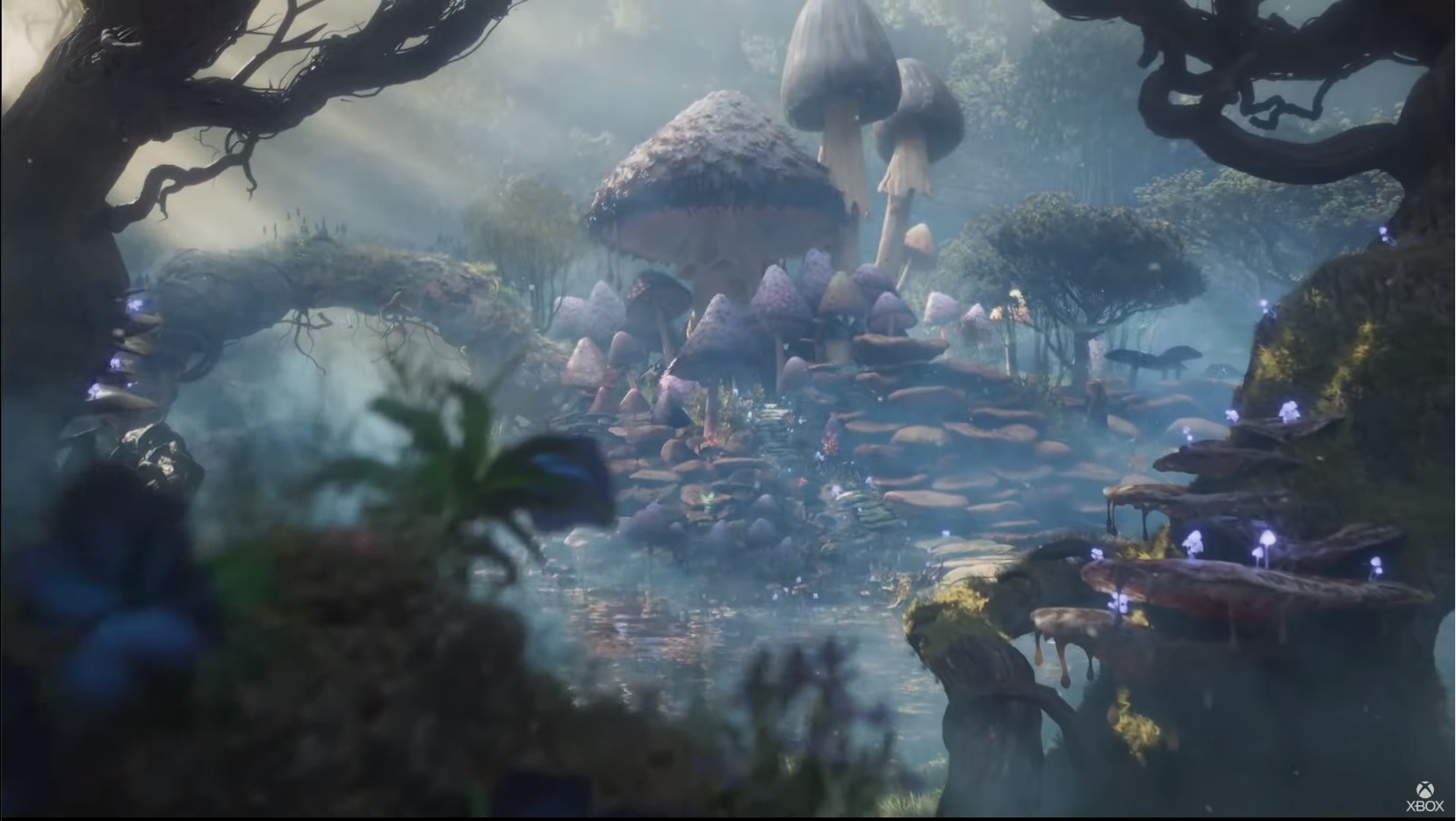 Just what kind of Fable might Playground be working on? Well, the report said that the game is planned to be an open-world action RPG with a focus on character and story. That certainly tallies with everything we saw in the reveal trailer, with the final shot showing off a big world that looks ripe for exploration.
It would also make sense that Playground would bring its open-world expertise from Forza Horizon into a game like this.
Either way, we can't wait to see what it's come up with. Fable has been dormant for far too long.
That wild pre-announcement rumor
Before Fable 4 was even announced to the world, there was a 2019 video leak that claimed to give insight into the game's setting and story. The video disappeared from the internet but a Reddit thread with what it described remained and some of the details sound pretty wild. We're talking "Albion and Aurora destroyed by an asteroid, a new continent with time and interplanetary travel" wild.
Although it sounds pretty out there, it would create the opportunity for a setting reset for the Fable series, making it easier to take the series back to its medieval fantasy roots with some extremely different elements to still make it feel fresh. In the game's reveal trailer, brief as it was, we didn't get any obvious sense that the new game will be more advanced in time than Fable 3's Industrial Revolution setting.
Of course, this is a leak from an unverified source so until Playground Games or Microsoft start revealing solid details about Fable 4, we'd say take it with a big pinch of salt. You can read the full leak in the tweet below.
Rumor: first Fable IV details have been leaked (includes story details as well)https://t.co/RLWgpy0S9r pic.twitter.com/V6W74TDLV9June 4, 2019