How to Fix Corrupt OST File – Easy & Quickly
As everyone knows, MS Outlook is the most popular desktop email client across the world. It consists of two data files like PST and OST to store the mailbox data. Moreover, OST file enables the user to work offline on Outlook or even function properly if the application is not connected to Exchange Server. in this article,we explain How to Fix Corrupt OST File
But, sometimes these files are still prone to corruption. In fact, while performing the OST file synchronization, users still receive an error message. Further, at certain times people find some items from OST file is either missing or corrupt. In such situations, the only reason may be OST file data get corrupted or human errors.
Therefore, many people are searching for various solutions to Repair Corrupt OST File Outlook 2016 / 2013 / 2010. Before that, let us know about some common reasons that may cause OST file corruption.
Some Responsible Factors For OST File Corruption
There are several reasons that may affect the OST file and some of them are mentioned below:
Failure of storage device due to which OST file gets damaged or corrupted.
At certain times, the OST files fail to synchronize with Exchange Server.
OST file gets corrupted due to some virus infection and malware attack.
Well, the restoration process has become a challenging task if there is no technical assistance. Thus, in this blog, we will explain different measures to Repair damaged OST file.
Note: If users are using MS Exchange then, they allow to delete the offline Outlook Data File (.ost). After that, Outlook will recreate the OST files.
Manual Ways to Repair Corrupt OST File Outlook
There are two different methods by which users can repair MS Outlook OST file. Users can easily resolve it using the manual fixes. You please have a look:
Solution 1: Inbox Repair Tool (Scanpst.exe)
Exit Outlook email application and browse to one of the following paths:

a) Outlook 2019: C:\Program Files (x86)\Microsoft Office\root\Office16
   b) Outlook 2016: C:\Program Files (x86)\Microsoft Office\root\Office16
 c) Outlook 2013: C:\Program Files (x86)\Microsoft Office\Office15
d) Outlook 2010: C:\Program Files (x86)\Microsoft Office\Office14
e) Outlook 2007: C:\Program Files (x86)\Microsoft Office\Office12
In the next step, you need to open SCANPST.EXE
Select the Browse button to choose the Outlook Data File (.pst) that you want to scan. If you want to locate the Outlook Data File, check the location of Outlook data files.
Note: By default, you can create a new log file during the scan. You can select Options and pick out not to have a log created, or you can get results appended to an existing log file.
Choose Start option to begin the scan.
If the scan finds any errors, select Repair to start the process of fixing them.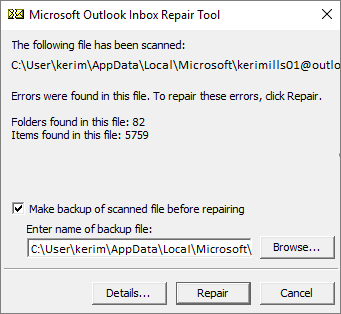 Note: During the repairing process, scan creates the backup file. To change the default location or name of a backup file, enter the new name in the Enter name of the backup file box, or choose Browse option to select a file that you want to use.
You might have to run tool several times in order to repair MS Outlook OST file. In such cases, items cannot be recovered if they were constantly deleted or corrupted beyond repair.
Here is another possible way by which users can repair the corrupt OST file. Users can recreate or rebuild OST file for the proper functioning of Outlook. For getting more information about this solution, users can refer Repair OST file in Outlook 2016 / 13 / 10 Manually.
Advanced Solution to Repair Corrupt OST File Outlook 2019 / 2016 / 2013 / 2010 / 2007
For most of the people, manual methods are very complicated and time-consuming. Thus, they are looking for a simple and efficient solution to repair corrupt OST file. So, users can opt for OST File Recovery Tool. With this application, users can recover all permanently deleted emails from OST file like emails, contacts, calendars, tasks etc.
It is capable enough to decrypt OST files by removing S/MIME and OpenPGP encryption. It equips an option to search OST files within all or selected drives. Moreover, it enables to restore orphaned OST data file without any size limitation. This software is designed with a user-friendly interface that makes easy for technical and novice users to work with it. The best part of this software is that it is compatible with all versions of MS Outlook including Outlook 2019 and all below versions.
Time to Conclude
OST files get corrupted due to several reasons, i.e., virus attack, hardware failure, power outage, synchronization or human error etc. Eventually, users may face the data loss issue due to corruption in OST file. Therefore, in this blog, we have discussed the manual and automated solution to Repair Corrupt OST File Outlook 2019 / 2016 / 2013 / 2010. Users can implement any of the methods as per their convenience.