It's been an interesting period for even the best Apple Watch apps. Not too long ago, it seemed as if the Watch had lost its sparkle, with many big-name apps either languishing or being pulled from the Watch altogether – but as a new era approaches, it seems that things are much more vibrant in the Watch app space.

You see, the problem was one of function – app developers spending too much time wondering 'could we make an Apple Watch app?' and not 'should we…?'

When watchOS 6 landed, it brought an App Store to your Apple Watch for the very first time, thereby encouraging app developers to take the Apple Watch more seriously, and with watchOS 7 and the Apple Watch 6 – not to mention the iPhone 12 range – having since landed, there's never been a better time to join the ecosystem.

Jump to the best Apple Watch apps for…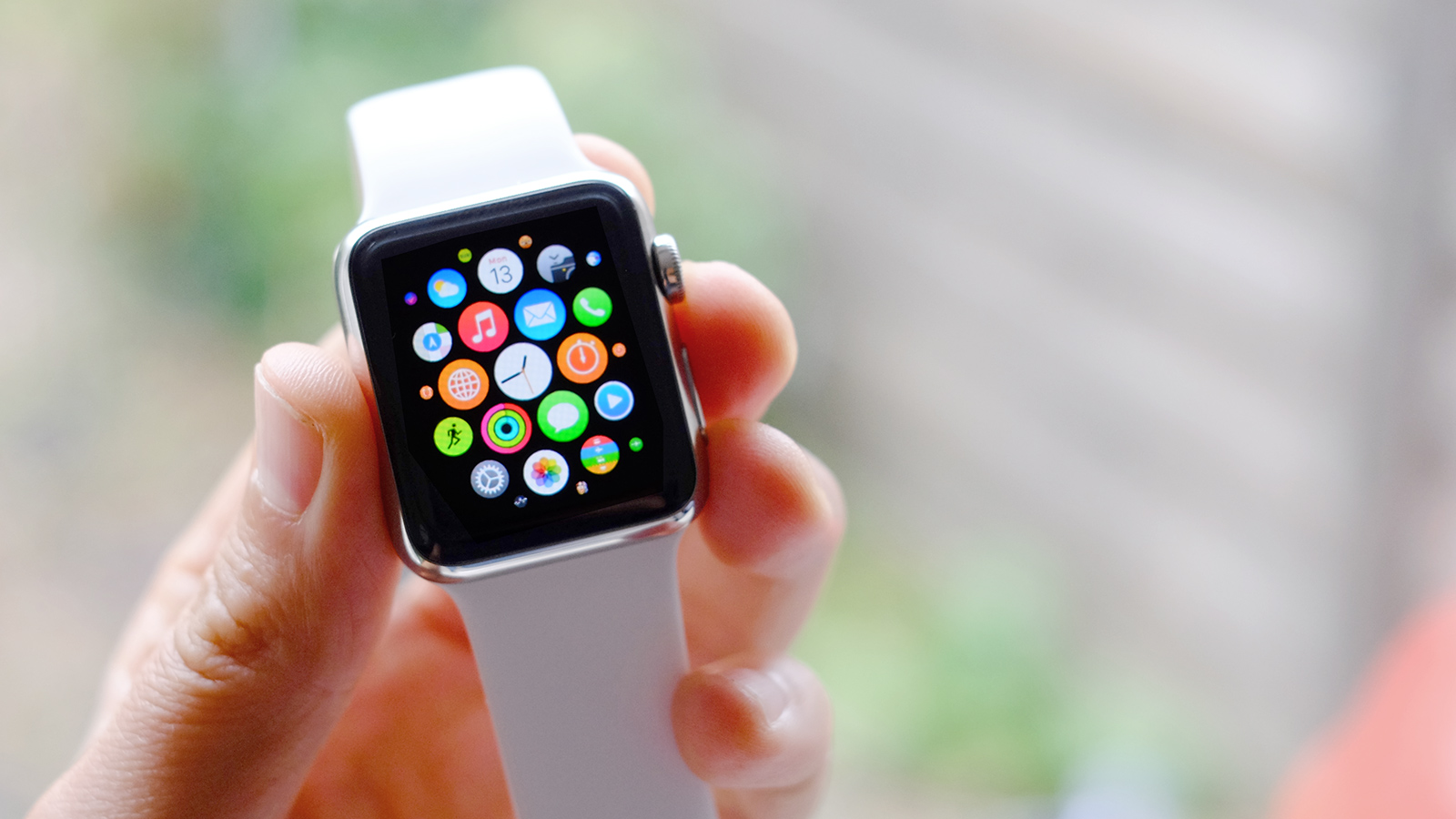 Our favorite apps – the list of which is ever-growing – exist because they're useful, or because they're entertaining, or because they make your life that little bit better.
In this round-up, you'll find apps for podcasting and procrastinating, for getting fit and getting stuff done, for messing around, and for sorting stuff out.
So if you've recently been given a new Apple Watch, or just want to refresh your stock, dive in and start getting the most out of your Apple Watch, and make sure to check this article regularly, as we'll add a new app every couple of weeks, highlighted below.
Best new Apple Watch app: Lumen: Metabolism Tracker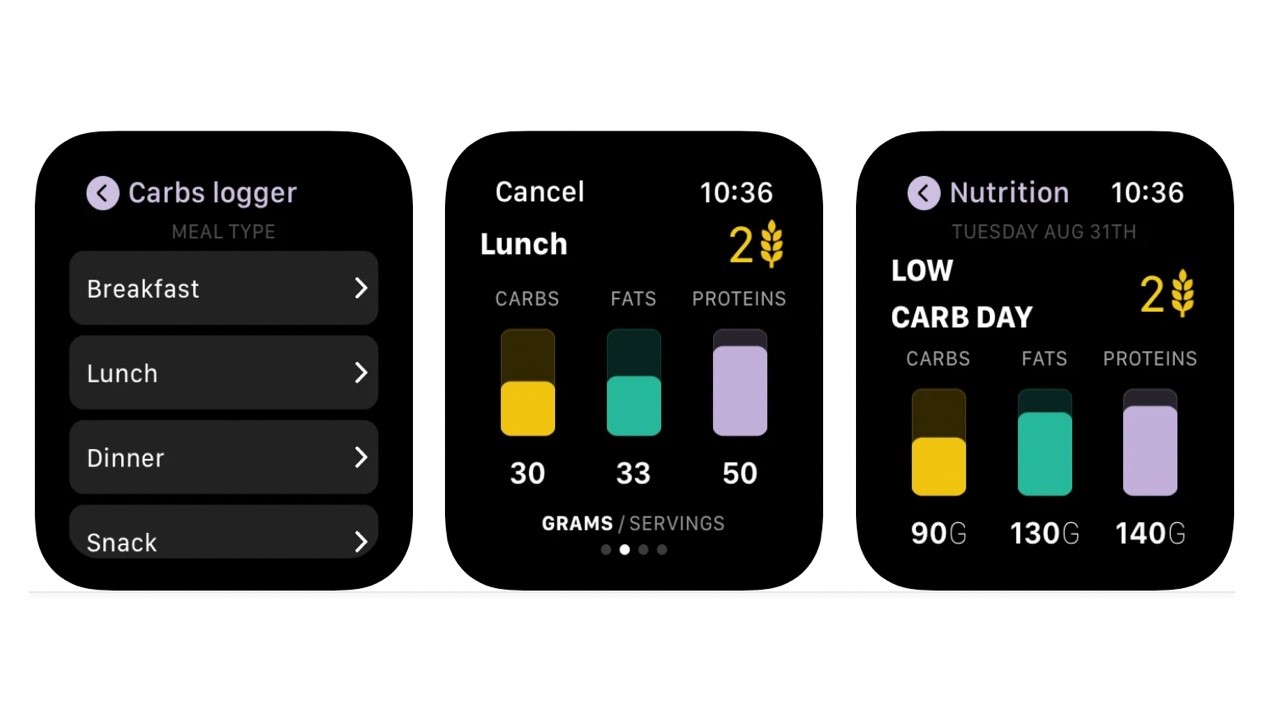 Here's an interesting one: the Lumen app is designed to connect to Metaflow's own health tracker, also called Lumen. It uses your breathing to identify what your body is up to, and it does that by getting you to inhale, hold your breath for ten seconds and then exhale fully. Lumen will then calculate your CO2 and tell you whether you're mostly burning fat or carbohydrates. You can then use the app to identify the optimal diet, workout and sleep schedule to get the results you want.
The Watch app does three things: it provides information from the Lumen tracker, it enables you to log your carbohydrate intake, and it can set your daily 'carbs budget' if your program requires low carb days.
It's impressive stuff, but it's also expensive: the three subscription offers are a three-month 'metabolism booster' for £199 (around $275/AU$375), a six-month 'advanced fat burn' for £249 (roughly $340/AU$470), and a twelve-month 'optimal health' for £299 (approximately $410/AU$565), but those prices also include the Lumen device itself.
After the three, six, or the twelve-month period expires, all three plans move to a £19 (roughly $25/AU$35) per month subscription. There's a 30-day risk-free trial, though, so if you decide Lumen isn't for you then you can return the sensor and get your money back.
Best Apple Watch apps for fitness and health
There's no denying that the main thrust of the Apple Watch since the second model is for fitness: it's packing GPS, heart rate, water-resistance, and improved sensors to make the most of the fact people like to work out with this thing – it even connects to gym equipment.
This list of Apple Watch fitness, running, wellbeing, and health apps are nearly all must-have – if you're going to do one thing with your new Watch, use it to become a healthier you in mind and body.
Arm Speed Analyzer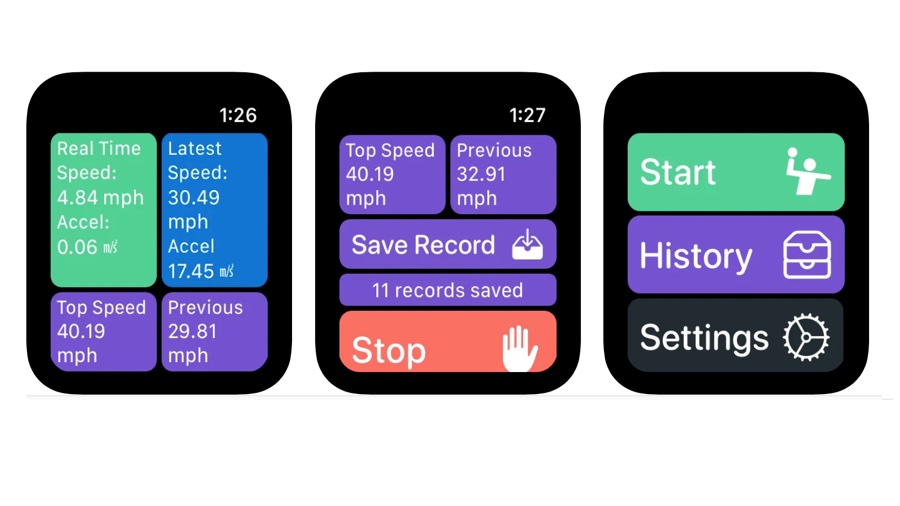 How fast is your arm? If you play ball or racket sports, if you're a golfer, a frisbee fan or a hockey player, Arm Speed Analyzer can tell you how fast you can move and how quickly you accelerate. That means you can use it for golf swings and tennis serves, baseball or cricket pitching, frisbee throwing, hockey stick swinging, or anything else that involves speedy throwing, swinging, sweeping, or hitting.
Arm Speed Analyzer claims to be the most accurate speed tracking app that uses your Apple Watch's accelerometer to track speed and acceleration.
Using the app is fast and simple. It shows you four key pieces of information: your real-time speed and acceleration, your most recent speed and acceleration, your personal best top speed, and your previous session's top speed. The app also records your history so you can go back and see how much you've improved over time and how consistent your speeds have become.
Although the app is called Arm Speed Analyzer, it can also analyze your kicks – although we wouldn't recommend doing it publicly in case someone thinks the Apple Watch strapped to your ankle is an electronic tag for offenders.
Watch to 5K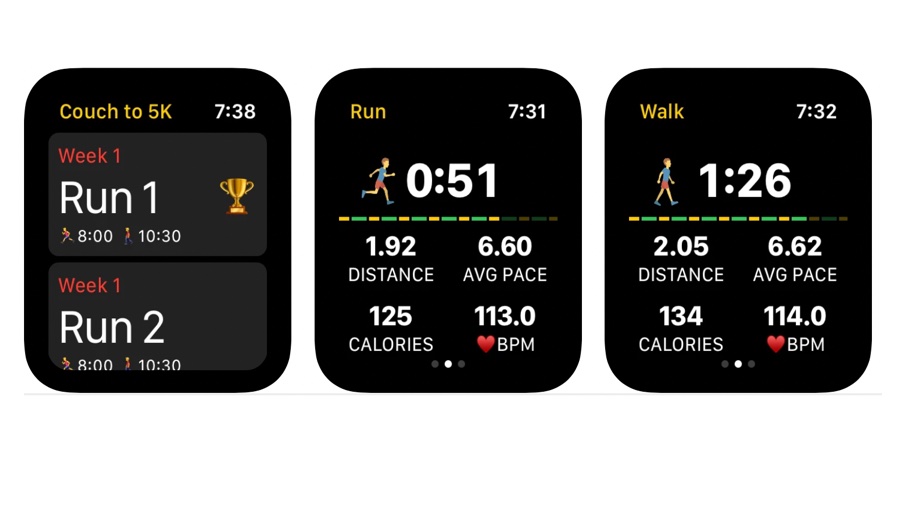 If lockdown has got you thinking about fitness, Couch to 5K is a great way to get into shape – and if you're thinking about Couch to 5K, then Watch to 5K is a great way of tracking it. The app is designed for absolute beginners who want to work towards running a 5K over a period of 9 weeks, and it creates a training plan of three runs per week for nine weeks.
The schedule will be different for every week, and if you complete all nine weeks you should be able to achieve 5K in under 30 minutes.
The app can work on its own, which is one of the reasons its creator made it: he was fed up with 5K training apps that needed you to lug your iPhone along for the run. So he wrote one that didn't. It provides key metrics such as your distance traveled, your average pace, your calories burnt, and your heart rate, and all the details of your workouts are stored in Apple's Health app.
As you'd expect your runs are tracked and count towards your goals in the Fitness app, and you can record your route to review it later. We like this app a lot: it's a simple, useful, and effective app from an independent developer who spotted a problem and wrote an app to solve it.
Time to Walk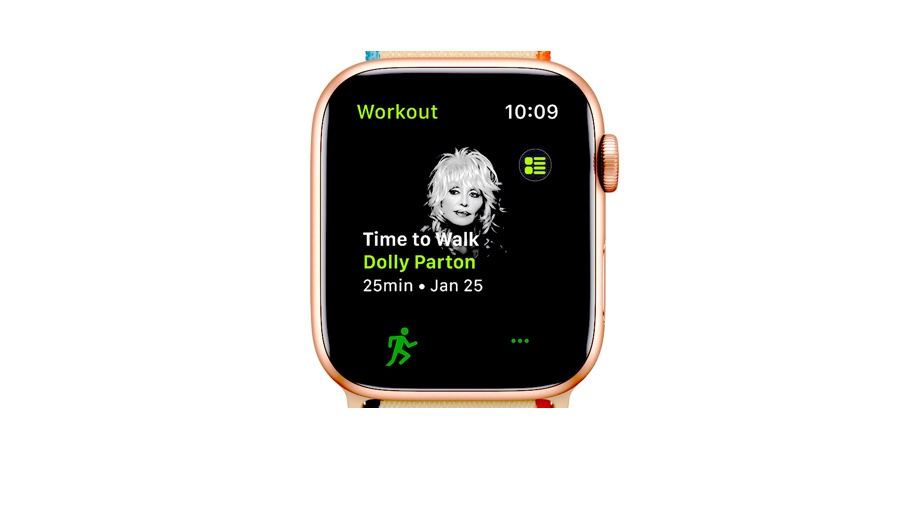 Time to Walk is a new and really rather inspired idea for Apple Fitness Plus subscribers: it enables you to go for a long walk while listening to a notable figure tell their story. As Apple puts it:
"Each Time to Walk episode is shaped by the guest's personal, life-shaping moments and includes lessons learned, meaningful memories, thoughts on purpose and gratitude, moments of levity, and other thought-provoking topics, recorded while walking outside or in locations that are meaningful to them. The narrative comes to life through photos that appear on Apple Watch, perfectly timed to amplify a corresponding moment the guest shares."
If you're a wheelchair user, Time to Walk will become Time to Push and will automatically start an Outdoor Wheelchair Walk Pace workout.
There are four guests at the time of writing: the legendary Dolly Parton, NBA star Draymond Green, musician Shawn Mendes, and Orange Is The New Black star Uzo Aduba.
There will be new episodes every Monday until the end of April 2021, and they will be downloaded automatically if you have a Fitness Plus subscription, appearing automatically in the Workout tab on your Apple Watch Fitness app. Each episode will be 25 to 40 minutes long and will come with a music playlist to keep you walking or pushing afterward.
Apple Fitness Plus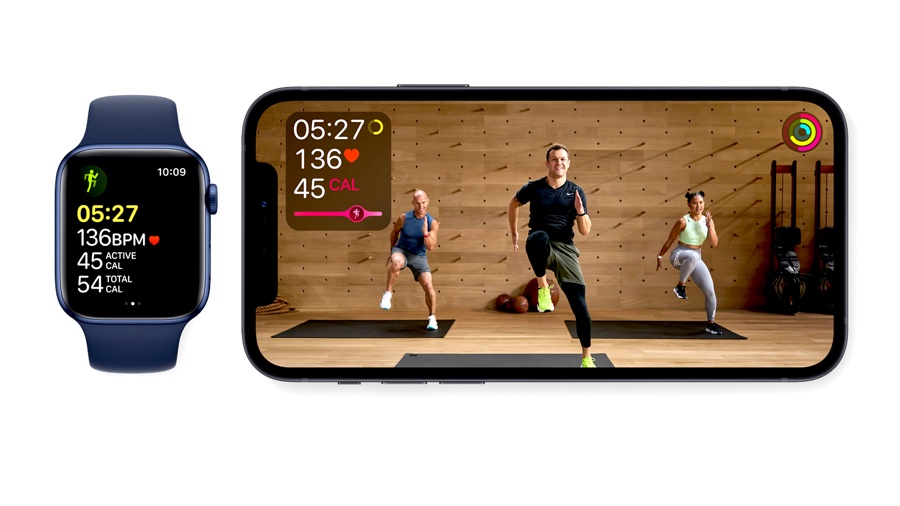 Apple's long-promised move into premium fitness apps launched in December 2020. Apple Fitness Plus is a subscription service rather than just an app, but it has been designed with the Apple Watch in mind: it uses the Watch sensors to track your workouts and to respond to what's happening on-screen on your iPhone.
For example, if your trainer says to check your heart rate, your Apple Watch will display that data; in tough workouts, it'll display a countdown timer to help your motivation, and the optional Burn Bar tells you how your performance compares to other people who've completed the same workout that you're doing.
Subscriptions cost $9.99 / £9.99 / AU$14.99 per month and are also available as part of Apple One bundles. You can share your subscription with up to six family members without having to take out an Apple One Family or Premier plan.
To use Apple Fitness Plus on your Apple Watch you'll need watchOS 7.2 or later. There's no new app to install: fitness appears as a new tab in the Fitness app on your iPhone, and your Watch will respond automatically based on the workouts and/or training you to select in the iPhone app. The app is also available for iPad and Apple TV.
Moodistory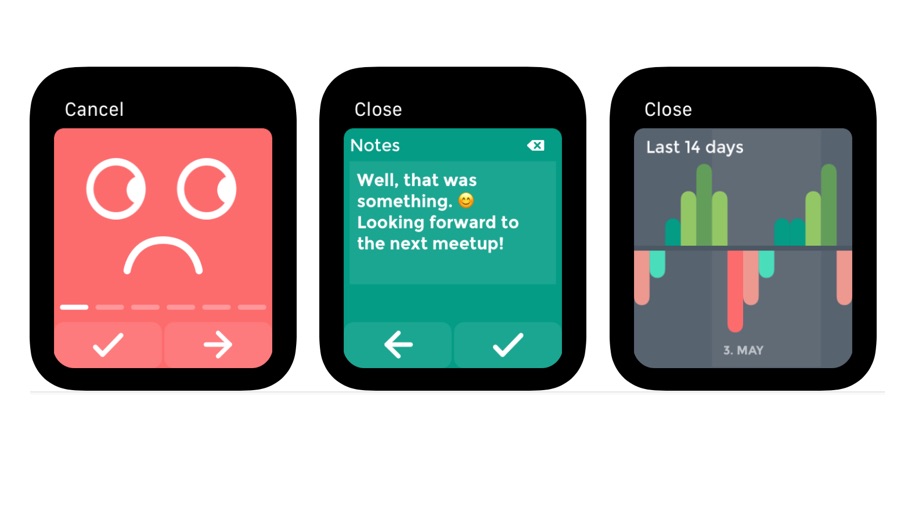 Most of the Apple Watch apps in the health and fitness category are trackers of some kind: step trackers, calorie trackers, cycle trackers, and so on. Moodistory is a tracker too, but it's interested in your mental state rather than your physical performance.
The newly added Apple Watch companion app means it's one of the fastest ways to record your mood and give it context, and it's designed for sheer speed of entry: if you want to leave detailed notes that are best left to the iPhone app. On your Watch, you just tap and go.
Mood tracking can be very useful for people whose mental state has its ups and downs, or for people who want to get an understanding of the patterns that may shape their moods.
By recording how you feel over a period of time you can begin to see if there are particular trends and if you're also including contextual information that information can help you identify any triggers that might bring you down or lift you up. You can even collate the information and output it in PDF form from the iPhone app, which may be useful if you'd like to share your mood history with a counselor or other qualified professional.
Heart Analyzer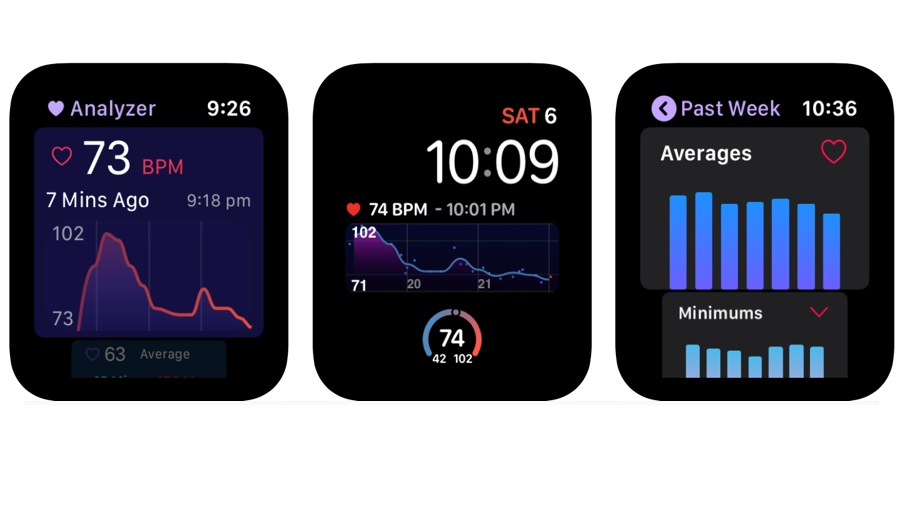 Heart Analyzer
Free / IAPs
We featured version 7 of Heart Analyzer back in 2019 and liked it a lot. Version 8 is new for 2020 and it's a very big update – especially on iPhone, where it has a brand new and very nice user interface.
Unfortunately, the Apple Watch's display is rather limited compared to the phone, but while the Watch component isn't quite as pretty as the new iPhone app, it's still very effective and makes good use of the available space.
On your wrist, Heart Analyzer v8 comes with improved, customizable complications for the Infographics faces so that you can have your heart rate chart right there in front of you. The Watch app offers live heart rate monitoring and trend charts, weekly metrics, and workout views, and it can also record calories burned and distance traveled. As you'd expect, it integrates well with Apple Health.
Things are even more impressive on iPhone, where you can view personalized metrics such as day/night resting heart rates, average heart rates, and historical data going back years. The new interface makes everything much clearer and achieves the tricky balance of giving you lots and lots of data without being overwhelming.
Peloton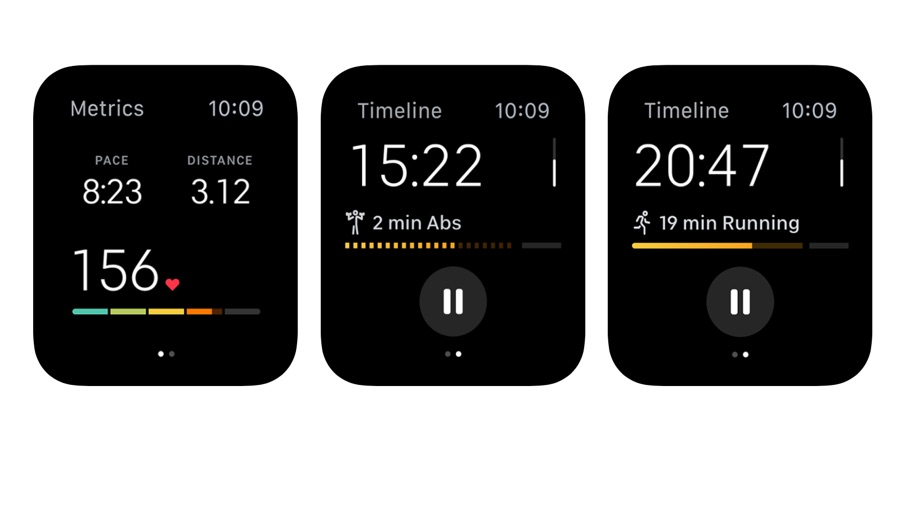 Peloton
Free with in-app purchases
Don't let the name fool you: although it's named after a bike race term and is primarily designed to accompany the famously expensive exercise bike, Peloton isn't just about cycling. It's a fitness helper for running, yoga, and high-intensity training too, and it can also help you with meditation through its guided learning sessions.
The Peloton app offers a useful combination of streaming video classes, progress tracking, and music playback to keep you motivated. The latest app introduces a particularly cool feature: you can now use Chromecast to send the video from iPhone or iPad to compatible TVs for that big-screen experience, and you can pre-load the video to make sure you don't encounter any buffering during a workout.
The Watch component has much less screen space to work with, but it does a lot with what it's got. It displays pace and distance metrics for runs, heart rate tracking for all kinds of exercises, and all the stats you could want. It also integrates with Apple's Health app to keep your vital statistics up to date. The app doesn't just connect to your Apple Watch: if you have Bluetooth-enabled monitors you prefer, you can connect them too.
Strava: Run & Ride Training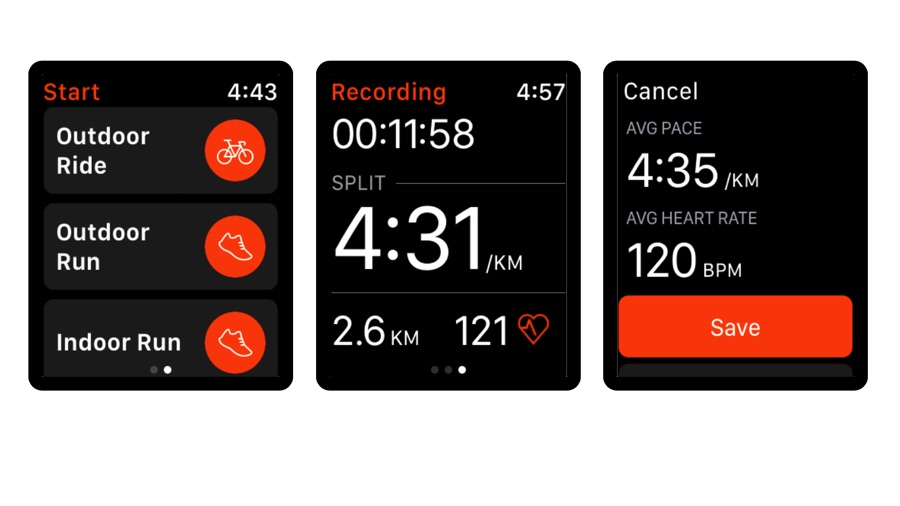 Strava: Run & Ride Training
Free with in-app purchases
Strava needs no introduction for serious fitness fans: it's one of the world's top fitness apps for runners, cyclists, and swimmers, as well as gym-goers, kayakers, and yoga practitioners. The latest version brings proper support for the Apple Watch, enabling you to sync workouts and activities you've recorded with Apple's Workout app with the Strava app and its online tracking, to build a better overall picture of your fitness activities.
Strava is on a constant update cycle, so just days after the Apple Watch sync was introduced there was another update with improved stroke analysis for swimmers and better cadence analysis for runners; two weeks previously there were new features for skiers and for activity sharing, as well as a bunch of interactive 3D maps.
The big selling point of Strava is its social aspect, which elevates it above other GPS-enabled fitness apps: you can compare your performance not just with yourself but with other users, you can compete to become the king or queen of particular geographical leaderboards, and you can share with friends and followers to get encouraging words and helpful feedback.
The best bits are in the Premium subscription, which is fairly cheap by fitness-app standards: it's currently $5.99/£5.99/AU$9.99 a month or $59.99/£44.99/AU$89.99 a year.
Hole19 Golf GPS & Scoring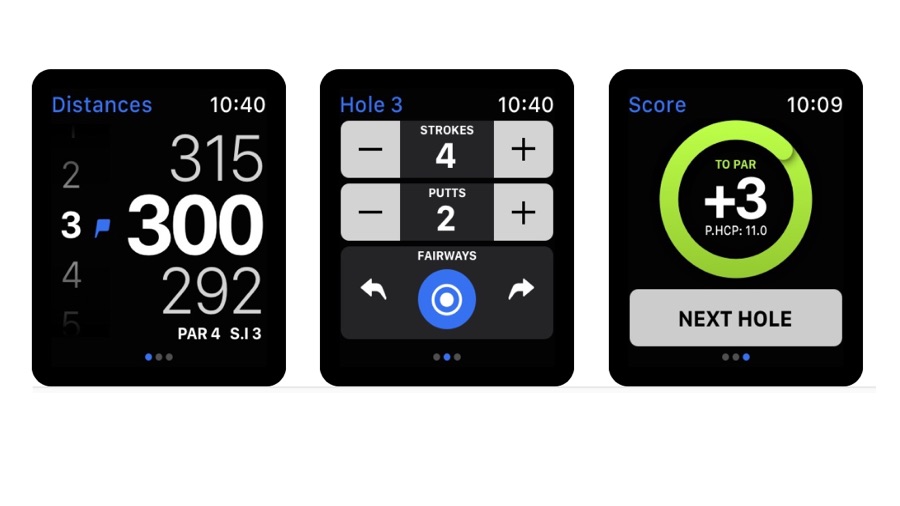 Hole19 Golf GPS & Scoring
Free (in-app purchases)
Hole19 claims to be the most-used golf GPS range finder in the UK, with more than 10 million rounds registered, and it claims to be as accurate as a real caddie – although it doesn't specify which one.
As is usually the case with sports apps the bulk of the work is done by the iPhone app, with the Apple Watch companion providing just the essential features and information you need while you're on the green.
The main app offers two key tools: GPS range-finding so you can see how far you are from your goal as well as any hazards, and a digital scorecard that you can use to track your stats over time.
On your watch, it shows you the distance to the front, center and back of the green; swipe and there's an input screen where you can track your performance. It's all very simple and straightforward, enabling you to track your playing without distracting you for too long.
The usefulness of the app depends mainly on whether it knows about the course(s) you want to play. Hole19 knows over 42,000 courses in 201 countries, so yours should be covered, but the app's free to try so you can make sure it's right for you before signing up for a subscription.
Seven – 7 Minute Workout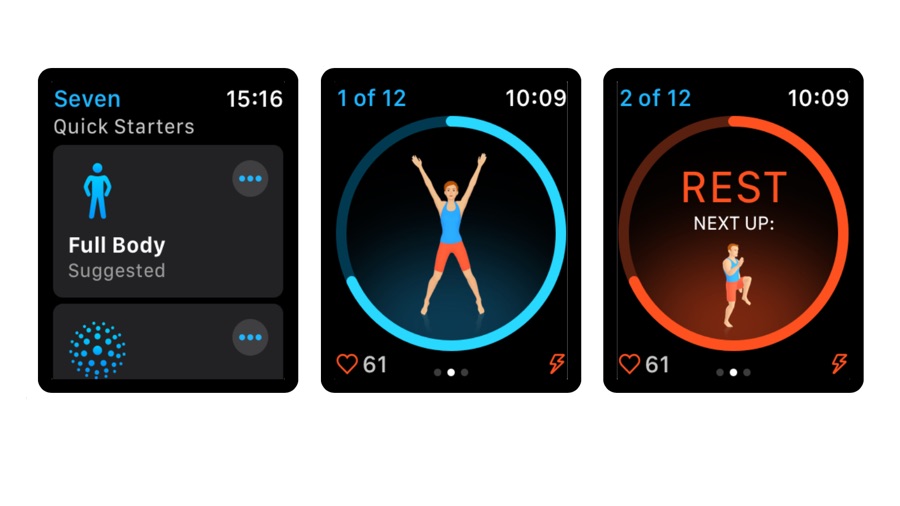 Seven – 7 Minute Workout
Free/IAPs
What can you do in seven minutes? You could listen to one and a half pop songs. You could watch one-tenth of an episode of Game of Thrones. Or you could change your life. That's what Seven promises. It's an app based on the idea that anybody can get much fitter if they can spare just seven minutes a day. No gym memberships, no equipment, just you and your Apple Watch.
We'd recommend starting with the phone, though: it shows you how to do each exercise properly, something the Apple Watch's screen isn't big enough for. There's no point knocking yourself out for your seven-minute stretch if you're doing it wrong and causing more harm than good. Once you know what you need to do though you can rely on your Watch to time your exercises and breaks and to record your activity.
The app is easy to use, packed with useful exercises, and provides good visual feedback and motivation. You can compete with your friends or just earn in-app achievements, and if you sign up for the $9.99/£9.99/AU$14.99 monthly subscription you get access to over 200 exercises to keep your regime interesting. By enabling you to exercise anytime, anywhere, Seven might just help you get the exercise habit.
Swing Tennis Tracker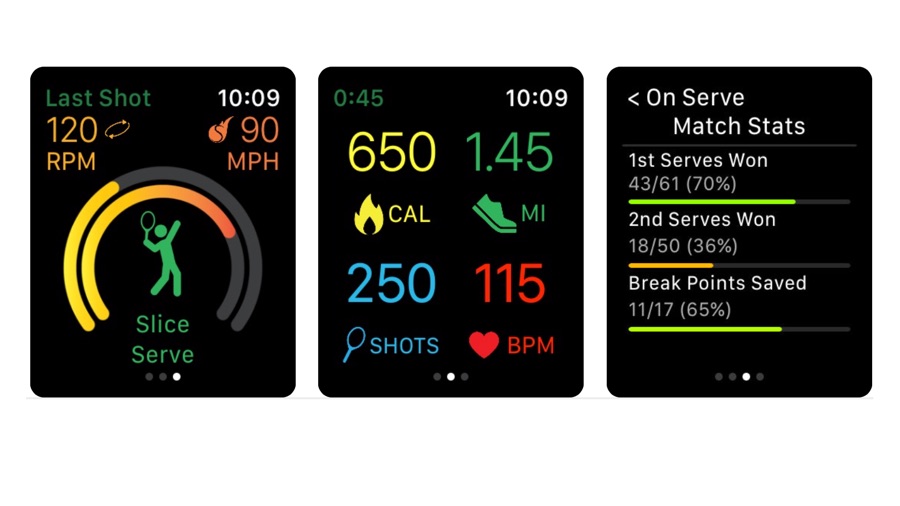 Swing Tennis Tracker
Free/IAPs
Built for serious tennis players under the guidance of Andy Roddick and James Blake, Swing Tennis Tracker is designed to analyze your swings as well as record your stats. It isn't just a solo app: it can also sync scores with other Apple Watch users on the court. There's excellent Siri integration for starting matches and practice, integration with the Activity and Health apps, and excellent visual feedback to show you how hard you're hitting.
The Watch component concentrates on the recording and feedback, while the phone app takes care of scores, stats, and video, as well as providing action advice after each hit. It's a great app for individual players but it can also be used by parents, coaches, and teams, to track others' performance too.
There are two subscription plans, the $4.99/£4.49/AU$7.99 per month Premium and the $9.99/£9.49/AU$15.49 Pro. The former unlocks historical statistic graphics, head-to-head records against non-Swing users, and unlimited analysis graphs for each session, while the Pro subscription adds video lessons from tennis pros and intelligent analysis of your performance that identifies key areas for improvement after each session.