The Best budget smartphone in 2022
There's not a lot of difference between the best budget phones on this list and the top mobiles overall, as some affordable handsets are packed to the gills with great features and top performance to rival more expensive offerings.

Our guide is focused on phones that cost roughly £200 or less, and even within that price range you can get respectable power, huge batteries, FHD+ screens, quad-lens cameras and more.

Their overall specs and performance won't be a match for pricier phones, but in some cases they'll come surprisingly close, and some of these handsets actually offer better battery life than top-end phones.

The Xiaomi Poco X3 NFC is a prime example of how much you can get for little money. This currently tops our list of the best cheap phones thanks to its 120Hz refresh rate (which is a match for the Samsung Galaxy S21 and double what the iPhone 13 offers), plus its quad-lens camera and long-lasting battery.

But while that's the cheap phone champion, there are loads of other excellent options too, and some might be a better fit for you. When making a decision you should consider which features matter most to you, as in most cases cheap phones won't excel in every area. So if you want a long-lasting phone then look to the battery size. Care about cameras? Take a look at the lens selection and megapixel count.

We've included a full specs list for each of our best cheap choices below, but we've also added an overview along with pros and cons, so you can look beyond the specs to see how each model performs in practice.

We're constantly adding new phones to this list too, with the Realme 8, Realme 8 5G and Moto G50 all being recent additions. So if you don't see something you like now, it's worth checking back here often. Plus, we have guides to the best phones, best Android phones and best iPhones that may suit you.

But if you're not on such a tight budget you could get something even better by stretching to a handset in one of our other smartphone guides below.
Best budget phones 2022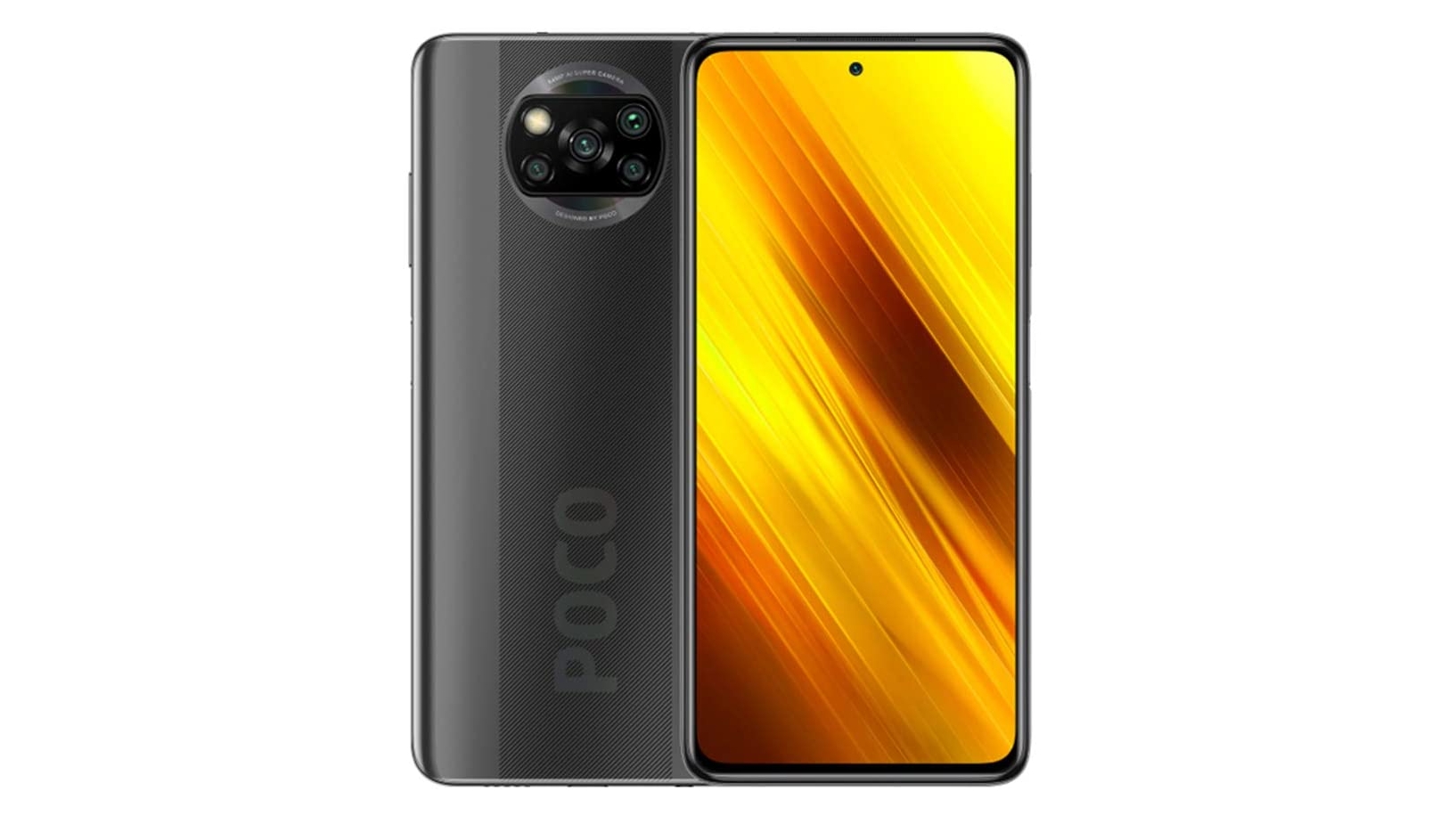 It's rare to get a 120Hz screen on a budget, but that's exactly what you get with the Xiaomi Poco X3 NFC. That can make interactions feel smoother, and its 6.67-inch 1080 x 2400 screen is large and fairly sharp too, as well as supporting HDR10.
And it's not just the screen that stands out, as the Poco X3 NFC also has a fairly powerful Snapdragon 732G chipset, which offers excellent gaming performance for the money. With a big 5,160mAh battery too (which we found offered up to two days of life with moderate use) this really is a remarkable cheap phone.
There are some compromises, most notably when it comes to the camera, which isn't as good as some others at this end of the market, but for gaming, video, and most general use, the Xiaomi Poco X3 NFC is hard to beat without spending quite a bit more.
Read our full review: Xiaomi Poco X3 NFC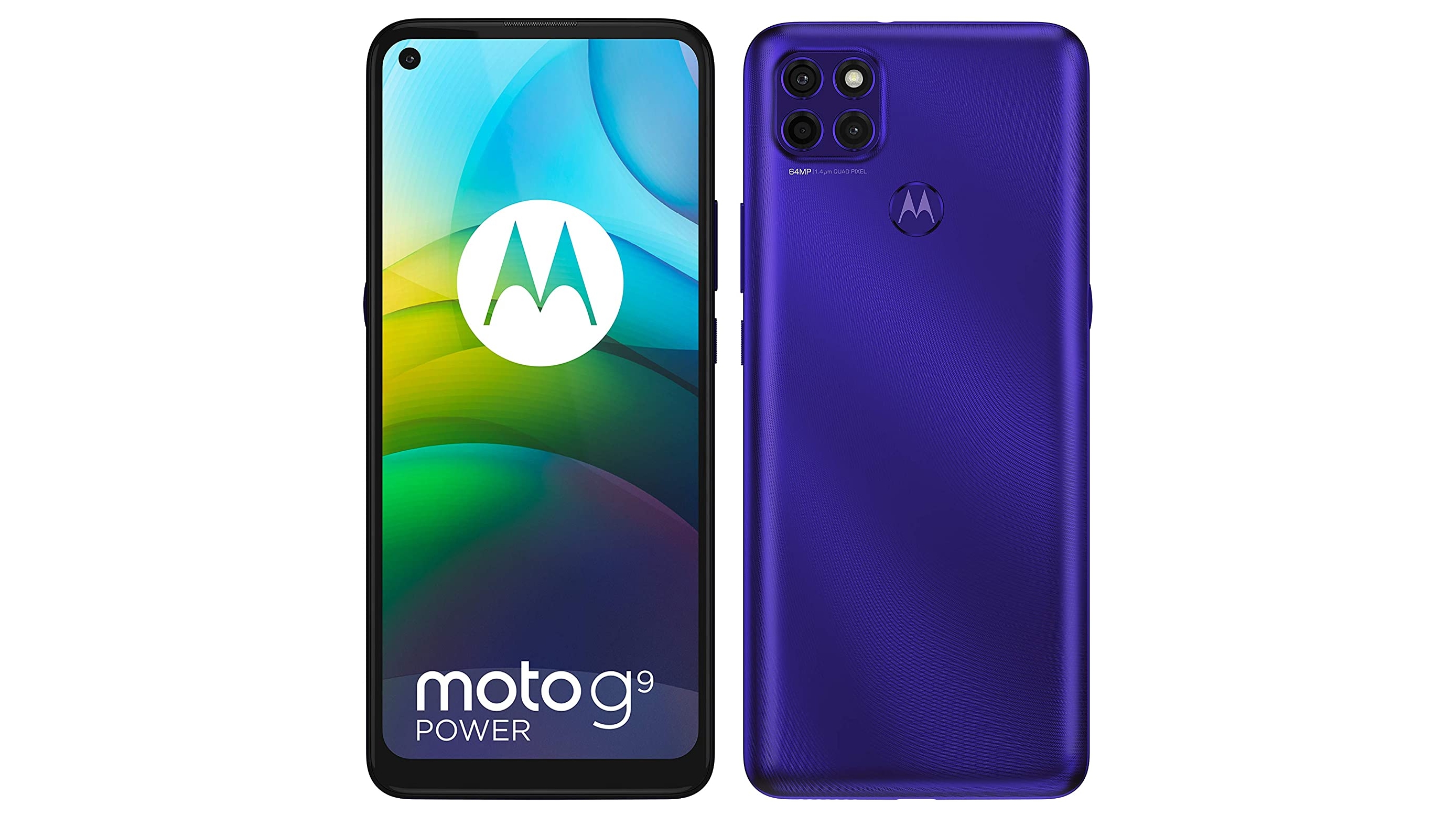 Motorola consistently makes some of the best cheap phones, and the Moto G9 Power is among its best affordable handsets yet, thanks in large part to its massive 6,000mAh battery. That's far bigger than the batteries in most phones of any budget, and we found that it translates into almost two days of life with average use.
But the Moto G9 Power also has a similarly massive 6.8-inch screen, which – while only 720 x 1640 – means it's great for watching movies on.
With expandable storage too, plus 20W fast charging and a triple-lens camera (led by a 64MP lens), there's a lot to like here, though it's a bit on the bulky side and only offers average performance. Still, there aren't many powerful phones at this end of the market, so that's not the biggest of issues.
Read our full review: Moto G9 Power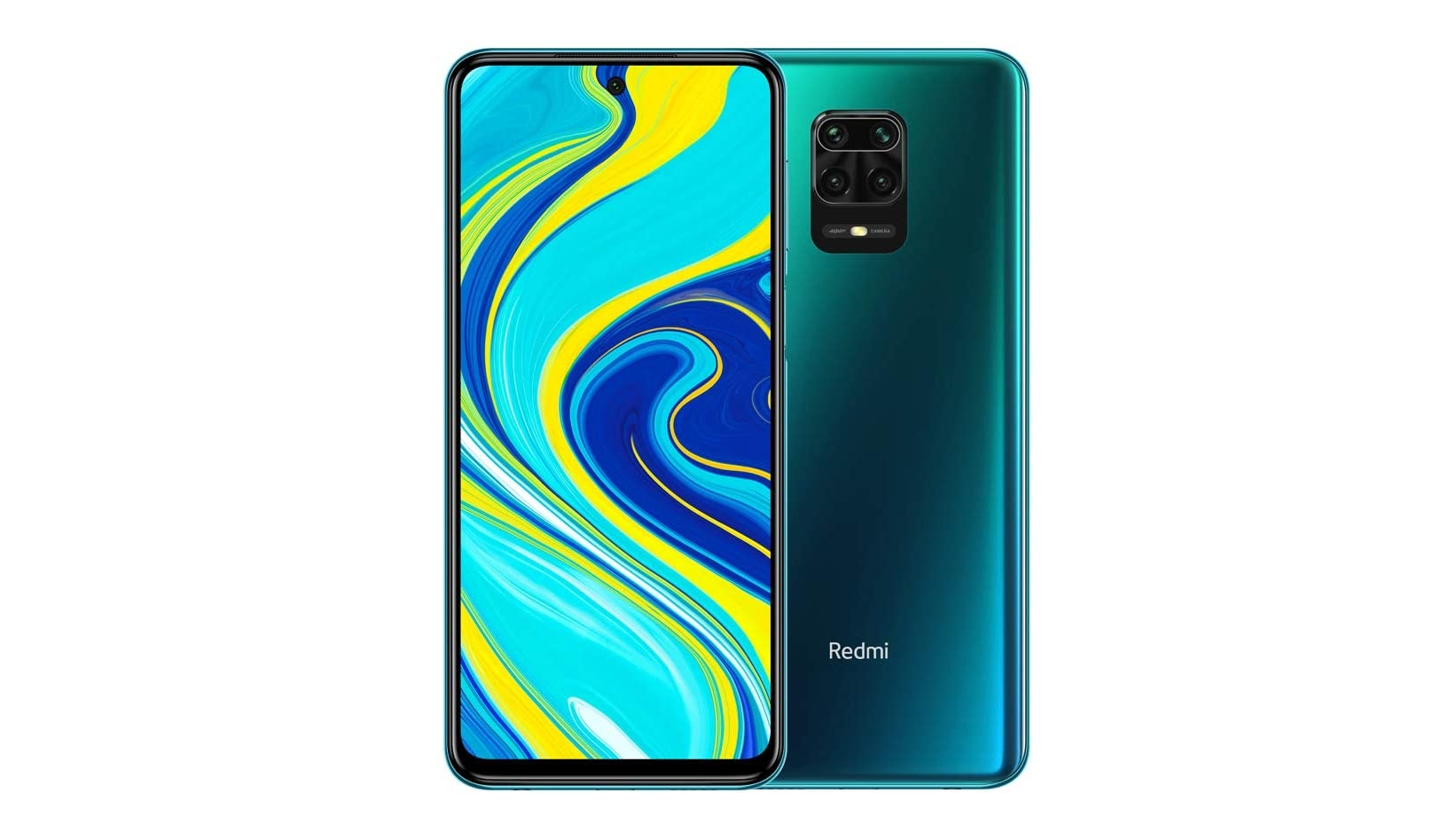 Xiaomi is becoming a major player in affordable phones, and handsets like the Xiaomi Redmi Note 9S show why.
It has a big and long-lasting 5,020mAh battery, decent performance from its Snapdragon 720G chipset, and a great 6.67-inch 1080 x 2400 screen. You also get up to 128GB of storage, and a quad-lens camera, consisting of a 48MP primary sensor, an 8MP ultra-wide one, a 5MP macro one, and a 2MP depth one.
The Redmi Note 9S is a bit chunkier than we'd like and it lacks the showy 120Hz screen of its sibling the Poco X3 NFC, but it comes very close to matching that phone, and is similarly cheap. If you're looking to game on a budget or just want a long-lasting battery and a big screen, the Xiaomi Redmi Note 9S is an excellent choice.
Read our full review: Xiaomi Redmi Note 9S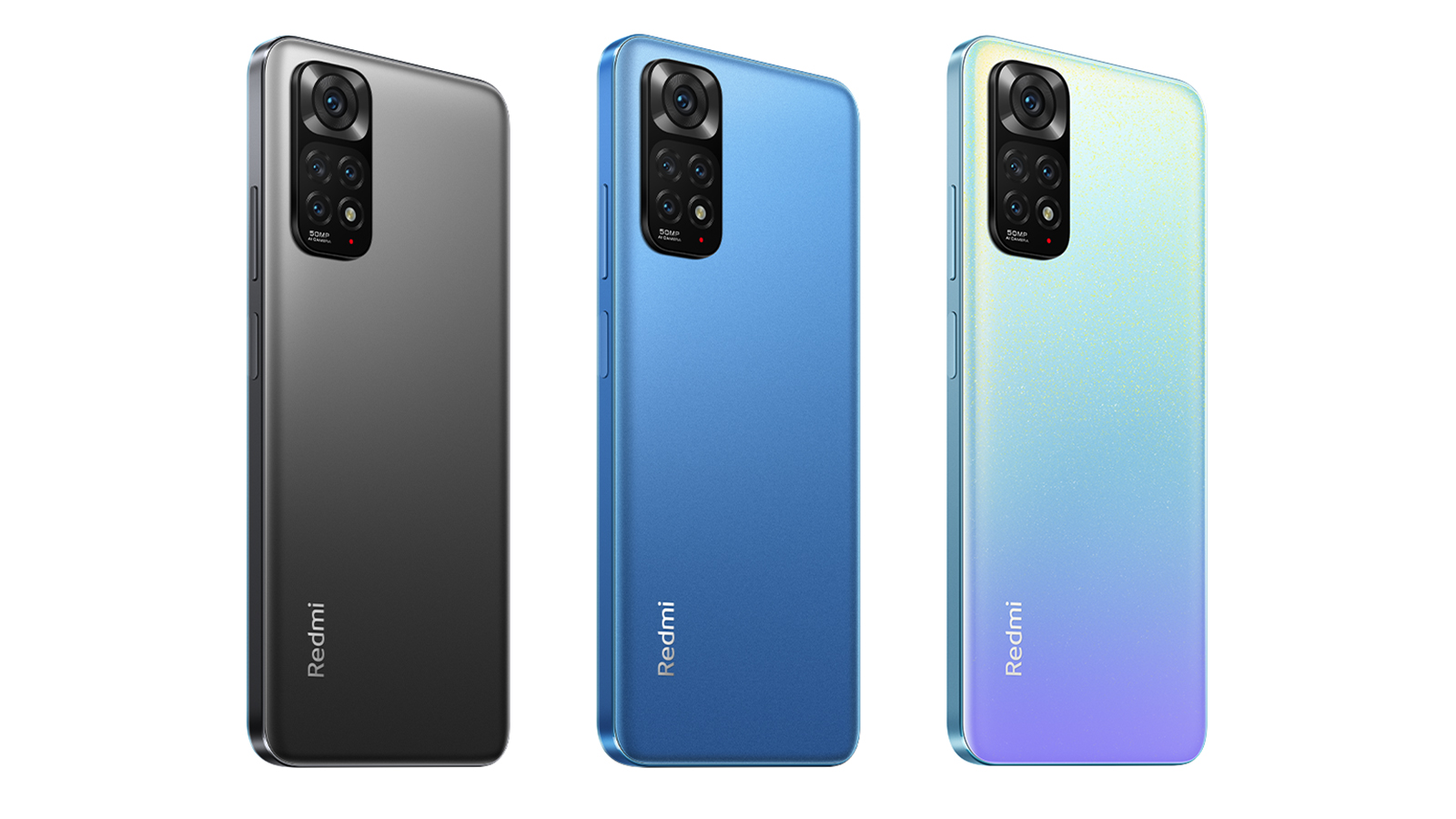 Xiaomi continues its reign of offering great budget phones with the Xiaomi Redmi Note 11. The inexpensive phone isn't a good option if you want to take great photos but it looks pretty good. Its sleek design still offers room for a 6.43-inch AMOLED screen with a resolution of 1080 x 2400 and 1000 nits peak brightness. A 90Hz refresh rate further helps out for watching streamed movies.
Elsewhere, performance is a little sluggish with a Snapdragon 680 processor and a choice of 4GB or 6GB of RAM, but they're enough to get by and keep things ticking along nicely. It's only really 5G that you miss out on here. A decent 5,000mAh battery capacity means no need to find a charger throughout the day too.
Read our full review: Xiaomi Redmi Note 11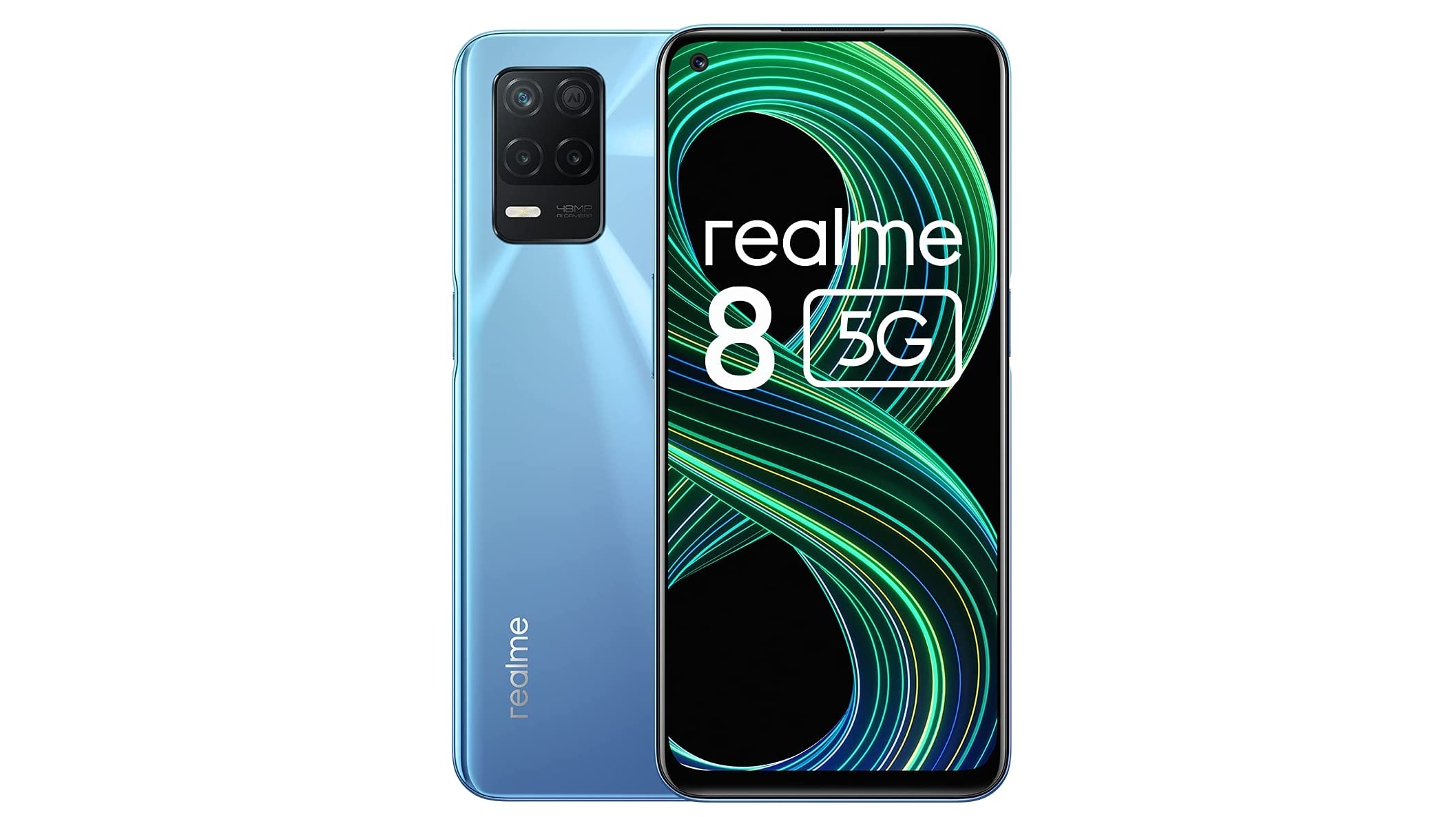 The Realme 8 5G is one of the cheapest 5G phones available, and that alone would be enough to make it notable, but it has a few other things going for it too.
For one thing it has a large 5,000mAh battery, and in our review would sometimes finish a day with 50% battery left, meaning two days of life could just about be possible for lighter users.
The Realme 8 5G also has a 6.5-inch 1080 x 2400 screen with a 90Hz refresh rate, which is a solid – if unexceptional – selection of specs for the money. It gets plenty bright too, so you should have no problems with visibility on sunny days.
With a reasonable amount of power for the money as well, the Realme 8 5G is almost a strong all-rounder, but it's let down slightly by its underwhelming triple-lens camera. Still, you can't have everything at this price, and the Realme 8 5G has packed quite a lot in.
Read our full review: Realme 8 5G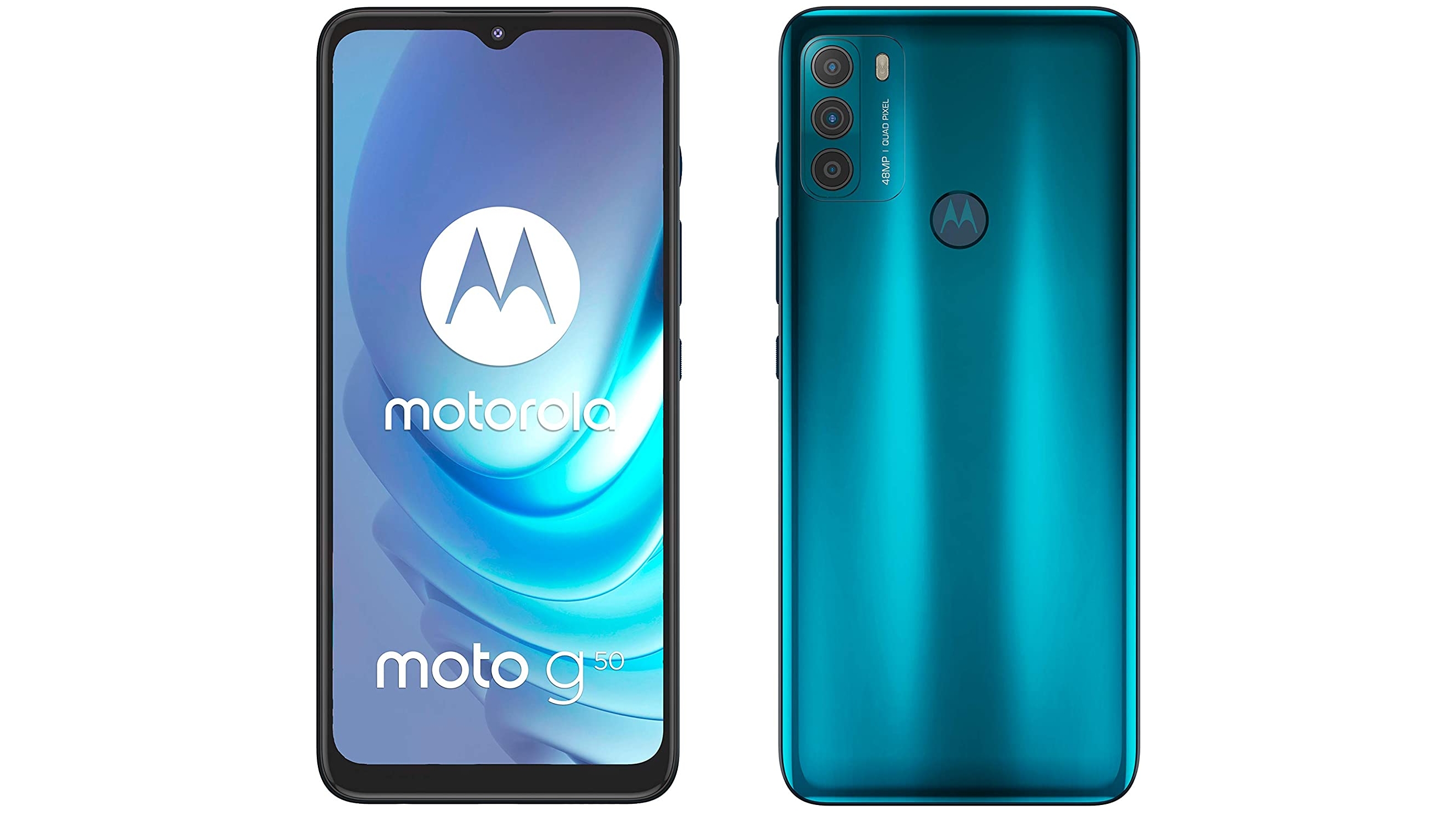 The Moto G50 ticks a lot of the same boxes as some other cheap 2021 phones – it includes 5G and a big (5,000mAh) battery, plus a 90Hz screen, but falls down a bit when it comes to the camera, as while this has a triple-lens camera, only the main 48MP one is really worth bothering with in our experience – and there's no ultra-wide or telephoto.
Still, the battery life is good, the refresh rate makes interactions feel smooth, and this is one of the cheapest ways to get 5G.
It also has a decent size screen at 6.5 inches, though the resolution could be better at 720 x 1600. Performance is acceptable if unexceptional, and the Moto G50 as a whole is a sturdy, reliable smartphone companion – just perhaps not the most exciting one.
Read our full review: Moto G50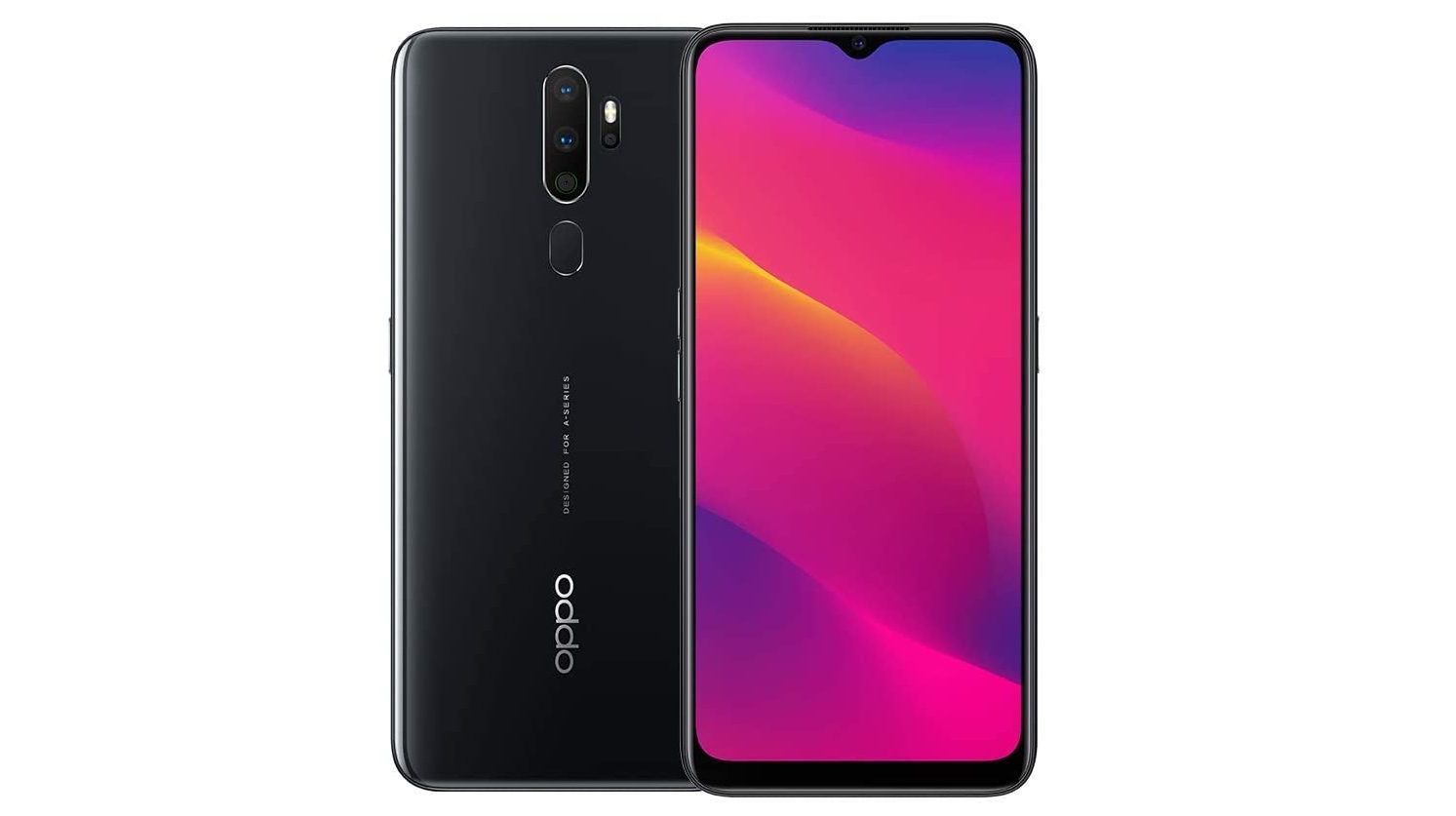 Oppo isn't a massive name in the west, but it has started selling phones here, and some of them – such as the Oppo A5 2020 – are well worth paying attention to.
This has a price that's the definition of budget, yet packs in a spacious, bright, and vibrant 6.5-inch 720 x 1600 screen, and a massive 5,000mAh battery, which in our tests lasted well over a day between charges.
It also sports a surprisingly expensive-looking (albeit plastic-clad) design, and a quad-lens camera. The actual performance of that camera isn't special, and nor is the middling Snapdragon 665 chipset, but for the money the Oppo A5 2020 makes some very smart compromises.
Read our full review: Oppo A5 2020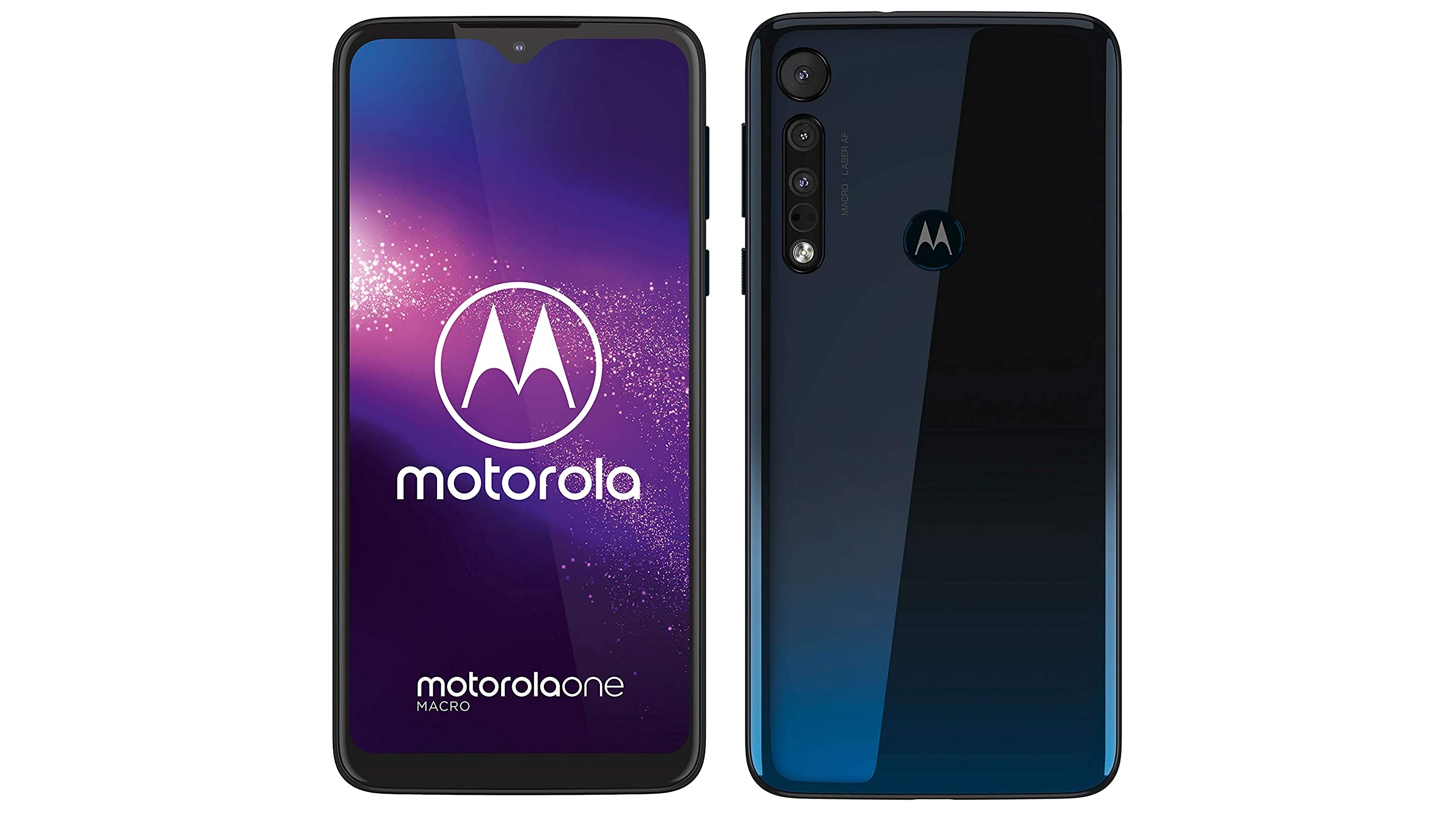 The Motorola One Macro is a great budget phone, but not for the reasons its name might make you think. Yes, it has a dedicated macro lens, but in our review we found both this and its 13MP main and 2MP depth sensors to perform poorly.
Rather, the Motorola One Macro is good in most other ways, from its decent 6.2-inch 720 x 1520 screen, to its durable design, and its 4,000mAh battery, which provides above average life.
If not for its cameras the Motorola One Macro would be a great budget all-rounder, as things stand it's a great budget almost all-rounder, ideal for anyone who doesn't care much about smartphone photography.
Read our full review: Motorola One Macro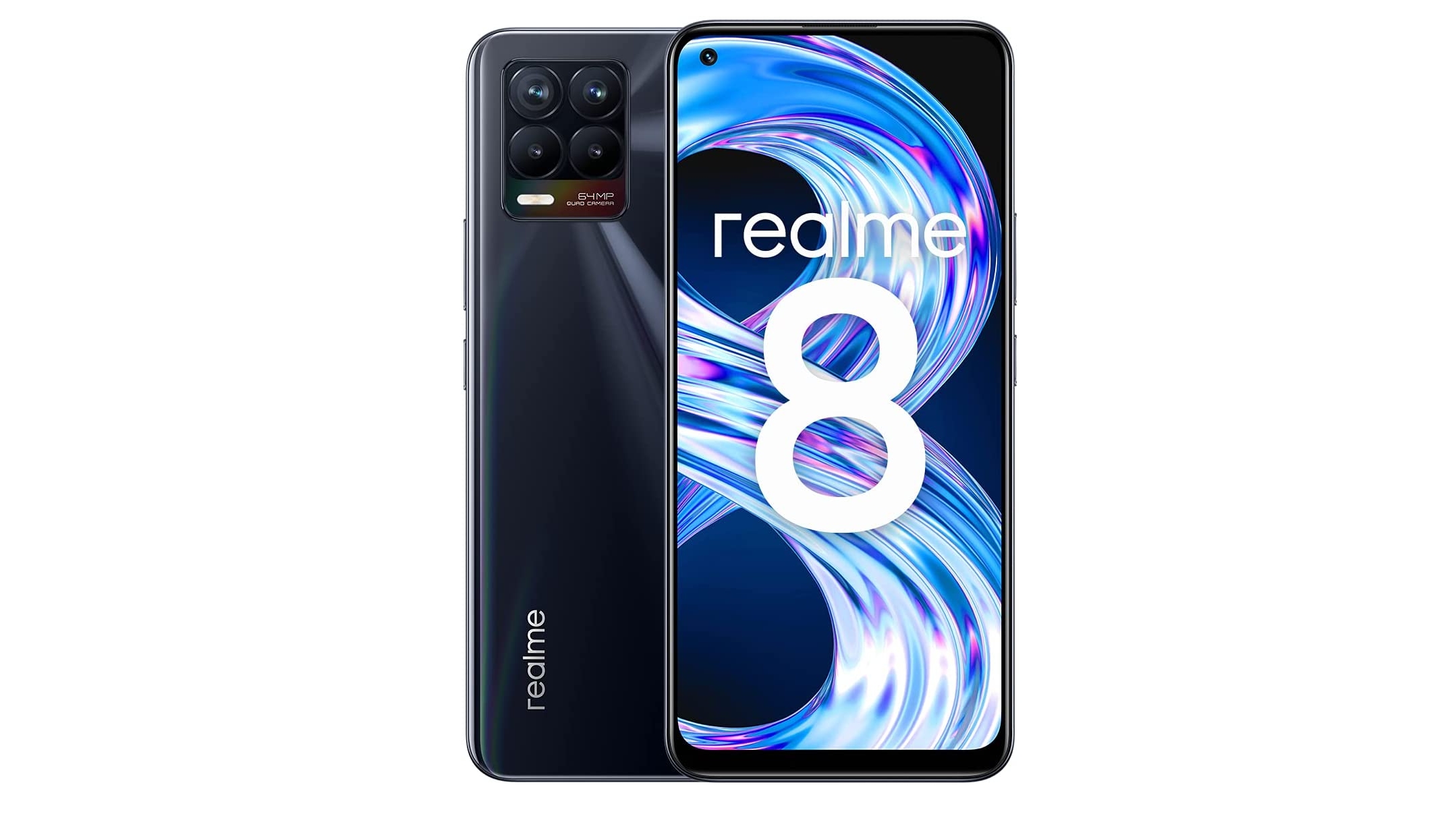 You might assume the Realme 8 was just a 4G version of the Realme 8 5G, but you'd be wrong. While its does indeed lack that speedy connectivity, it makes up for it in other ways, with better cameras, arguably a better screen, and a different chipset.
The phone has a 6.4-inch 1080 x 2400 Super AMOLED screen, which just has a standard 60Hz refresh rate but got nice and bright in our tests. It also has a quad-lens camera, with a 64MP main sensor, an 8MP ultra-wide snapper, a 2MP macro one and a 2MP depth sensor. It even has a fairly capable night mode, and the macro camera isn't as worthless here as on some phones.
The performance from its MediaTek Helio G95 chipset is respectable too for what this phone costs, and it has a healthy 5,000mAh battery. The design is sure to be divisive, and the lack of 5G will be a deal-breaker for some, but for the most part the Realme 8 is a solid all-rounder.
Read our full review: Realme 8
How we tested
We only include a phone on this list once we've fully reviewed it, so you can be assured that every entry has been tested in full.
That means we know exactly how each of these performs in reality – not just on paper, and we use that knowledge to rank them, while factoring in the all important price and value.
What should I look for when buying a cheap phone?
Cheap phones rarely have it all, so consider what you need most – be that camera quality, battery life, a sharp screen or whatever else. Then consider what you can most live without, and find a phone that best fits that balance.
What is the best cheap smartphone?
The best cheap smartphone regularly changes and is somewhat subjective, but our pick for the best cheap option is whatever's currently in the number one slot on the list above.