The Best Smart TV in 2022
Looking for the best TV you can buy in 2021? You're in the right place. This is our authoritative guide to the top televisions on the market.

There are countless smart TVs available these days, with the biggest manufacturers releasing updates to their best screens every year – from budget small TVs through to high-spec gaming TVs. This huge selection can make picking the right model for you a very confusing task. That's where we come in.

We've tested out a number of new Samsung TVs you'll see below, both featuring impressive multi-directional audio as well as Mini LED backlighting for better-than-ever contrast.

We've also tried out the LG C1 OLED and LG G1 Gallery Series – the former offering a great picture performance for the price and plenty of sizing flexibility, and the latter achieving levels of brightness beyond any OLED TVs we've tested before. Of course, if you're on a tight budget, we have some more affordable compromises worth looking at too.
Best TV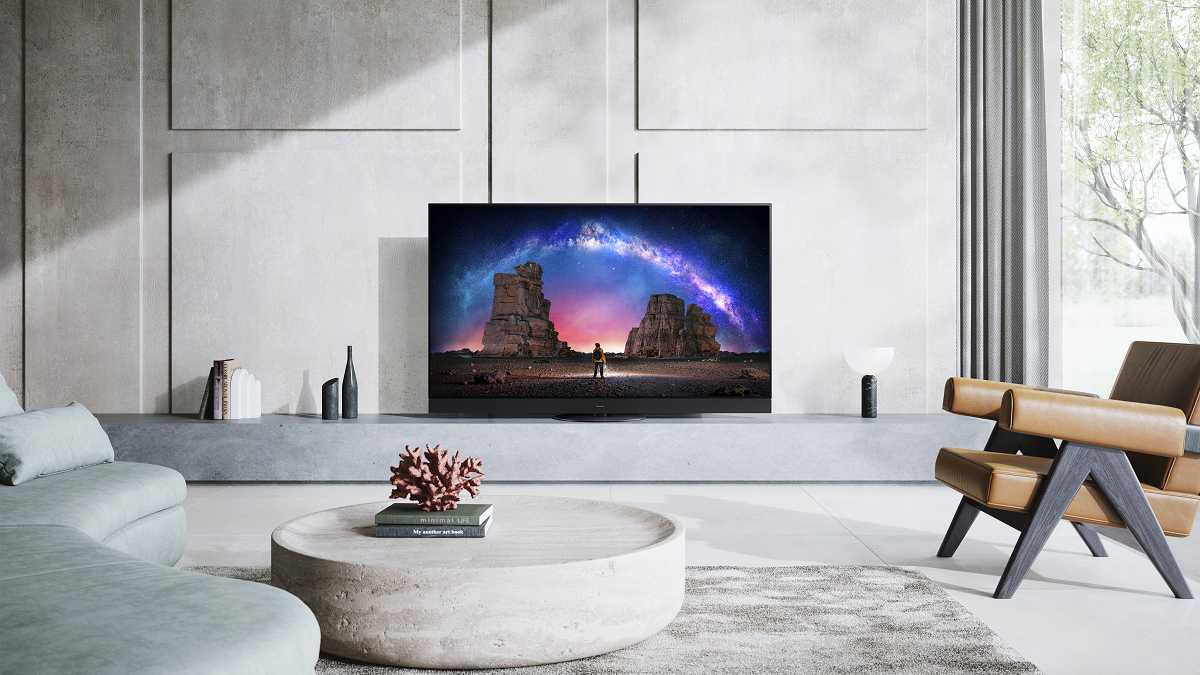 The Panasonic JZ2000 OLED is a force to be reckoned with. With its Master HDR OLED Professional Edition panel, an overhauled sound system that belts Dolby Atmos sound out of every corner, and a boost to gaming specs and HDMI 2.1 connectivity, this flagship 2021 screen is easily one of the best TVs we've ever had the pleasure of reviewing.
You'll find HDMI 2.1 inputs, along with VRR (variable refresh rate), ALLM (auto low latency mode) and a reduced input lag of just 14.4ms – making this a great bet for hooking up to a PS5 or Xbox Series X console. The bellowing audio output is something to experience, too, even if it may be louder than most need in the average living room.
New auto picture and sound modes should do most of the menu-fiddling for you, too, removing some admin from those who get lost in Panasonic's extensive settings, while leaving the option for anyone to tweak and calibrate their screen as they see fit too. Just make sure you turn off Intelligent Frame Creation before you get started (as it adds some video noise in places).
Have no doubt about it: the overall package of a custom OLED panel, huge built-in speakers, and a powerful HCX Pro AI processor makes the JZ2000 a truly knockout screen for 2021, and the best TV you'll find in the UK.
Read our full review: Panasonic JZ2000 review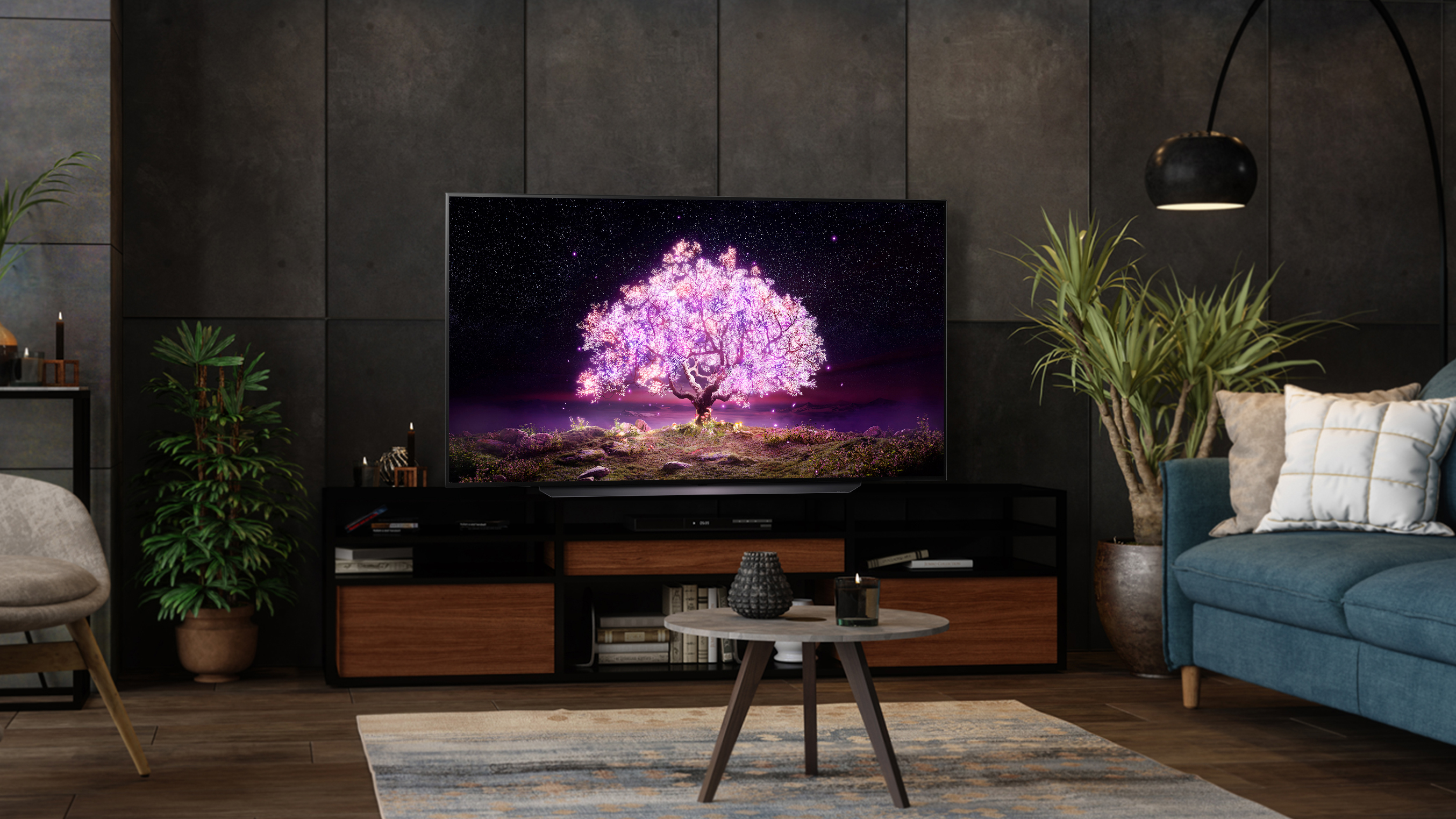 As a follow up to our best TV last year, the LG CX OLED, we had high expectations for the C1 OLED – and yet, it has managed to deliver on all of them, earning its place in our best TV 2021 guide.
That's because LG has made a number of small tweaks to last year's model. It's now using LG's Alpha a9 Gen. 4 processor for better upscaling and virtual surround sound audio, and with four separate HDMI 2.1 ports, it's ready for the PS5, Xbox Series X, Xbox Series S, and whatever next-gen consoles can throw at it. Gamers will also appreciate the new Game Optimiser menu that gives you the option to quickly adjust brightness, contrast and VRR on the fly.
The LG C1 isn't flawless, as we did encounter issues around how the new Alpha a9 Gen. 4 upscales faces, and how reflective the all-glass screen is in the daylight, but the issues are few and far between.
There are, of course, higher resolution TVs out there right now like the LG Z1 OLED, which offers 8K resolution, and the new LG G1 Gallery Series that uses the coveted OLED evo panels that offer better brightness. However, we feel that the LG C1 OLED offers the best blend of price and performance and makes for one of the best televisions to buy in 2021 and beyond.
Read the full review: LG C1 OLED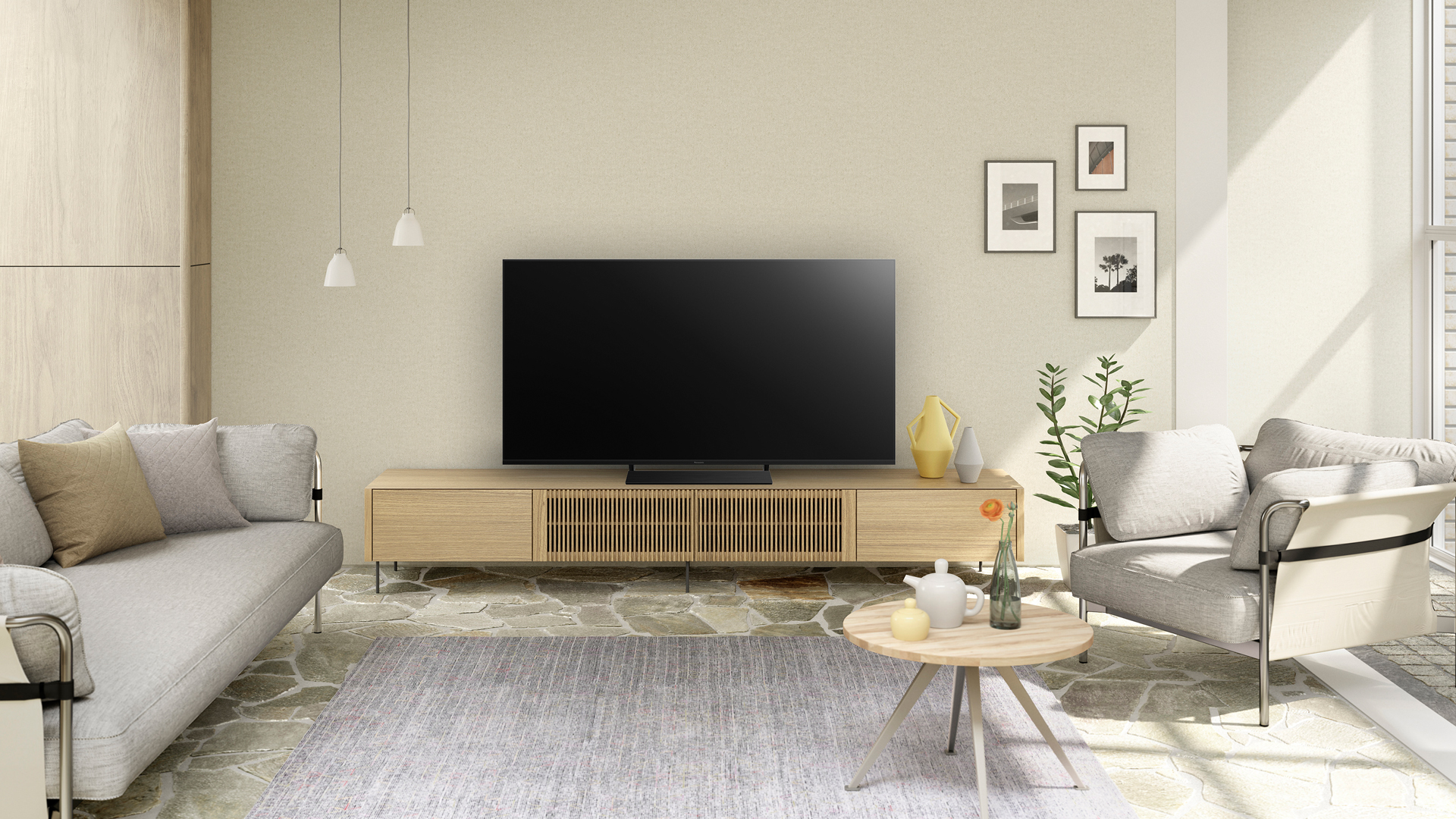 As the 2020 successor to the GX800, the HX800 continues everything that made us fall in love with Panasonic's mid-range flatscreen TV offering in the first place, with a sweet spot of price, performance, and functionality all in one.
Panasonic gets a lot of goodwill by offering multi-HDR support – throwing in HDR10+, Dolby Vision, and HLG in a single set – and is also unique in how this support is implemented across so much of its TV range. As a mid-range LCD, it's incredible that Panasonic ensures it has the same format support as higher-end OLED TVs like the new HZ1000 and HZ1500.
Add to that Panasonic's HCX processor, with filmic images and smooth action far beyond what we'd hope for at this price point, and you have a clear winner. Despite a bare-bones operating system, there's really very little to complain about.
Read our full Panasonic HX800 TV review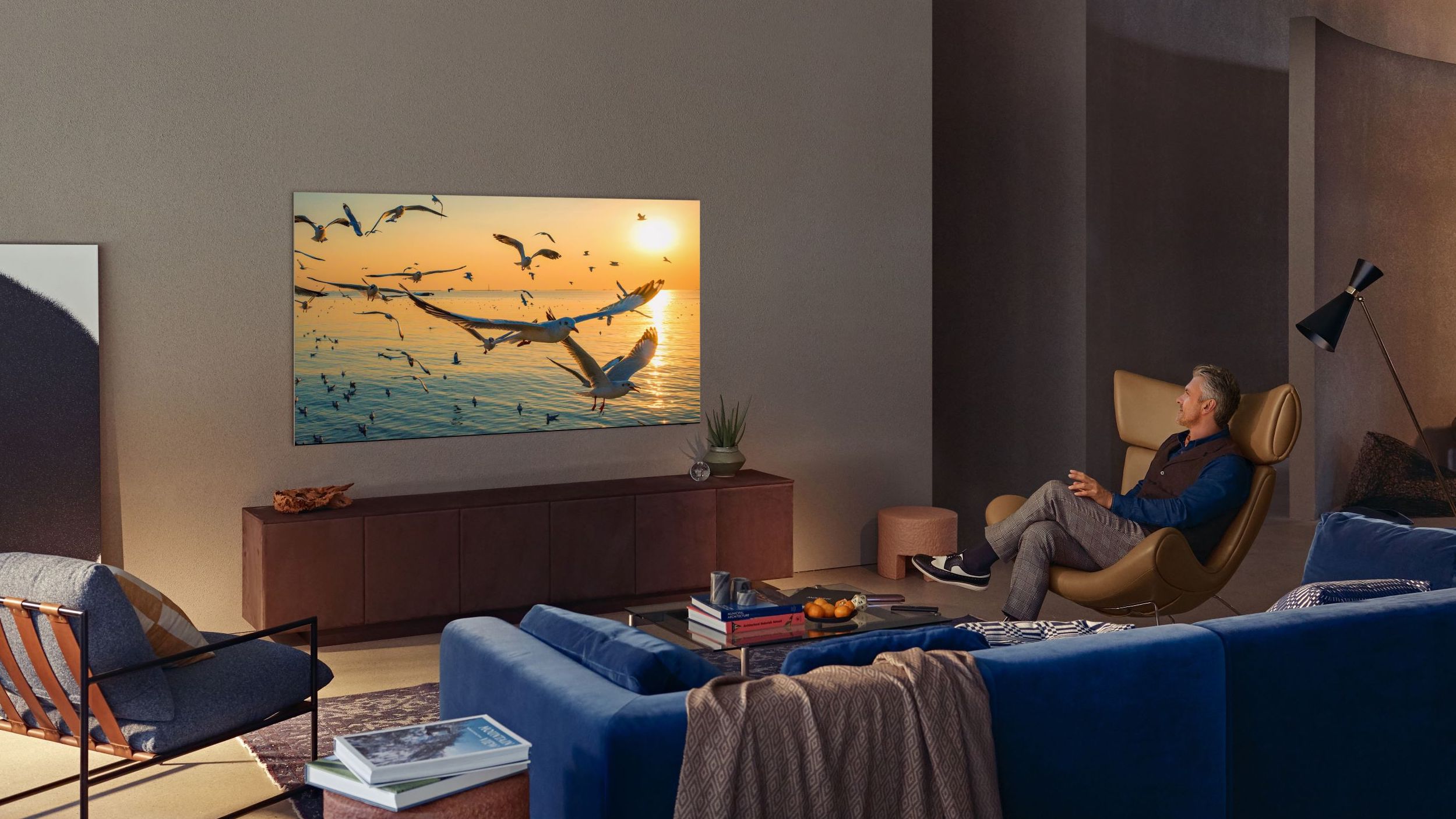 The Samsung QN95A is the company's new flagship Neo QLED 4K TV for 2021, and the first to embrace a Mini LED backlight, resulting in a significant increase in dimmable zones and thinner panels.
The results speak for themselves, with superb SDR and HDR images that benefit from deep blacks and brighter highlights, all of which are delivered without blooming or loss of shadow detail. The inclusion of quantum dot technology delivers saturated and nuanced colours, and thanks to the Filmmaker Mode these images are also extremely accurate.
The QN95A can deliver over 2,000 nits in its Dynamic picture mode, and over 1,600 nits in the more accurate Filmmaker mode. This means that for a lot of HDR content the TV doesn't even need to tone map, but when it does apply tone-mapping this is done correctly, ensuring detail is retained in the darkest and brightest parts of the image, and retaining creative intent. (Just keep in mind that you'll be making do with HDR10+ support rather than the more prevalent Dolby Vision HDR standard.)
This is another triumph of industrial design from Samsung, with a minimalist but elegant shape, solid metal stand, and nearly bezel-less screen. It's not just one of the best TVs – it's one of the best-looking flatscreens out there.
Read the full review: Samsung QN95A Neo QLED TV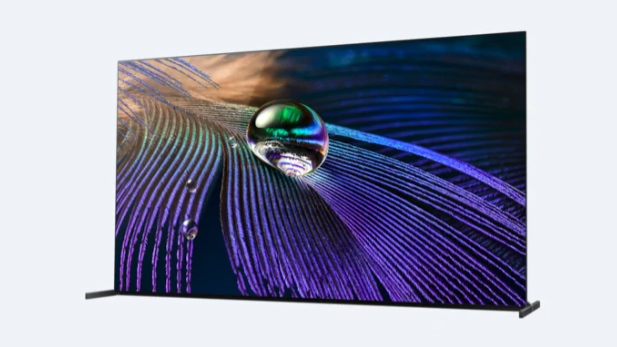 Sony hasn't held back in pricing the new A90J 4K HDR OLED TV, but we believe the performance does justify the hefty price tag.
Picture quality, from any source, is about as good as it currently gets from any 4K screen. In every meaningful department – motion control, contrast, edge definition, detail levels, you name it. For those moments when you're reduced to watching sub-4K content, it's great at upscaling, too.
The Sony A90J OLED is more than a few steps ahead when it comes to sound quality. Using the entire surface of the screen as a speaker is still novel and effective, and backing it up with two conventional bass drivers means the A90J sounds fuller, more direct and just, well, better than any alternative that doesn't feature an off-board sound system.
That combination of high-end picture quality and sound smarts – with the option to use the screen as the center speaker in a larger sound system – makes it shoe-in for a home cinema centerpiece, even if the Panasonic HZ2000 above may beat it for sheer audio power. You can also adjust the A90J's feet to accommodate a soundbar, while the remote is fantastically designed too.
Read the full review: Sony A90J OLED TV review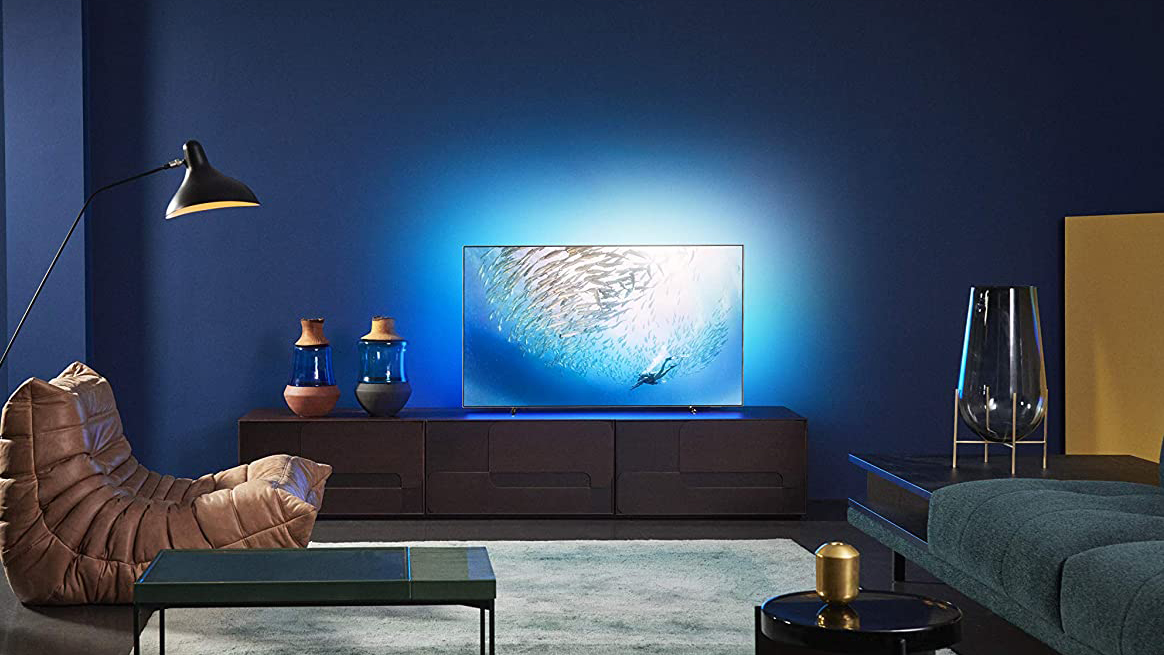 The Philips OLED 805 is a winning combination of excellent picture quality, powerful processing, and lovely build quality – but it's the Ambilight feature that's the real star of the show here, and elevates it into 'best TV' territory.
Ambilight projects a cornucopia of colors around the edges of the television, and this 805 model can do so from three sides – not quite the four-sided Ambilight of the flagship OLED+935, but still plenty to create an immersive light show.
But the 805 OLED isn't just for show: thanks to Philips' beefy P5 Picture processor, its able to give real force to OLED images, with enhanced contrast and spectacular colors – even when upscaling from HD/SDR. Philips improves on last year's 804 model too with both Dolby Vision and HDR10+ support, meaning you won't have to choose between a dynamic HDR format.
There isn't Apple TV app support, though – and the Android interface can feel unwieldy at times. The lack of Freeview Play, too, can be frustrating for UK viewers, without catch-up provision for the likes of ITV and BBC. Overall, though, it's a small price to pay for what's on offer in this excellent smart TV.
Read the full review: Philips OLED 805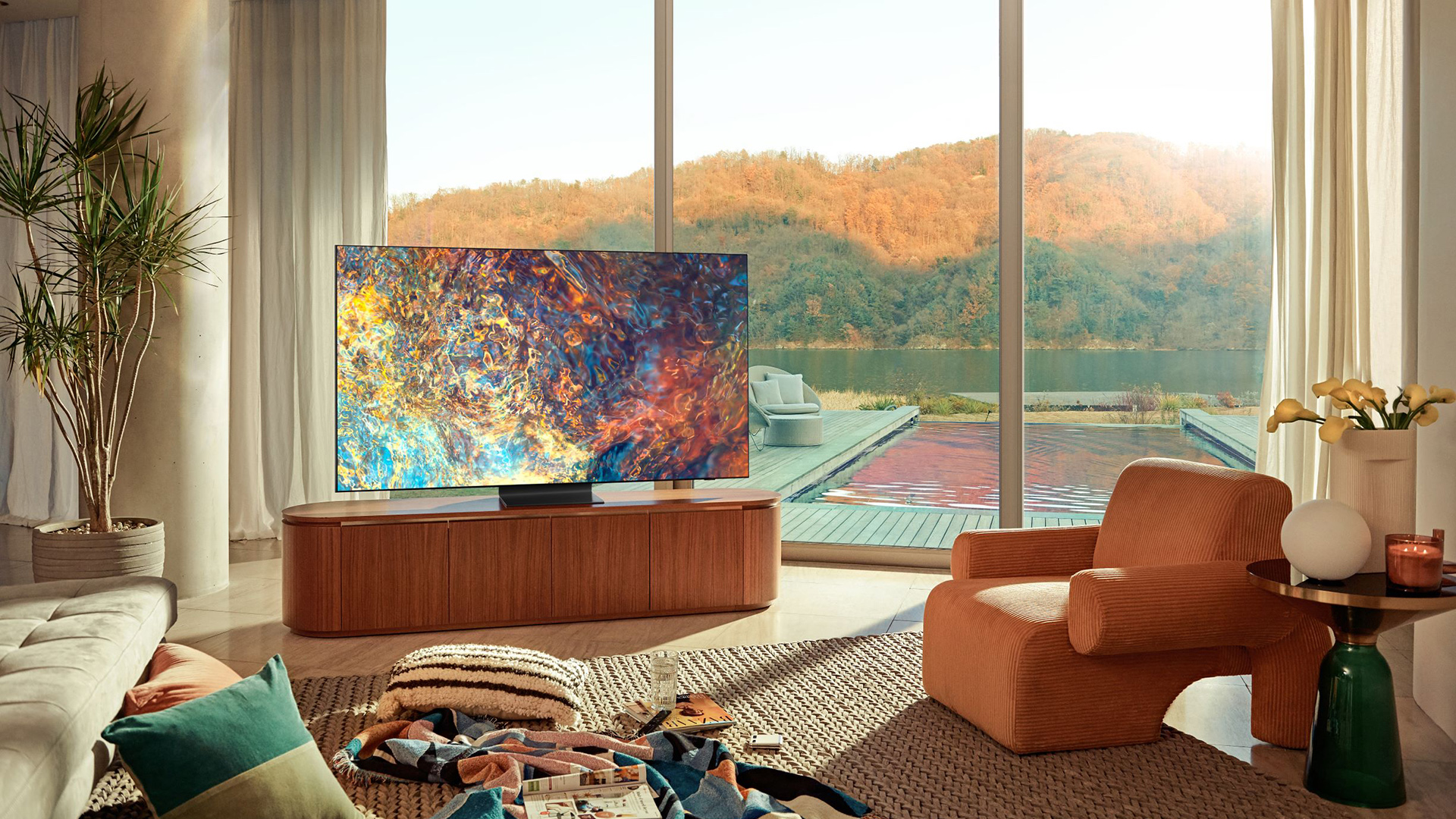 The Samsung QN900A Neo QLED 8K TV ushers in a new era of television technology in one of the best TVs we've seen this year.
Packing in the new Mini LED backlights Samsung has used in its new 'Neo QLED' range, it marks a notable evolution for the QLED range, with truly stunning picture quality, exceptional color and brightness, terrific sound and outstanding blacks. And this screen is quite the looker on the outside, too.
For the uninitiated, Samsung's 'Quantum' Mini LEDs are 1/40th the thickness of a regular LED, meaning thousands of smaller LEDs can be packed together in a much tighter fashion, allowing for far more accurate dimming zones and black levels that are practically indistinguishable from an OLED.
And because it takes advantage of Samsung's Multi-Intelligence AI upscaling, the QN900A is consistently able to produce images that looked better than their source. You'll get to benefit from a host of gaming features too, with the latest HDMI 2.1 and eARC features, 4K/120fps and 8K/60fps passthrough, as well as Game Motion Plus and AMD FreeSync Premium Pro for those connecting to a PC.
To put it simple: it's the best TV with 8K to beat in 2021.
Read the full review: Samsung QN900A Neo QLED 8K TV
Best smart TV FAQ
What can smart TVs do?
Smart TVs are internet-connected televisions. That means you can use them to browse through your favorite streaming apps as well as do a few other things such as control smart home devices or browse the internet. A TV that does not have smart capabilities is referred to as a 'dumb' TV because it requires a set-top box or streaming stick to use streaming apps.
What channels are on smart TVs?
This varies between country, and also your TV manufacturer. On Samsung smart TVs you'll get the Samsung TV Plus app that has over 100 channels, while Vizio TVs come stocked with the Pluto TV-powered WatchFree app that has some 200 channels. Most smart TVs come stocked with at least a few services that offer some free content, however; UK viewers will get 12 HD channels and 60 standard channels through Freeview, with more available through paid-for entertainment packages like Sky Q.
Do smart TVs have Netflix?
Yes. All major smart platforms support Netflix so you won't miss out here. Some TVs even have remotes with dedicated Netflix buttons. You will need to subscribe to the service though.
Do you need Wi-Fi for smart TVs?
Not necessarily. Some TVs also have Ethernet ports for connecting your TV physically to your router or modem. You'll need some kind of internet connection to use internet services on your TV though. Casting from your phone to the TV is one way around this.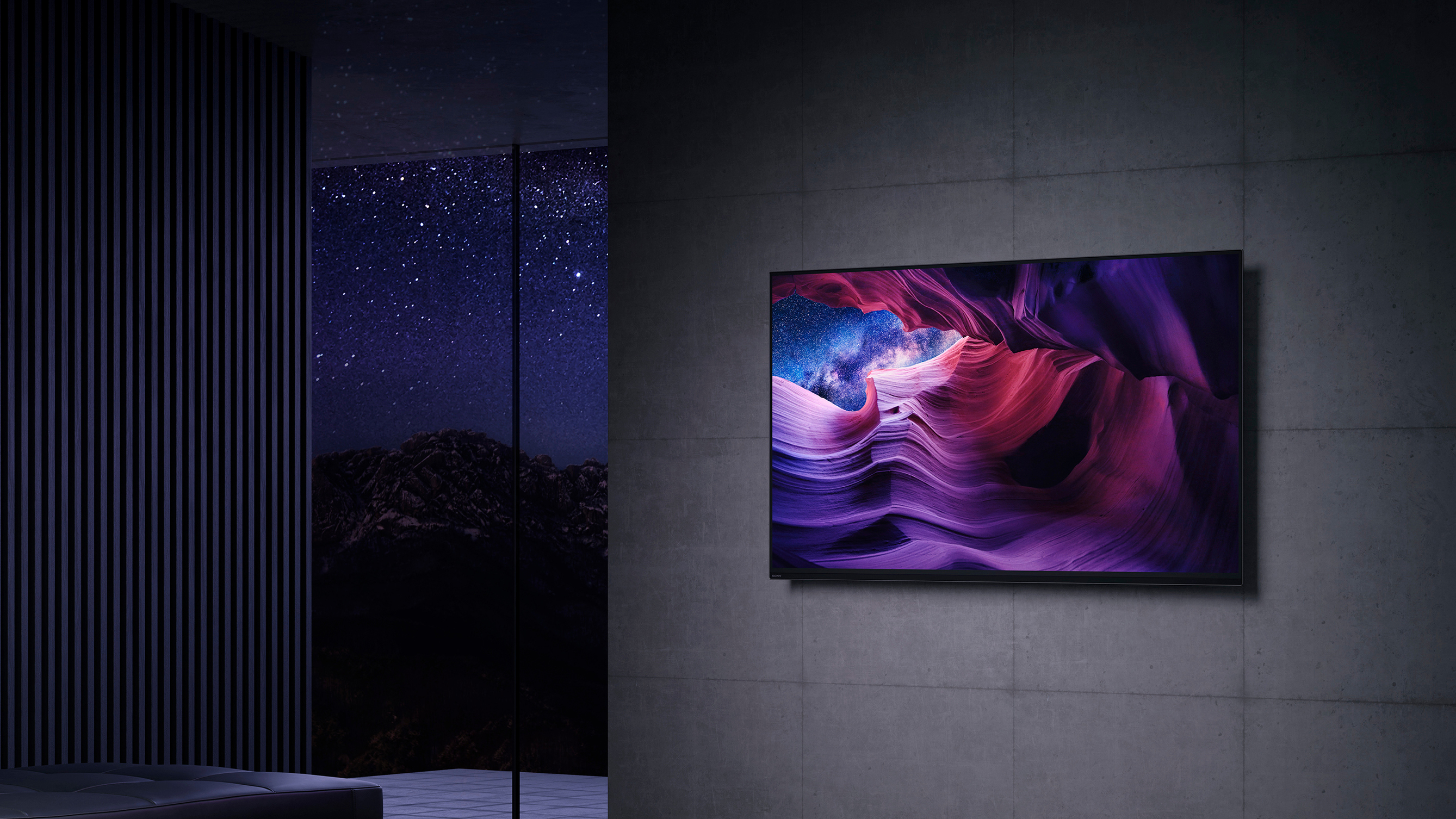 When should I buy a smart TV?
With all technology, there's always something new around the corner such as 16K. Simply put, you should buy a smart TV when you need one.

If your existing TV has failed or you want to upgrade, check out our guides for more information on what would work best for you.

Almost every new set – aside from small TVs – will be 4K resolution too, and come with some form of HDR capability, if not support for dynamic HDR formats like Dolby Vision and HDR10+.

It's worth considering whether you also want to go for a QLED or OLED TV too.

While new TVs are launched quite regularly amongst the main brands, it's often worth hanging back and buying last year's models. They're usually available for a lower price and the improvements are typically incremental rather than substantial.

As ever, it's worth looking at the differences between a new model and the version it's replacing. The introduction of Samsung's Ultra Viewing Angle technology was a big boon for its high-end QLEDs – as is the implementation of Mini LED on new Apps for Samsung TVs – but other updates aren't nearly as notable.